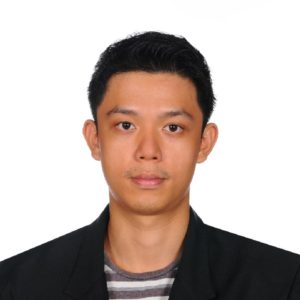 YIK WAI "Rico" CHEE
Building hope, resilience, and peace through sports
"Everyone has to go through a pilgrimage of sorts in their lives," says Yik Wai Chee, who also goes by Rico.
Upon finishing secondary school in Ipoh, Malaysia, he took his meager savings, donned his backpack, and traveled through Indonesia and Singapore for a week by himself, but that wasn't his pilgrimage. He'd enjoyed a work and travel experience in Australia and spent a semester in Europe, first as an undergraduate exchange student, studying business courses related to tourism at Turku University of Applied Sciences in Finland before exploring Copenhagen and other European locales. He returned to the Multimedia University in Melaka's School of Law, no doubt dreaming of the journey that beckoned him—a "fascination for the 'Silk Road' from The Travels of Marco Polo. It's what inspires me to observe and experience more of the diversity that the world has to offer."
In the spring of 2016, Rico set out on his life-changing adventure along one of the Silk Road's southern routes, beginning in Beijing, China, with a total budget of $350. He camped for a night on the Great Wall, enjoying its history and solitude. He also appreciated the hospitalityat a remote Chinese police station where he slept one snowy night. Pakistan would prove to be his favorite country, enhanced by a travel buddy as they hiked along the pristine mountains known as the "roof of the world." The new friend invited Rico to visit family and friends in Islamabad and Multan, including a local legislative member. A regional saying is, "A guest is a friend sent by God."
Villagers in the area "treated me generously as a guest despite the predicament that they have gone through, one that they are powerless to change," Rico says. "I have seen the impacts of the drone strikes and the many 'collateral damages.'" Rico had reached Quetta near the border with Iran, when a drone strike killed the Taliban mullah Akhtar Mansoor. "Many innocent lives were lost at the expense of a small minority of religious extremists and militants," he says, adding a line from Gandhi: "An eye for an eye makes the world go blind."
Rico's instincts are to make the world a better place. He'd volunteered as a tutor at a center for the mentally disabled for two years and raised funds for six months to improve the access of clean water to underprivileged people. He'd learned the severity of the problem, possible solutions, and the cost of implementation. Yet, it was in a village in Pakistan where he first grasped an idea that might actually make a significant difference in the world.
Rico met a religious fundamentalist who confessed his great admiration for the pro soccer club Real Madrid and longed for an autograph of one of its star players. Rico says he'd seen places destroyed by human conflicts and pondered solutions that might unite people, especially youth, and saw thata love of sports had allowed this militant villager to set aside whatever fueled his animosities. "As an ethnic and religious minority in my country who goes through a lot of difficulties," Rico says, "it is my biggest hope to break down these barriers to create a more peaceful future, filled with love and kindness for each other."
In Iran, Rico was stunned when a few people on Tehran's metros told him to "go back home to Afghanistan," he says, believing him to be a Hazara, an Afghani minority facing widespread discrimination in Iran. Once they knew that Rico was not Hazara, they started treating him with equal respect, but here was another conflict that needs healing. Still, Rico loved traveling in Iran and believes that recognizing oneself as an ambassador during travels can break down barriers and promote mutual understanding. He continued on through Turkey and ended his pilgrimage in Istanbul, 51 days after he'd set out.
After a fall semester back home, Rico headed for Shenzhen, China and worked through June on behalf of several Malaysian and Chinese companies operating there as a private contractor in charge of writing their English contents involving Google platforms for marketing work abroad.
Upon returning to Malaysia, Rico experienced another sports-related epiphany. He'd met Rohingya refugees who'd lived difficult lives in Myanmar. "One of the most profound moments that I can remember is the small Rohingya kids who smiled innocently and played badminton with one another in a field. This has instilled confidence in me that sports can have this healing therapy for the ones affected the most by this conflict." Then when he learned that North Korea had made history by planning to send a delegation to the South Korea Winter Olympics 2018, he saw clearly that "Sports have the unique ability to bring hope to those living in despair."
And so Crowdsukan was formed. Rico co-founded a sports entrepreneurship that connects people through sports, "a platform built by sports lovers for sports lovers.With the right infrastructures in place, sports can empower those most affected by conflicts,"starting in the South-East Asia region. He "bootstrapped" the organization on $500, crowdfunding, and a capable team of volunteers to raise funds and enhance or expand existing facilities, through which they gain access to public and private initiatives.
"Crowdsukan earned recognition from UNESCO," Rico writes. In November 2017, it appointed him to the UNESCO Asia-Pacific Youth and Sport Task Force to formulate policies regarding youth and sport matters in the Southeast Asia region. "My role is sort of as a Youth Ambassador to UNESCO in Malaysia," he says.
Representing Malaysia at the UNESCO Youth and Sport "Fun-shop,"Rico experienced "action-based learning" through an obstacle course that required interaction with "amazing youth across ASEAN and East Timor." He and his colleagues offered TEDx-style presentations using sports to achieve Sustainable Development Goals (SDGs) such as "cycling through conflict zones across the Thai-Malaysian border" while conveying messages of peacebuilding, "creating hopes for street children in Indonesia through the Street Child World Cup," or "using football to include troubled children in Vietnam," or even"using sports to build community resilience of domestic workers in Singapore." Simply promoting active sports participation among kids from disaster areas also seems highly achievable.
In April of 2018, Rico became an ongoing participant in YSEALI (Young Southeast Asian Leaders Initiative). Its YSEALI Impact XL offers a workshop aimed at empowering "impact entrepreneurs," hosted by the US Embassy in Rangoon.
"Never say never," Rico says about a future law practice, "But for now, I'm more passionate to apply my UN experiences back home and become a policy consultant to the government, and help make laws in the youth and sports areas, especially for our often neglected young people."
Books written or co-authored by Rico:
The Rule of Thumb (on hitchhiking)
The Art of Happiness: How To Travel To Happiness, The Non-Secret Secret To Find Yourself, Let Go And Start Living