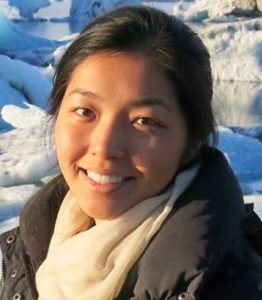 Laís Higashi – Brazil
An "angel of light"
When a group of young people brought streetlights to an impoverished village near Sao Paolo, Brazil, the villagers called them "Angels of light." The project in Brazil was the brainchild of one young woman who had decided to become a social entrepreneur.
Many Japanese children had lost their parents during World War II, but Laís Higashi's great-grandmother started an orphanage for them. Her grandparents learned well from this woman before they immigrated to Brazil in search of better lives after the war.They brought with them values of respect, solidarity, honesty, and courage and taught it to their children, who in turn, brought a large family into the world, teaching them to honor the noble values from Japan. Those values made Laís want to make a difference in her society. "I also come from a family of very strong and entrepreneurial women," she says. Following their example led to an exciting business experience as early as high school. Through a Junior Achievement program, she and her fellow young entrepreneurs were tasked with creating and operating a company for six months. She knew then she wanted to pursue business administration for entrepreneurs.
In July, 2012 she joined for a year the Extension Program of Services for the Community (PESC), a student organization that offers business consultancy for NGOs. Laís entered University of Sao Paulo (USP), majoring in business administration. Her busy first years included volunteering to teach English in low-income communities, joining a student organization that offers business consultancy for traditional companies, working on a project regarding "the accelerator's role in the development of social business," and volunteering as an ambassador and mentor for Movimento Choice, an organization that spreads the concept of social business. She realized she could help make the world a better place, specifically by becoming a social entrepreneur through organizations focused on causing social impact while also being financially sustainable.
On a break, summer in Brazil, winter in the US, Laís went to Florida to work at Walt Disney World Company for three months, gaining sales experience. She returned to her classes at USP and later served an internship with Strategos, Strategy and Innovation Consulting Firm, focusing on what the company calls "game-changing business strategies."
Traveling—especially getting out of her comfort zone—is a passion for Laís, and she took advantage of a wonderful scholarship opportunity that came her way in 2014. She earned a double-degree through a business program at Kedge University in Marseille, the largest business school in France.
And then in 2015, her life-changing enterprise began. She wanted to help the people of Brazil who battled ongoing economic crises, an unstable political environment, and crushing social inequalities, all combining to create unemployment, corruption, violence, homelessness, illiteracy, deforestation, a bad public health system, low education quality, "and the list goes on," she says. She decided to address a basic need: lighting, "allowing children to read a book at night, women to walk safely in the streets, and the elderly to socialize." She loved having the autonomy to "build and create things almost from zero." She found an NGO with a way to solve this basic issue using a plastic liter bottle and solar energy.
The original concept came from a simple Brazilian idea that evolved in the Philippines into the NGO called Liter of Light, which reached Brazil in 2014. Laís decided to found a branch in Sao Paulo. She had to learn about solar lighting technology and develop processes that could be followed simply. "As a leader, I needed to attract good people from different backgrounds and engage them to work efficiently and devotedly as volunteers," and then find and motivate low-income community residents. By the end of 2015, she'd attracted ten people who taught locals to assemble and install thirty solar streetlights in Vila Moraes, an isolated part of Sao Paulo. "We focus a lot on empowering people so they can be the agent of change of their lives and environment." The community took great pride in participating in the endeavor. To their delight, even grandmothers learned to delicately solder mini-motherboards to small solar panels. Plastic pipes became the support for the lights and were enthusiastically painted in bright colors. (See the heart-warming and inspiring video at: http://youtu.be/5PKsvnHX9xs.) To many, the installations felt like a miracle sent from angels.
Another exciting opportunity opened up in October of 2015, and Laís left her volunteers in charge while she flew to Bangladesh. USP had offered her a scholarship for an internship at Yunus Centre, a hub of social business studies created by the Nobel Prize Winning professor, Muhammad Yunus. She returned three months later in February of 2016, more prepared and qualified in her entrepreneurship.
She was only home for a month when she left for Harvard and MIT, which were jointly hosting a "Brazil Conference." Laís had discovered on Facebook that Brazilian students at these institutions were organizing this conference to discuss Brazil's problems and solutions and were also searching for young ambassadors to attend the conference, and spread or apply the knowledge back in Brazil. She applied and was accepted out of the 2,000 applicants. Her "most exciting takeaway" was the inspiring debates and conversations with the diverse attendees, all aiming to help improve Brazil.
In 2016, the international NGO invited Laís to become the president of Liter of Light for all of Brazil. With this leadership role, she is "developing project management skills, systemic vision, strategic planning, people management (conflict resolution, team building, motivation), working under pressure, adaptability, problem resolution, and so on." The number of volunteers has increased to a hundred people with another team in a new city, implementing over eighty streetlights, and developing new technologies, accommodating even very isolated communities in the Amazon forest. They've won four awards, including first place at a business model competition, "Ser Empreendedor," organized by Poli Júnior.
Laís hopes to make the NGO financially sustainable over the next five years through two main revenue streams: partnering with companies for social projects and offering corporate volunteering experiences. Through partnerships, the companies fund installation projects for low income communities, and their brands are enhanced. Through corporate volunteering, companies like Airbnb and a mall chain cover a project's costs and provide employee volunteers who participate in the installations for "a remarkable social experience." So far, the approach has been "really well accepted," says Laís, who sees the interactions between the volunteers and residents as being extremely valuable, not only opening the residents' minds—be they child or adult—but also changing the lives of the volunteers.
"My career path was and is based on my will to make a difference in the world," she says. "To reduce inequality and to collaborate for a more peaceful world is what moves my projects, activities, studies, and work."