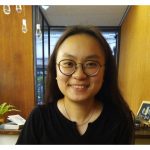 "As a first fellow from Taiwan, Republic of China (ROC), I consider myself a global citizen."
Still an undergraduate at the College of International Affairs, National Chengchi University (NCCU) in Taipei, Erin Lin stared at a damaged campus statue on February 28, 2019. "An equestrian statue of Chiang Kai-shek, was vandalized," she says. Activists had chopped off the raised foreleg of the bronze horse and doused the other with red paint, symbolizing the blood of victims of the infamous massacre that resulted in the deaths of 20,000 people, beginning on February 28th, 1947—2/28 or 228 as it is referred to, much like 9/11 or 911. "Younger generations tend to support the thorough removal of the authoritarian traces at schools to promote their idea of transitional justice, whereas senior generations condemn this action and consider this violence as an extreme move," Erin says.
"Chiang Kai-shek had established the university well before the expulsion of the Republic of China (ROC) regime from mainland China and the relocation to Taiwan," she says. He became Taiwan's first president, but Chiang was no George Washington. The West called Taiwan "Free China," but Chiang and his party, the Kuomintang (KMT), avoided democracy by imposing a brutal martial law for forty years—a period Taiwanese call the White Terror. The recent vandalism spotlighted the political divisions based on a history that still haunts the island and affects issues great and small as well as national identity—some of the enormous challenges Erin will face as a graduate with a degree in diplomacy in the ROC.
When she mentions young activists promoting transitional justice, she's referring to the laws enacted to pay reparations to victims of 228 and the White Terror and their descendants, change money images, and alter monuments to convey the devastation. "In younger generations, we fight for international recognition instead of independence since Taiwan is already an existent country, and we fight against PRC's [People's Republic of China's] annexation rather than unification," Erin says. "The bonds of our communities have withered so that internally we lose the power of ourselves as a unit, while externally we try to defend from hostile forces outwards."
Out of fear of angering mainland China, most nations don't recognize Taiwan as a country. "As a consequence, last November, there was an outcome of disapproval on our Referendum 13 about our participation in the 2020 Tokyo Olympics under the name of Taiwan," Erin says, resulting in another instance of Taiwanese people feeling ambivalent about their own identities.
In June of 2016, Erin actually went to Beijing's Tsinghua University Chinese Cultural Camp, which had partnered with NCCU. "I believe in the understanding of humanity, including reciprocity, integrity, and respect," she says. "I can embrace the diversity and heterogeneous environment comfortably with this mindset."
Wanting to approach people from other continents, Erin joined a martial arts club, NCCU Diplomacy Badminton Team, a cultural choir, and signed on for classes taught in English, delighting in the new friends she made from different nations. "Speaking English was a turning point for me to truly utilize this language, even to realize my goal to becoming a global citizen."
This enabled her to gain valuable work experience at the American Institute in Taiwan (the "unrecognized" US embassy), interning in the public diplomacy section, and at the British Council in Taiwan as a part-time office assistant. Erin also worked at the Taipei Long Men Junior High School, Guangren Catholic Elementary School, and in an ESL program from Toronto Catholic District School Board as an educational intern. These experiences broadened her as well as enabled her to assist her mother with the financial burden of caring for her father who suffered from cardiovascular disease and had undergone surgery.
Erin found time for a workshop on Taiwan Civil Force X Global Action, a Taiwan NGO International Training Program devoted to UN Sustainable Development Goals (SDGs.)
A highlight of her university years came through her participation in a Fair Winds Foundation Youth Leadership Program. She passed a highly competitive selection process for a ten-month training period in leadership and public affairs, culminating in two weeks in the USA, taking courses in San Jose and Silicon Valley and visiting Stanford and UC Berkeley. Erin completed the program with distinction, while maintaining a high GPA.
Her senior year at NCCU, Erin worked as a part-time assistant in Center of Foreign Policy Studies under NCCU's Social Responsibility Project. Her work allowed her to come into contact with a diverse array of projects and people from around the world. "It is the indisputable fact that the heart of cultural diplomacy resonates to human connections," Erin says. With this in mind, she helped organize the center's first conference through the Ma Ying-jeou Foundation, a private foundation established by former ROC president Dr. Ma. Erin has been trained to handle diplomatic and academic duties, including tasks in association with a US group interested in cross-Taiwan Strait issues—mainland China issues in other words.
Erin aims to deepen her understanding of cultural norms, while avoiding stereotyping—"a key negotiation skill needed by all international negotiators," she says. "I expect to be a brand of ambassador who represents and promotes my own nation with passion and vision no matter which role I will take in the future."