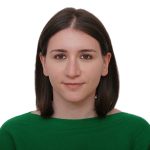 I have dedicated my career to combating ignorance and xenophobia with the "soft tools" of education.
On a vast plain below snow-capped Mt. Ararat, lies Armenia's capital, Yerevan, a crossroads of trade for millennia. Growing up in a city that has been inhabited continuously for 7,000 years, Tatev Derzyan is familiar with ancient archeological sites, stone churches dating back to the Fourth Century, somber Soviet era architecture, replenished old architecture, and modern buildings. Her namesake is the nearby Tatev Monastery, completed in the Thirteenth Century, a place of worship but also a center of scientific and political significance. In old Armenian, tatev means give wings.
This heritage fits the young woman who won an essay contest addressing the theme "Many Languages, One World," offered by the UN Academic Impact and ELS Educational Services. Tatev's award brought her to the World Youth Forum with the same theme, held in New York City in June, 2014. A year later, she nurtured her international outlook by becoming an intern at the United Nations office in Yerevan at the Department of Public Information while attending the Yerevan State University with a major in public administration. Through the Erasmus program, Tatev attended Masaryk University in its faculty of Economics and Administration at Brno in the Czech Republic for six months in 2016.
At Yerevan State University, she finished the year as a member of the Student Scientific Society, where she eventually became its head organizer of the Model United Nations and was named Best Member of Student Scientific Society of her faculty—which later lead her to become Vice-President of the Economic and Social Council for the Rome MUN in 2019, the biggest MUN in Europe.
Protest marches began in early April, 2018, and by the 16th, Tatev had joined the thousands of peaceful protesters filling the streets, demanding more democracy, an end to corruption, and the resignation of their Prime Minister who was in power for ten years. "The citizens who took control over their rights and freedoms led the country toward liberation," Tatev says. By April 23rd, the Prime Minister resigned without a bullet being fired in what became known as the Velvet Revolution. She experienced a powerful change in how she sees herself. "I reshaped the idea of leadership for myself," Tatev says, and every person has a talent, so each can contribute by using it to serve others.
Her professor, Dr. Ibrahim Al-Marashi, deepened her thinking about conflict. A class discussion on the Armenian Genocide that included Turkish students, helped Tatev understand "that the vital component of conflict is embodied in human identities." As much as Tatev values the recognition of the Armenian Genocide, she also values the idea of "conflict transformation with her neighbors." She shares the idea of "imagined communities," coined by Benedict Anderson, which influence conflict more than real events and conditions. She explains that elites create "imagined communities" for themselves in order to preserve their dominance. They spawn national narratives to unify the people under the umbrella of a particular authority, "and the easiest way to do that is to shape 'the enemy,' embody it in the national identity, and pass it to further generations via education systems." This holds particular relevance for Tatev because "conflicts with our neighbors have become a part of Armenian identity…, shifting the course of development toward militarization. That is why I have committed my research to finding out how civic education influences peaceful mindsets."
During the American Institute on Political and Economic Systems, which Tatev attended last year, participants gave cultural presentations on their countries that moved past their "imagined communities." Students from India paired with Pakistanis; students from Greece and Turkey teamed up. "I was mesmerized at how impactful the small presentations could be," Tatev says.
Currently, Tatev is the board member and PR manager of "Mutabor Platform for Conflict Transformation," an NGO based in Armenia that aims to assist conflict transformation both within and outside of Armenian society. Translated from Latin, Mutabor means I change, and the NGO is trying to break certain stereotypes in order to foster conflict transformation.
She and her Turkish friend from Istanbul are designing a project for the Hrant Dink Foundation "in order to foster intercultural communication between our countries."The Hrant Dink Foundation was set up in 2007 after a Turkish journalist of Armenian descent was killed for trying to build bridges between Armenia and Turkey. The foundation seeks to develop "dialogues, empathy, and peace between two nations."
To counter the media's use of "imagined communities" to manipulate nations' feelings towards each other and "create narratives that actually benefit only specific people not the country," Tatev plans to work with the Hrant Dink Foundation on a project, Giving Wings, to the development of critical thinking amongst young people as media consumers.
Tatev served as an intern at the U.S Embassy in Yerevan. In 2019, she graduated from Yerevan State University of languages and Social Sciences. That same year she was honored to be named as the best Student of the Republic of Armenia in Social Sciences. Currently, she is perusing her joint master's degree in European Politics and Society at Charles University in Prague, together with Leiden Jagiellonian University in Poland, Leiden University in the Netherlands, and Pompeu Fabra University in Spain. Simultaneously with her studies, Tatev is running a blog "Erasmus life" where she writes about her experience in Europe and advises students who want to apply for different kinds of non-formal educational programs worldwide.