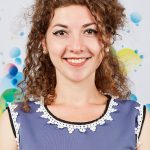 My knowledge is a constantly perfectible resource that can be used to help others.
Ștefania-Felicia Pavel grew up in the outskirts of Râmnicu Vâlcea, a small town in the southern foothills of the Carpathian Mountains in Romania. Her parents couldn't pursue higher education, and their low wages seemed to doom Ștefania to limited opportunities and the label of "peasant child." She arose earlier than her classmates in town for her daily commute, sometimes returning late at night when bus schedules failed—especially challenging during snowy winters.
At age thirteen, she worked hard to please a demanding math teacher who encouraged Ștefania to broaden her world by joining the European Voluntary Service and getting to know people from other countries. She also met children from foster homes, domestically-abused women, and pensioners abandoned by their families.Her stable family life and education put her in an enviable position by comparison. Since that time, she says, "being a volunteer is my 'career.'"
In college, in 2015, Ștefania joined the Young Ambassadors Forum, organized by the NGO Volunteers for Ideas and Projects, serving as Business Development Officer. However, she had doubts about the path she'd chosen and considered dropping out of her university. When she received an invitation to join the Brussels European Forum (BEF), she decided to participate in what she saw as "a last-ditch attempt to see if I am a fit for International Relations and European Studies."
She'd never traveled before, and in early 2016, Ștefania found herself in "the 'capital' of the European Union, Brussels. I immediately felt I belonged there," she says. She loved "spending fourteen hours a day negotiating, simulating in an oustandingly realistic manner the decision processes of international fora like the Foreign Affairs Council (FAC), Council of the European Union, G-20, or the North Atlantic Council. I discovered that I have the passion and skills to pursue a career in this field."
The people she befriended opened her eyes and mind and restored faith in herself. "BEF was the event which shaped my life like no other academic or extracurricular experience," she says. "Since then, my life has been devoted to the European Union, advocating for it, advancing its values and practices."
Right away, she joined Munich European Forum e.V. (MEF) to help organize the annual BEF conferences and was eventually voted secretary. Joining BEF had internationalized her life and springboarded her into numerous opportunities in academies, summer schools, conferences, seminars, and fellowships."Projects funded by the European Union allowed me to travel to fifteen countries without putting undue strain on my family's budget," she says.
She returned to Brussels the following September as an intern of a member of the European Parliament, organizing a public policy laboratory for Romanian journalists publishing abroad. The next month she participated in "European Youth Voice" in Bonn and attended workshops on migration. Active with both MEF and BEF, she often traveledback and forth from Romania to Munich and Brussels.
Next, she completed a one-month internship in Prague with the Ministry of Defense and Armed Forces, Defense Policy and Strategy Division. There she conducted a research project and built a data base analysis of state and non-governmental organizations and their power dynamics in the Danube region basin. Another scholarship was awarded to Ștefania in July for the Antall József Summer School, in Budapest.
In Moldova, in November, 2017, she experienced her first deployment as a Young European Ambassador (YEA), touring schools across the country, delivering interactive presentations on the European Union, and conducting project-writing workshops. She served as translator and helped secure financing for an EU project in Moldova. Ștefania wasn't prepared for the harsh conditions her brilliant pupils had to endure. "It was their warm smiles that melted my heart as my own hands froze on the edges of their desks." She promised herself she'd find a way to give them the chances she was given.
Ștefania again felt uncertain about her future when she attended the Aspen Junior Seminar on ethical leadership, at the Aspen Institute in Romania, a three-day experience analyzing prominent leaders throughout history. She most admires Vaclav Havel's use of dramatic plays during the Soviet era to bring about a peaceful revolution and a legacy of democracy. The following year, Aspen Institute's mentorship program provided the guidance Ștefania greatly needed.
In April 2018, she did research work in an internship for the Presidential Administration of Romania, Department of Domestic Politics in Bucharest. France drew her in May for her second YEA deployment to the European Youth Event 2018 at the European Parliament headquarters in Strasbourg.
Her busy summer of 2018 began in Italy at the "School of Democracy," organized by the Progressive Alliance of Socialists and Democrats in the European Parliament, where she debated sustainable development, multiculturalism and other issues. In July, she was named conference manager of BEF 2019, then, on to Berlin for an international seminar with the Young European Federalists. Next, on to the European Fellowship on Project Management within the Group of the European Youth for Change, to advance pan-European youth mobilization. Then, in Austria on a scholarship, she participated in the European Forum Alpbach, a global event drawing Nobel laureates, heads of state, and renowned scientists and artists. In August, she was deployed as a Young European Ambassador to EuroSchool, in Azerbaijan, to do more presentations on the EU.
Good news arrived in the autumn of 2018: Ștefania was accepted into the Vaclav Havel Joint Masters Program through an Erasmus Mundus scholarship to study European Politics and Society (EPS). She then settled in at Charles University in Prague for her work on her Erasmus Mundus Joint Master Degree, living there for four monthswhile attendingthe Institute for International Studies. She would then alternate campuses with Jagiellonian University in Krakow, Leiden University in the Netherlands, and Pompeu Fabra in Barcelona. Ștefania excitedly looks ahead to serving as conference manager of Brussels European Forum of 2020.