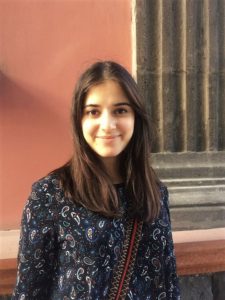 TAMARA HARUTYUNYAN
Addressing post-conflict well-being of children and refugees
When an individual has endured traumas over his or her lifetime, modern psychology teaches that there is a resulting syndrome identified as post-traumatic stress disorder. When a nation has suffered disasters, it harbors survivors likewise coping with PTSD who are in need of emotional healing. Tamara Harutyunyan says that an understanding of "psychological phenomena, though seemingly intrapersonal, is perfectly applicable to the sphere of politics and international relations."
Armenia may have more than its share of psychologically scarred individuals. As a predominantly Orthodox Christian nation in the South Caucasus, Armenia has endured hot and cold war since the collapse of the Soviet Union. It lies between Turkey—which inflicted massacres under the Ottoman Empire from 1915-1923—and Azerbaijan, an oil-rich Muslim country to the east. Both have closed their borders to Armenia, forcing it to depend on Russia and Iran for vital resources. To oversimplify the problem: the USSR originally awarded a predominantly Armenian-occupied territory to Azerbaijan, the highly disputed Nagorno-Karabakh region. When Russia no longer enforced regional boundaries, wars began in 1991. A tenuous ceasefire in 1994 revealed that 30,000 people had been killed and over a million displaced. Since that time there have been border skirmishes, battles, 100,000 land mines, ethnic cleansings, and more refugees. Additionally, Armenians from the post-Ottoman diaspora are forced to return due to foreign wars, such as in Syria.
"Though in Armenia we do not face conflict in our everyday life," Tamara says, "its influence and consequences can be felt all the time." She refers to the refugees and "the inexplicable hardships that Armenian soldiers and their families experience." Yet, she sees a silver lining in the many Armenian youth now actively involved in the political life of Armenia, evidenced by the recent Velvet Revolution, where they bravely protested against corruption in the government. "Armenia is advancing with big steps and is on the way to becoming competitive in many spheres, including IT."
With its beautiful mountains, the vast Lake Sevan, its ancient churches and monasteries that withstood invasions, World Heritage Sites, rich history, welcoming people, and, "the best cognac in the world," Armenia welcomes tourists.
As a psychology major attending the Russian Armenian University, Tamara believes it is vital to address post-conflict emotional well-being. "Having studied this science for more than six years, I understand how important and exceptional the knowledge gained from this discipline is. It teaches the core fundamentals of human-to-human interactions."
She volunteered for the Armenian Red Cross Society in 2014, and for over three years, mainly working through the "Smiley Club," she has helped deal with refugee children and others living in asylums. A year-round project, the club focuses on "children living in dormitories who are survivors (and their descendants) of the seven-day Baku pogrom, a massacre of ethnic Armenian inhabitants of Azerbaijan," she explains. The program develops resilience and enhances social skills to better prepare these uprooted children for a mature life in society. Tamara helped the children with homework, arts, and interactive educational games. She also taught languages, seminars on healthy lifestyles, and children's rights. They visited historical sites and held a final cultural evening.
Then in the summers, an integration camp was organized as part of the Syrian-Armenian children's resilience program. Both programs had a profound impact on Tamara's personality and perspective as she helped children "not to feel disadvantaged, to express themselves more, and just have fun."
During that summer program, Tamara met three sisters, a teenager and younger twins, who were unwilling to make friends or even interact. Tamara could see that the twins looked up to their big sister, so she and other camp counselors began giving her small leadership tasks with the younger children. Over the summer, the girls opened up and became fully involved. In the fall, the girls graduated to other RC programs, and Tamara lost touch. Then, a year later, she participated in a street-fair event. There was the older sister, "beautiful and extremely communicative," according to Tamara, promoting a restaurant's fare and waiting on tables. Though a refugee family, the girl's father had been able to open his own restaurant. "She also worked with Armenia's public television and was planning to pursue a career in journalism."
Tamara says she has many stories borne out of RC programs, all unique. She wrote an academic paper that dealt with the adjustment issue among Syrian-Armenian refugees and presented it at the RAU's annual student conference, earning a certificate for high scientific value.
Several youth events broadened Tamara's outlook still further, such as her participation in the AYSOR, an innovation forum of the European Youth Parliament Armenia and in the Model European Union (Aegee-Yerevan). Internationally, the Erasmus+ trainings proved highly significant for Tamara. One on "Empathy for Change'' took place in Georgia, offering "tools of empathic communication and conflict transformation, conducting conflict dynamics analysis," and other peace-building methods. The other Erasmus+ training, "Youth Empowerment for Social and Economic Equality" took place in Portugal, tackling social inequality issues among high-conflict countries through games, forum theater, discussions, project development, and community work."
The "European Angst" conference on extremism, populism, and Euroscepticism held in Brussels proved particularly invaluable to Tamara as she listened to writers, philosophers, and other prominent figures shed light on these troubling issues. "We, forty students from different countries, not only took part in the debates, but also wrote a manifesto on Europe's future that was handed over to the EU officials," Tamara says.
She wrote a second academic paper, this one on tolerance, ethnic identity, and their dependence on the societal structure. "Research revealed that the more multinational the environment one lives in, the more tolerant he is, and the more positive ethnic identity he develops," she says. Her presentation at the annual student conference of RAU also earned a certificate for high scientific value.
One event—the International Student Festival in Trondheim, addressing the topic of discrimination—proved to be "the most unforgettable and inspiring experience of my life," inspiring her future career direction. Tamara attended panel discussions featuring individuals from highly diverse backgrounds and participated in the workshop, "Refugee Crisis and Immigration."
"This event shaped my worldviews and convinced me that one of the most important things in life is being active and using your abilities for making a change (even small ones) in the lives of other people," Tamara says. After finishing at RAU, she plans to enroll in an international relations master's program and find service in the sphere of "child or refugee protection and their rights' governance."