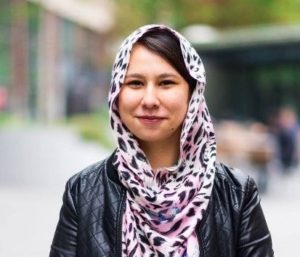 SANIA HAIDER SHIKOH
Advocating as an economist for socially inclusive development policies
Muslim families look forward to breaking the Ramadan fast, a special holiday called Eid, celebrated with holiday dishes, prayers, wearing one's nicest clothes, and social gatherings. In 2011 at 10:00 AM on Eid day, Sania Haider Shikoh was at home, busy with holiday preparations when a loud explosion shattered the windows in her house, filling family members with terror. A car carrying explosives had just detonated a bomb. The festive atmosphere instantly turned into one of grief and mourning over the loss of Sania's twenty-year-old cousin. Eleven other Hazaras were also killed.
Sania belongs to an ethnic minority group in Pakistan, known as the Hazaras. Her family lives   in Quetta, Pakistan, a once peaceful valley, near the border with Afghanistan. "For decades, Hazaras have been victims of ethnic cleansing in the neighboring country of Afghanistan and have suffered sectarian violence at the hands of terrorist groups within Pakistan, especially in my hometown," Sania says.
The Hazara community has no sense of security, and Quetta's city administration often denies them their basic human rights. "Local universities denied admissions to Hazara students because the National Identity Cards for Hazaras are not issued on time by the state," Sania says, "and if admitted, students have been banned from travelling in university buses" for fear of being blown up. Many of her people have left Pakistan, and young people who stay are dispirited.
Sania says she is fortunate to have had inspiring role models. Her goal is to "learn how to create opportunities for thousands of Hazara youth," she says. "I want to become the voice of the youth of my community as well as other marginalized youth of Pakistan."
In 2012, Sania entered the National University of Sciences and Technology (NUST) in Islamabad, pursuing a BS degree in Economics on merit scholarship. While at NUST, she participated in several youth forums and competitions – HULT Prize Social Entrepreneurship Challenge, AIESEC's Youth to Business Forum, Collage Leadership Conference, and Olympiads.
In addition to the above extra-curricular engagements, Sania has been actively involved in various social endeavours. As a youth advocate, Sania has been actively campaigning for equal rights of girls through various educational programs. Sania is an executive member of a youth-led educational campaign, The Future Begins Here, where she has been working as a team leader, directing a team of volunteers to provide career counselling services and scholarship guidance to high school students in Quetta. She has continued her community work as counselor, mentor, and project coordinator, developing programs for high school students. She helped establish five clubs with extra-curricular activities in theatre, community services, reading and writing, arts, and science, all while regularly posting educational, scholarship, training, and job opportunities with 20,000+ followers on Facebook.
As founder and the executive lead of Khayal Rakhna, Sania won community grants and helped raise funds through a social media campaign to donate hundreds of storybooks to set up libraries in three underprivileged schools of Islamabad and Rawalpindi for more than six hundred students.
Due to her dedication to youth work, Sania was selected to represent Pakistan internationally as a Young Leader and a Cultural Ambassador through the fully funded Study of U.S. Institute (SUSI) Student Leader Exchange Program 2015. During her six weeks at the University of Massachusetts, Amherst, Sania focused on comparative public policy. While there, she experienced another side of American life by volunteering to collect food for the Food Bank outside a Walmart store.
After returning from the SUSI program, Sania was selected as one of the twenty Pakistani youth leaders to become member of the US Ambassador's Youth Council in Islamabad. She and two other council members gave a presentation on challenges and opportunities for marginalized youth in front of an audience that included the US Ambassador and other senior diplomats, resulting in recommendations on how the Pakistani government and the US Embassy could help. As member of Pakistan-U.S. Alumni Network, Sania also help organize the 2015 International Peace Conference in Islamabad. She and her cohorts contributed by organizing logistics for the 157 participants over three days, facilitating regional panels and workshops, and leading a community outreach program on sustainable development and inter-faith harmony.
Sania also teamed up to participate in the HULT Social Enterprise Challenge 2016—the world's largest annual social enterprise competition for students. "We successfully pitched the idea of our social enterprise to tackle urban congestion and unemployment and reached the Quarter-finals." Sania was thrilled and inspired to try again.
Upon graduation from NUST, Sania received the President's Gold Medal for Best Performance. Before beginning her Master's degree at LSE, Sania got the opportunity to represent Pakistan at the International Summer School (ISS) of the University of Oslo, Norway. She spent the summer completing a fully-funded postgraduate program in International Development at the University of Oslo, Norway. As one of the 500 students at the ISS, Sania interacted with peers from all over the globe and build an international network of friends.
Sania enrolled in the London School of Economics and Political Science (LSE) to earn a Master's Degree in Economic Development after being awarded the Commonwealth Scholarship. At LSE, she volunteered as a student mentor in the Widening Participation program to nurture study skills of school students and to instill confidence in them to progress to higher education. She also served as a member of the Executive Committee for LSE's Student Union Pakistan Society. Not shy in competitions, her team entered the McKinsey Venture Academy Social Enterprise Competition of 2017 and was declared a finalist.
With new peers at LSE, Sania made another run at the HULT Prize, collaborating on "the idea of a sustainable and scalable social enterprise called "ATLAS" that aims to be a global network which connects refugees with job and training opportunities in their host countries." Her previous experience with the HULT competition proved invaluable. Since she had contacts with friends and relatives who were refugees in different parts of the world, she arranged interviews with them, so she was well aware of their challenges and motivated to find innovative solutions, not only for them but all refugees in crisis, "My experience as a social entrepreneur has strengthened my grasp on contemporary issues of mobility, employability, and livability in cities." Her team won the quarterfinals to participate in the HULT Dubai Regional Round.
Currently, Sania is a member of International Youth Taskforce responsible for delivering the Commonwealth Youth Forum 2018. She is working in close collaboration with the Commonwealth Secretariat and the UK Government, to foster youth involvement in areas of prosperity, peace, sustainability and fairness. "Our aim is to deliver a program that empowers the youth from across the commonwealth and hone their capacity-building skills and leadership skills, so they become catalyst of change for their communities."
Sania writes: "Professionally, I am a budding economist working to advocate for socially inclusive development policies. I would be working in the conflict-prone region near Pak-Afghan border and therefore I would be applying the latest techniques of conflict resolution, mediation, and intercultural management"—in other words, a peace activist.
[Sadly, shortly after HSI, another bomb blast in Quetta killed 31 people.]