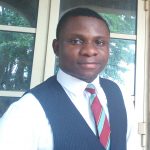 Finding "the heart of a leader, earnestly ready to see my community rise and flourish."
Up to 2014, northern Nigeria suffered raids from Boko Haram that had left 12,000 people dead, another 8,000 crippled, and 276 kidnapped school girls. In 2016, Fulani herdsmen murdered 500 people, burning schools, churches, health centers, and police stations in ten villages.
Samuel Ashaolu had reason to be fearful, especially for his mother and sister in 2018 when a "gang of killers, robbers, and sexual perverts called Badoo" tormented his community, a suburb of Lagos, Nigeria's largest city. The Badoo forced entry into homes, robbed, assaulted, and raped residents. Samuel constantly listened to news reports and avoided trips outside his home. "Community activities were crippled by this menace," he says, and his studies in electrical engineering at Osun State University, Osogbo suffered. Virtually every newspaper in Nigeria documented the raids. At first police did little except impose erratic curfews.
On one of the many late nights keeping watch, Samuel learned of a vigilante group shouting "Badoo! Badoo!" as they hunted two men who had attacked a family. The men had killed a man and wounded his wife and six-month-old baby. Angry vigilante youths caught one of the men, holding him until the state police took him away. It was a horrifying time in Samuel's life. He was angry and aggrieved, but he never joined the vigilantes. His Christian background and all his activism made him "determined to stretch out the arm of help and not vengeance," he says.
In early 2019, "the bandits were invasively and aggressively suppressed by the state police after many lives and properties had been lost during these serial attacks," Samuel says. Ultimately, though, the conflict brought families closer to one another. A member of the Community Development Association (CDA), Samuel served as a youth advocate. "I would say we valued the peace of our community above this crisis. Love, a call to duty, a call to responsibility, oneness, and peace were the underlying factors."
Samuel might not have reacted with such restraint, fortitude, and dedication had the incident occurred in the same year as the Boko Haram attacks because he'd never actually considered doing volunteer work then. He'd worked for Voice of Nigeria doing radio broadcasts, transmitter maintenance, and power supply monitoring. His faith was a part of his life, so he served as Fellowship Youth Coordinator at the Life Oasis International Church through his university but didn't think of it as a life calling.
In March of 2015, he became an intern at an engineering company, deployed to on-site activities as a field engineer. His strong relationship with his operations engineer led to work with international engineers, and Samuel broadened his expertise and a technical skill set.
Then in July, he was selected to participate in the YALI (Young African Leaders Initiative) national Youth Incubation Conference, focusing on social entrepreneurship as a pathway to developing a nation. He was just an observer, but a renowned public speaker inspired nineteen-year-old Samuel, and he actively volunteered for YALI.
At his university, he decided to visit a Slum Achievers Foundation (SAF) project. "That year (2015) was a major leap into my passion, drive, and commitment to humanitarian service and community leadership," he says. SAF was launching a UN Sustainable Development Goals (SDGs) campaign for quality education and poverty alleviation. Despite its vast riches in agriculture and minerals, including oil, Nigeria's teeming population keeps poverty levels high.
"The moment I stepped into the environment where we were to serve, I saw malnourished children. I saw dilapidated schools. I saw uneducated parents. I saw refuse dumping sites as homes. I saw drinking water taken from infested and polluted rivers. I saw people really, really suffering in abject poverty. I also saw young children cheering for the good we did in bringing them gifts and supplies. I saw parents enlightened and thankful for the training we gave them on health hygiene. I saw many things that staggered my heart and reason. This was my turning point! It was community service for me or nothing."
By the time of the Badoo attacks, Samuel had already dedicated himself to volunteer work for three years. He'd earned the Leadership in Individual Community Service Award volunteering as Public Relations Officer for SAF, providing publicity through social media. He participated in entrepreneurship training workshops and started a small business, BaggyQuese Collections, a bag fashion enterprise. Another SAF volunteer award came his way in recognition of chairmanship to the Community Development Association (CDA.)
Despite his many ongoing activities, Samuel joined a religion-based NGO, We Care Ministry, and became the regional deputy youth coordinator for various outreach and awareness programs. Operating at the regional leadership level for the first time, he oversaw event planning, assigned tasks, drafted proposals and workshop manuals, managed gift acquisitions, and supervised mobilization and outreach location strategy for their main event, which drew over seventy young people for health seminars, free medical checkups, workshops, gift items, and sporting activities.
Still attending university classes, Samuel became General Secretary of his engineering department in 2017, executing five major projects and earning an Award of Recognition and Certificate of Merit. He also became Ambassadorial Representative of African Students for Liberty (ASFL) to coordinate campus activities.
Samuel completed various online courses to broaden his expertise, and in 2018 he received a scholarship to attend the Nigerian Institute of Information Technology, (NIIT). "Becoming more skilled and proficient in my IT career will directly foster my community projects in terms of providing quality education and eradicating illiteracy through IT projects," he says. "It's a two-way thing for me—pursue my career and simultaneously carry out my community projects pari passu. I deeply desire to see my homeland rise into its maximum strength and quality of life."