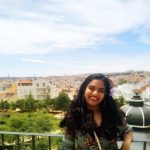 I realized I had the capacity of become a change-maker.
Shivranjani Gandhi was born in Delhi, India, growing up Hindu and living in a predominantly Muslim neighborhood. "Unfortunately, I witnessed friends and their families being treated badly, ostracized from society, bullied and discriminated against," she says, "even violence, and this has enraged me and made me feel helpless on several occasions." She's seen atrocities from a young age towards religious minorities and women, and 45% have experienced spousal abuse.
Despite the beauty of her country, which is one of the most dangerous countries for women, according to Shivranjani, and despite powerful goddesses such as Durga, Lakshmi, and Kali, "women are less respected than cows."
"I couldn't get support due to lack of awareness in our community and due to the stigmatization of mental health issues," she says. This led her to pursue social and cultural psychology.
While a student at the University of Delhi, Shivranjani became an intern with the Make A Difference program, worked as a student researcher at the university's Cluster Innovation Centre, and became a mentor at the Youth Connect Program.
Shivranjani won awards for her writing: first place in the research paper competition, held by the Department of Psychology, Ramanujan College at the University of Delhi; and Best Paper Award in the Global Summit on "Make in India: Transforming Human Resources and Strategic Development," held NIESBUD through a government ministry of small enterprises. She became Peer Education Program Coordinator at a public school in Noida, Uttar Pradesh and served as operations manager for the Wordsworth Project, spreading literacy in low resource communities. She earned a scholarship for "Most Deserving Student in Psychology" at the Indraprastha College for Women, University of Delhi.
Shivranjani worked as a Life Skills trainer at a public school in Indirapuram for two years, but the theoretical approach caused students to focus on grades rather than learning to enjoy a more positive outlook towards life. "I decided to design and launch my own nine-month workshop series aimed at self-esteem, body image, anxiety, depression, anger management, critical thinking, etc." She worked hard on workshop and got it accepted, but then received backlash for her methodology. More and more children showed an interest, however, and came up with unique solutions to their own problems during and after this program.
"Subsequently, I spearheaded the Awakened Citizen Program, which is run by the Ramakrishna Mission in New Delhi," she says. "This experience had a monumental impact on me. Firstly, it made me realize that I had the capacity of become a change-maker. I could work at any level of an organization and still make my work meaningful and make a difference. I was a person who could never speak in front of a crowd, and now I was speaking in front of sixty teenagers at a time with confidence. I realized the importance of empowerment." Empowerment became the most important aspect of her program, and she learned that students continued using the skills she'd taught them.
By the fall of 2017, Shivranjani earned the Erasmus Mundus Joint Master Degrees (EMJMDs) Scholarship, an international cohort pursued in several different countries. She began the first semester of her mater's coursework in social and cultural psychology in Warsaw, Poland, then in January, 2018 she began a year's studies and research at Koc University, Istanbul, Turkey.
Since her thesis topic concerns the experiences of service providers working with refugees in Istanbul, Shivranjani interviewed people from Iraq, Iran, Syria, Palestine, and Turkey. These volunteers needed psycho-social support after working with refugees and experiencing a barrage of traumas vicariously. Some of the volunteers exhibited symptoms of PTSD themselves, "and most were on the verge of burnout with limited insight into their condition and no support from external resources," Shivranjani says. An Iraqi refugee, twenty-six, working as a service provider, told her, "We have a collective culture of guilt where we feel personally responsible for completely helping others. The blame is exhausting; the inability to help a lot of the refugees while over-functioning for them makes me feel emotionally drained and helpless."
Despite not knowing the mélange of languages, Shivranjani forged a deep connection with these volunteers in desperate need of systematic programs and long-term interventions.
After summer classes at ISCTE-Instituto Universitário de Lisboa, Portugal, she returned to Istanbul until she began her internship in London where she concentrated on prejudice reduction intervention, conflict resolution, and data collection among the homeless people in London. She worked with a student organization experimenting with the contact hypothesis, which creates a contact between in-group and out-group members "to help them see the perspective of the homeless people and therefore hinder the process of stereotype formation."
Shivranjani is currently at the University of Oslo finishing her master's degree. In the near future, she hopes to work on status issues of Dalit women (from India's lowest caste) addressing prejudice, stereotyping, and dehumanization as well as inter-community conflicts between different groups, such as the 40,000 Rohingya refugees in India.
Eventually, Shivranjani would like to pursue a PhD in the field of political and cultural psychology, aiming to help officials devise programs and provide services to help marginalized minorities. "I would attempt to foster inclusion and understanding across the countries," she says. "These are my passions and goals in life."