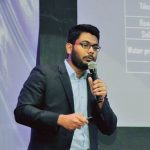 It's best to act upon solutions instead of just feeling bad about problems.
Today, on average, 25,000 people crowd into a square kilometer of land where they get stuck in traffic for five hours, typically in the rain—350 inches of it fall per year in Bangladesh. Its capital, Dhaka, is the second worst livable city in the world. Life is challenging. "But the street food is cheap. And good," says Saadman Rahman Chowdhury.
After working for twenty-five years for the same company, his father had remained virtually unemployed for three years. Though his father never conveyed his worry, Saadman understood their hardship. He'd been fortunate to attend a respected private Christian missionary school in Dhaka, St. Joseph Higher Secondary School, and was only in eighth grade, but he knew he had to help his family.
Saadman had been selected to teach primary and, eventually, secondary levels at the Josephite Literacy School to children from underprivileged backgrounds. "I would get paid fifty dollars a month for teaching five days a week," Saadman says. "Whatever I earned, I gave to my mom. She would look at me with such eyes; so much pain in those eyes. She would kiss me on the forehead and make prayers for me. It was a very difficult phase for my family and me." But it left Saadman with new realizations. "We provided them with the basic materials for education and arranged campaigns, outings, and competitions, and I started understanding how people around me are suffering every day," he says. "This helped me get out of my bubble."
At the age of thirteen, Saadman began the first of many years on debate teams and a year later added cricket and football, learning much about public speaking and excelling as an individual while working with teams to compete effectively. He'd studied in missionary institutions for his entire time in grade schools, and as a result of this experience and the hardships of his family and country, he says, "I have been ingrained with the idea of giving back to the society as much as I can." A wage earner at a young age, he'd learned the value of money, perhaps inspiring him to choose finance as his major at the Institute of Business Administration, University of Dhaka.
At the university, he became an English Instructor through Mentors, an institution that tutors and guides students applying for entrance into a university. .
In 2016, Saadman became the Project Coordinator of Jhilimili, a venture to educate street children, whichhe continued for over a yearand then became an intern at the Bangladesh Youth Leadership Center (BYLC), managing a portfolio of ten social projects."I've learned a lot about leadership skills in directing positive change in the society through various group activities and leadership training programs," he says.
Later in 2017, he became part of the project he is most dedicated to, Campaign RED (Realizing Empowerment through Dignity), an astonishing social project based in rural areas of Chittagong, Bangladesh. "We conduct awareness programs about menstrual hygiene management among school-going boys and girls."
Campaign RED addressed the culturally backward issues of female students missing school and not being allowed to eat or shower during menstruation, leading to problems like bacterial diseases, urinary tract infections, and eventually, pregnancy complications. "I believe talking about menstruation and creating awareness about menstrual health and hygiene at grassroots level is a very important step towards breaking the patriarchal cycle in the rural areas of Bangladesh," Saadman says. "If girls are not made aware about menstrual hygiene management, it will hamper both their academic and economic skill development process and eventually lead to backwardness in society."
Saadman became a business development partner and, eventually, a board member. Amazingly, two of the co-founders were Madrasha students, acquiring their education from a Muslim school that stresses Islamic teachings along with academics. Through such connections, Campaign RED is able to present programs at Madrasha schools as well as public schools.
Since most students "are taught to not talk about it publicly, labeling menstruation as a source of impurity and shame, the challenges of educating them about menstrual hygiene management are different." To inspire changes in behavior for lasting impact, the teams customize and structure their approach, evaluating each group's receptivity. "Instead of bringing this up as a social or patriarchal issue, we have a 3-step model which initially propagates these messages as a concern for women's health," Saadman says. Then later, those most supportive of the program are asked to be peer leaders who receive additional training and spread the same message in nearby communities. Campaign RED also employs rural women to produce affordable sanitary napkins, empowering them economically as well.
The current impact includeseducating 16,654 students (70% girls), 122 university students (50% female), and 450 peer leaders. Fifty stakeholders now help extend Campaign RED's mission at the community level, including teachers, school committee members, social workers, politicians, and professionals.
After being named Champion of the Econpodium 2018 at BRAC University in Dhaka, Saadman led eleven special CRM projects for six months for Unilever Bangladesh Limited, specializing in home products such as water purifiers. At the year's end, he was selected for the Harvard Project for Asian and International Relationships, 2018 and 2019.
To Saadman, financial success is less important than "seeing a smile on my parents' face, returning home knowing that I've done at least a few good things today."
He hopes to work in refugee camps to assist in repatriation and integrations processes. Unequal wealth distribution concerns Saadman greatly, so he feels that his energy and passion to work for the underprivileged people along with his knowledge of business and economics, and his debate and leadership training should prepare him to make solid contributions toward solving society's major problems.