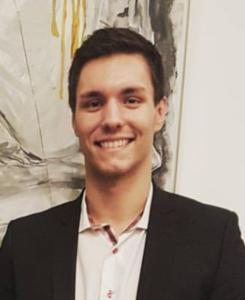 MILAN CEBAK
If you want to get something done, ask a busy man like Milan
If there is a chain linking the interests, accomplishments, and awards of Milan Cebak, it is this: a compelling certainty that he can figure out a way to be better, do better, or make things better. The medallions on such a chain would be distinctly different from each other, however, because his interests have targeted causes in highly diverse directions.
Milan's passion for justice rates a charm on the chain. It manifested itself when he was in the fifth grade, and a group of Roma children beat up his best friend right in front of Milan. "Although I felt intense anger toward them, and I wanted them to be punished for their actions, a few days after the incident, my perspective changed," he says. His school held a trial where a social worker revealed the aggressor's background of poverty, parental aggression, and violence in the community. The boy's parents didn't bother attending. Milan realized the Roma boy shouldn't have to carry the blame alone for attacking Milan's friend. "Society is equally at fault for allowing people to live in such conditions," Milan says, referring to the mistreatment of the Roma Community, extant for as long as he can remember. He considers it Slovakia's main obstacle, "alongside corruption and an ineffective education system," to building a brighter future.
Milan's life would become intensely busy over the next decade, but his concern for the Roma issue persevered, and recently, he did something about it. He founded a program and sought financing from the Mayor's office in Prievidza to increase the involvement of Roma children in school activities. After dialogues with several Roma communities, thirty Roma children participated in the project, choosing from a variety of clubs funded by the project's budget. Participating Roma children extended their network to other children from different backgrounds. Segregation diminished, attendance increased, and academic performance improved. "Despite the positive reviews from both teachers and the children, I believe I was the main benefactor," Milan says of the experience. He learned that making positive changes in a community is not particularly difficult, and the results proved that there is a solution to the segregation of the Roma community.
Milan would also earn medallions for swimming. Back in grade school, swimming dominated his life, and in his teens, he was declared a national champion ten times by the Slovak Swimming Federation, vice-champion of Europe, and received three yearly awards from Mayor's Office of Prievidza. Without any backing from government programs, contest participation grew costly for Milan's family. "Our government creates more obstacles than opportunities for younger generations," he often says. Deeply disappointed, Milan dropped out of swimming, but again, in later years, he would do something about the lack of support.
"I have been recently involved in restructuring our regional Aquatics Centre," Milan says of a facility that had come under new management. The new investor wanted to cut most of the employees and discontinue a scholarship program. Milan found this unacceptable because the scholarships had attracted underprivileged children and served as an equalizer. He assembled a team and got to work surveying and researching, emerging with a plan to expand membership, in part by including professionals and seniors, resulting in jobs kept and scholarships preserved.
During his most competitive swimming years, Milan didn't attend school in order to focus on competing. Upon reentering school, his grades dropped, an intolerable situation for Milan. "However, even in instances when I was the main obstacle to my own success, my parents always found a solution to convince me," he says. "They have always been the engine of my motivation." His father set targets and rewarded Milan only if he reached his goal, inspiring Milan to set his own goals. At the end of his sophomore year, he was chosen Student of the Year and received President's Honors from the Office of the President.
Despite his success, Milan felt he wasn't getting a quality education from Slovak schools. (This assessment would be borne out in later years when he worked for the Government Office of the Slovak Republic and other Slovak NGOs. "Slovakia uses approximately only 7% of the financial support provided by the European Union, while corruption is said to be increasing on an annual basis," he says. Another of his projects would one day involve Estonian educational methodology, which he'd like to see adopted in Slovakia.) Even at a young age, Milan wanted to study economics and finance. The Boston College, a high school in London, would allow him to specialize in those subjects for his remaining two years, so off he went. In 2015, he graduated as Student of the Year with a special award for Best Grades in the History of the College.
Milan then entered University College London, pursuing a BA in Economics and Business and East European Studies while also entering an extraordinarily active campus life, represented best by three organizations: He first joined the International Finance Student Association (IFSA), the largest student-run association in the world, going on to eventually become its senior director, interacting with the business community and hosting the IFSA trader's cup, the world's largest trading student competition.
He also founded and became president of The Global Energy Network to promote the energy sector across the world, becoming the world's largest student energy association and partnering with seven energy-related university societies from five countries to organize international projects and events.
Within UCL's famous student union, UCLU, Milan also volunteered as chairman of the UCLU Energy Society, coordinating one of the university's largest societies with 1051 members and £10,000 received in sponsorship. He organized an energy summit, attended by 225 people and 17 speakers.
Milan signed on for internships, especially during summers, such as the two in Bratislava—Jones Lang LaSalle (JLL), Capital Markets Division; and Sberbank CIB, Global Markets Division. In Prague, he worked for Credo Ventures, Venture Capital; and in London, he interned with Citigroup, Global Markets; and Talis Capital, Venture Capital & Private Equity. He contributed by conducting research, analysis, presentations, financial modeling, and other specialized services. One internship was for the Slovak government, and another was with Unilever. He also volunteered for many activities and organizations, such as Oxbridge.
Milan's Eastern European political classes impressed on him "the complexity of the interlinkage within the global arena of policy and international cooperation," he says. "My global outlook has considerably evolved." Looking ahead, he plans to continue in the private sector while staying involved in non-profit organizations and community projects. He hopes to champion foreign work-study programs, since the flow of talent tends to be out of Slovakia more than into it. His education and involvement in an array of extracurricular organizations, professional corporations, and public institutions, have given him "the ability to apply theoretical knowledge to solve practical problems." He considers eventually going into Slovak politics. (Holding a position of high office would be a nice medallion to add to his chain.)