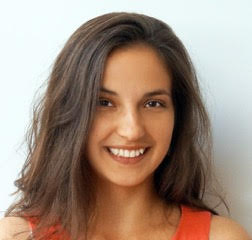 MARYIA HUSHCHA
Working at the intersection of disciplines and industries to promote peace
As a second year student at the Belarusian State University in Minsk, Maryia Hushcha was studying foreign languages to allow her to explore life abroad, a dream she shared with many of her peers, despite limited possibilities for such travel.  
As a post-Soviet country, Belarus had struggled with democracy for its first few years of independence, but then in 1994, voters elected a populist president who gradually turned into a dictator, holding onto power ever since, Maryia says. She cares about her native Belarus, but she says, "There is a lot of passivity among all generations that often stems from a lack of knowledge about existing opportunities, overregulation, and the state's presence in all spheres of life." She feels these factors have led to a conscious or subconscious "expectation that the government should provide for your well-being, lack of responsibility for one's own life, and, crucially, a disbelief that citizens can achieve any substantial systematic changes in their own lives as well as in the country as a whole"—in other words, a mindset opposite to Maryia's. She feels she is the most qualified person to be responsible for her own well-being.
In August of 2012, a fellowship opportunity arose, entailing a program in politics and diplomacy—which was of little interest to her—and a semester in Slovakia—which held her keen interest. Not thinking too much of the fact that the fellowship was named after a US/Western-educated Belarusian named Vital Silitski, a severe critic of the Belarusian president, nineteen-year-old Maryia applied for and was granted the fellowship, paid for through a government scholarship.
"On the second day of my stay in Slovakia, I received a [text message] saying that I had to quit the program and immediately come back to Belarus." Higher ups had realized the nature of the fellowship. "Dictators don't like being criticized," she says. "They don't appreciate alternative views. The fellowship I was going to take part in was an 'ultimate evil' in this sense."
Maryia knew an injustice when she saw one, but there would be consequences if she defied the order. There would be no returning to the University of Minsk to graduate. Her family might face retaliation. Maryia was scared, and yet, she understood that she would become a person she couldn't respect if she didn't stand up for herself.
She made a life-changing decision to enroll at Comenius University in Bratislava, aiming for a Bachelor's Degree in European Studies and political science. After a year there, she participated in an Erasmus exchange study and internship program for a year and a half at the University of Siegen, studying social sciences in Germany. While there, she added an internship with Aktion Deutschland Hilft in Bonn just over an hour away, monitoring developments of humanitarian crises in Iraq, Palestine, and Ebola-affected regions of Africa, doing qualitative data analysis, using info graphics (data visualization), and drafting web-page articles and annual reports.
Maryia graduated with honors from Comenius in 2015 and soon become very familiar with "all kinds of transportation depending on resources and times available to me as a student of International Relations." She entered a master's program and managed two internships, the first back in Minsk through the UNDP (UN Development Program). There she became a liaison between embassies and NGOs and an interpreter through November. The second internship was with Habitat for Humanity for two years in Bratislava, promoting energy efficiency for low income housing, fundraising, research, and reporting.
She wrote an article on nuclear non-proliferation treaties that was published by the Regional Academy on the United Nations, which also chose it as "Best Paper."
Maryia had joined Pontis Foundation of Bratislava earlier, but in April of 2017 she served as a project coordinator. "I work with civil society organizations from Russia and Slovakia. This is a very rewarding process and I learn a lot every day thanks to enriching discussions with my colleagues and a team spirit that exists in the whole organization."
Given greater management responsibilities, Maryia began working full-time with Pontis in September, 2018, "striving, among other things, to promote social entrepreneurship among businesses and non-profits. My career goal is to work at the intersection of disciplines and industries." She can't imagine ever giving up on her passions for academic research, traveling, participating in international projects, and NGO work. "I am determined to find a way to combine them all in my professional life."
And someday, she hopes to return to her home country of Belarus to encourage young people to travel more, be independent, and search for opportunities for professional growth and self-realization. "My dream is to create an organization that would conduct research on Belarus and promote Belarusian studies among scholars around the world" to foster outside interest and encourage Belarusians to value their own culture and language more.
"Promoting peace is not a career path," Maryia says, "it is a philosophy of life, and I have already started following it."
Other activities include:
Brussels: Academy of Young Diplomats; EU climate, energy and environmental policy training as well as career skills; and EU institutions training
Tallinn: speaking at the EU Pre-presidency Conference and volunteer work at the annual Eastern Partnership Civil Society Conference.
Vienna: OSCE Summer School (Organization for Security and Cooperation in Europe)
Additional Published articles:
"Enhancing the Eastern Partnership through Civil Society Digitalization," June, 2016, Trans European Policy Studies Association
"Enhancing European Security: Reasons for Phasing NATO's Nuclear Weapons out of the Region," November, 2016, Vienna Center for Disarmament and Non-Proliferation
"From Prague to Riga: Has the EU's Eastern Partnership Been a Failure?" April, 2017, E-International Relations