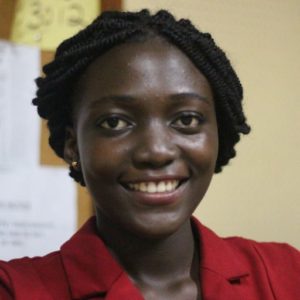 AKOSUA AGYEPONG
Keeping Leaders on Their Toes
Akosua Agyepong was born on a Sunday, and so her name means a Sunday child born to the Agyepong family. Family, both nuclear and extended, is all-important in Ghana, so when violence erupts in the north and in the neighboring countries, not only does it take lives, it also disrupts clan. Akosua was nine years old when a disputed election of a dictator's son led to violence in neighboring Togo. Hundreds of people were killed and 40,000 refugees fled. "I hated it when my relatives in Togo had to abandon their properties and business and run to our home in Ghana, just so that they could stay secure," Akosua says. She was again shocked in junior high school when she learned that her cousin had been separated from her mother in Sierra Leone and sent to Ghana because of a war there that took away businesses, livelihoods, and properties, leaving the family in poverty and separating them for twenty years. "We lost family and valuable relationships," Akosua says.
She explains that the violence in the underdeveloped northern part of Ghana has persisted for decades "in the name of chieftaincy." So, young people flee to the southern part of Ghana "to become head porters, subjecting themselves to a life of abuse and poverty" and crowding into over 200 slum areas near bustling commercial districts of Accra. In spite of all these negatives, Akosua still finds peace and happiness in her country's exciting rap, hip-hop, and Afrobeat music, along with "good spicy Kentucky Fried chicken."
"War and conflict in Africa has been one of the biggest setbacks in the development of the continent," she says, but she is passionate about Africa's potential, which fuels a dream that began in her teenage years of becoming UN Secretary-General one day, to bring peace to her country, her continent, and the world.
She admits she is "a bit talkative," however speaking in front of large crowds was simply not on her peacemaking agenda. While in senior high school, an awards ceremony loomed, and, much to her amazement, the chairperson told her someone needed to give the introductory speech. "I want you to give that speech," the chairperson said. Scared at first, Akosua found her courage and delivered the official introduction to great success. She began to see herself as a leader.
Realizing she needed to learn more about the history and the dynamics of conflicts in Africa, she was determined to attend college. Her parents had just lost their jobs, however, so after graduating, she sold beaded jewelry for tuition money. Unfortunately, the profits disappeared into household expenses. She'd sold her wares through an online platform that also asked her to model for an ad, earning her $400, the amount needed for her tuition. She turned to her family, and several members chipped in, enabling her to afford low-cost housing on campus. She found a summer job as personal assistant for Sa4a Designs.
A friend of hers had contracted HIV, so when her new roommates asked Akosua to join the Planned Parenthood Association of Ghana, she agreed, hoping to learn more about the disease. Through volunteering, she realized that "the issues regarding the sexual and reproductive health of many young people had been downplayed politically, socially, and economically." The culture perpetuated silence concerning rape, domestic violence, defilement, unsafe abortions, and preventive measures.
When Akosua registered for classes in September of 2014 at the University of Ghana at Accra, she began her major, Family and Consumer Science. The campus Debate Society stressed both debate and public speaking, and she signed on. Though a novice, she soon participated in the Vice Chancellor's Debate Championship and reached the finals for public speaking, which would consume many hours each month along with volunteering for Planned Parenthood's "Peer2Peer," a project aimed at reducing unsafe abortions among young girls.
Early in 2016, Akosua was nominated to the council of the Planned Parenthood Association of Ghana as a youth representative and was asked to present a brief explaining Peer2Peer on behalf of the association at the youth forum of the Africa Conference on Sexual Health and Rights, which drew young people from various parts of Africa.
At the end of her first term, Planned Parenthood offered her a summer position as an assistant, enabling her to register again at UG. During that third semester, Akosua accepted Bill Clinton's annual challenge, the current one focusing on solutions to overcrowding in some of the world's toughest places, in part by doubling incomes. "My team came up with a solution that created jobs for refugees, jobs that they could do with dignity and could manage on their own," she says. They won the Hult Prize at UG but lacked the funds to compete regionally in Dubai.
Capitalizing on her Planned Parenthood experience, Akosua proposed a web-based platform that educated the general public about reproductive health, mapped out various facilities that provided comprehensive abortion care, and allowed virtual interaction with a health professional. The concept won third place at an August event, the Impact Hub Accra Health Hack, a pitch competition hackathon, spanning three days.
An accomplished speaker and debater by April of 2017, Akosua won the UG Vice Chancellor's Debate. The following month, she travelled to Lusaka, Zambia to attend an Inroads Regional Meeting, collaborating to reduce abortion stigma in the region. Another summer job, personal assistant for SOS Labor Ghana Ltd, allowed her to register again for her final term.
Despite her full schedule, Akosua found time out for a crusade. She had become the national treasurer for Planned Parenthood, ready to allot funds to address the surge of child prostitution, teenage pregnancies, and the unsafe abortions which were killing young girls in central Ghana. Planned Parenthood found itself in crisis, however. Newly inaugurated Donald Trump had reinstated the "global gag" rule, barring US aid money for NGOs that offer abortion services or even counsel women on abortions. Members of her organization prepared to scrap their campaign in central Ghana. Akosua totally disagreed and set out to mobilize the essential funding. "At the end of two months, we collected enough to finish our project in the middle belt. Resource mobilization is the heartbeat of any NGO especially one like mine."
In November of her senior year, Akosua spoke on the theme "Youth as Drivers of Sustainable Development" at the First African SDGs Summit on Youth Advocates for Ghana at the Kofi Annan Internal Peace Keeping Training Center.
Ultimately, she says, "I believe more in prevention than in curing or resolving. I envision myself as a watchdog, that person who keeps leaders on their toes, ensures that treaties, truces, agreements concerning peace, and securities of nations signed on paper are actually made practical to promote peace." Her dream of one day assuming Kofi Annan's old job drives her to keep working for positive change.
She is currently working as a national service person at the United Nations Population Fund, a hectic schedule since she also is working on a safe house for survivors of domestic violence after winning a grant from the Australian Melbourne Cup. The safehouse is called The Pearl.