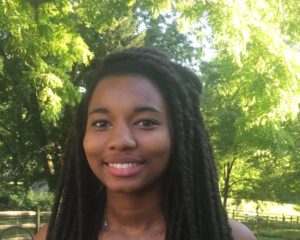 Kendall Davis – United States (Maryland)
Changing failing systems
What happens to a child who grows up in an ideal city? She just might turn into a sweetheart like Kendall Davis. Columbia, Maryland was ranked number one by Money Magazine in 2016 as the best place to live (in the small cities category) in the USA. A planned community, it clusters ten self-sufficient villages around a main business district. The population is just over 100,000, and job growth and economic opportunities place it in the top five percent. The schools are excellent, parks abound, and most people can find a home in their price range. Prejudice? What prejudice? Diversity? Absolutely, it's encouraged. In Kendall's village, Oakland Mills, she learned to find a smile even in her darkest times and points out that the act is contagious. One of her mottos is, "The harshest storms can create the brightest rainbows."
There have been dark times in her life. She wanted to remember her grandfather the way he was when she was a child, and they visited him and his goats at his mountain home on the Caribbean island of Saint Vincent—which is closer to Venezuela than to the US. It was hot with few of Columbia's comforts, but Kendall loved it. She was a child at the time and then didn't see him very often, until one day he came to live with them. He took her parents' room, while they moved into the basement, placing hardships on the whole family. Kendall and her sister were responsible for his care, even though he didn't remember who they were. They helped him bathe and dress, kept him occupied, prepared his meals, put him to bed, and then did it all again, day after day. "When he realized he was confused, he would fuss, argue, or even start to cry because he was so scared," Kendall says. Yet, there was a rainbow as well. "I noticed that throughout his stay with me, I had gained patience and understanding. I learned not to take your health for granted and to help those who are not as fortunate."
At first, Kendall was unaware of the less-fortunates of the world. Her friends came in all colors and spoke different languages. Many were immigrants or first generation Americans. Their parents taught her about their cultures. "I never feared a certain group of people because I usually knew someone of that group," Kendall says. "Being the grandchild of immigrants and growing up with the people I did, in the area I did, I believe in a way I was born and raised a global citizen." She has visited Hong Kong and the UAE. While studying French, she decided she was a little too "America-centric," and began paying attention to current events.
Sadly, it sank in that some people target others like herself or her friends "because of race, religion, ethnicity, socioeconomic status, gender, sexuality, sexual identification, or anything that sets us apart of the 'norm'." When Kendall was a freshman in high school, Trevon Martin was killed for walking home in a hoodie at night, eating Skittles. That sounds like me, she thought. It was a shock to learn that some people saw her as a threat because of her skin color, even though her parents had warned her that hate exists and sometimes it's for no reason. "After a while it felt like there was always another unarmed black person being killed," she says, and when it came time for justice, the perpetrators were always let off. Pessimism began to set in.
"I realized I need to help change things," she says, and stepped up her activities.
She served as historian of the multi-ethnic female honor society, Delta Scholars, for three years. For two years she was a member of the honor society, High Flyers and the National Honor Society. She also found time for volleyball and the school orchestra where she played the cello. She mentored underclassmen as an Oakland Mills Peer Leader and did event planning in the Student Government Association In addition to her extra French studies.
In 2015, she entered the University of Maryland College Park, pursuing an International Business and Information Systems degree, and minoring in public leadership because she wanted to know how to make change happen. She also joined a campus civic engagement living and learning program.
Yet it wasn't until she took a business class titled "How do Innovator's think?" that she gained a clearer focus on the direction she hopes to take with her career. Innovators, she learned, often take an idea that already exists, and produce it more cost-effectively, making it more available to lower income people and to developing countries. One idea proved to be her epiphany. An incubator for premature babies produced at a fraction of the cost of those currently in use meant numerous saved lives worldwide. "I figured I could combine the pragmatism of business with my love of helping people."
Kendall's dream is to "create a non-profit organization designed to make more people feel like a valid member of society." Target groups would include formerly incarcerated people, troubled youths, immigrants, minorities, and others.
"Systems often fail people," Kendall says, "but I could help change these systems."