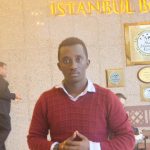 I aspire to be the youngest Rwandan youth in Parliament and maybe later a diplomat.
Julius Kaliisa's family fled Rwanda during the genocide of 1994, traveling approximately a hundred miles to live in a settlement in the Muleba district of the Kagera region of northwest Tanzania bordering Lake Victoria. Regional ethnicities don't follow national boundaries, so the family apparently had access to land use in Muleba. It was there that Julius was born to Rwandan parents. In Sub-Saharan Africa, from Nigeria to the Lake District, land disputes cause horrendous conflicts. Julius blames inadequate leadership, and there are many causes, but Tanzania and other countries in the region have terribly high rates of hunger and malnutrition. Lives depend on access to land.
"In Nigeria, community land conflict between herders and the farmers claim more lives than armed insurgencies," Julius says. "My hard luck began with the murder of my uncle over land wrangles, may his soul rest in peace. My brother and dad were cleaved to death over land disputes in Tanzania. I grew up witnessing murders due to land disputes in rural areas."
Julius avoids details of his harsh childhood as "a victim of civil war, genocide, hunger, the orphanage, and child labor," but he credits it with molding his driving ambition to get a good education and, as he puts it, "pilot my own life."
Over a hundred miles by ferry across Lake Victoria and still further by land, lay Kampala, Uganda where Julius lived and started school at the age of six. Friends told him to relax and take it easy even in his elementary school years, but most hadn't experienced what he'd endured. "My leadership responsibility started back then," he says. He became the class monitor and later the head prefect to a school of a thousand students.
When it came time for higher education, he lacked the money for fees and lost a year of schooling. In Nyagatare, a rural area in Rwanda, he attended a mission school where he became obsessed with success. During a multi-national student debate competition, Julius spoke with such impassioned eloquence about his dreams for the future that a representative from the Riviera Cambridge School in Kigali, Rwanda granted him a full scholarship. His life was never the same. Julius became the first from his settlement in Muleba to make it to high school.
While in Kigali, he received civil service basic military training in 2015 and served as a platoon commander, further developing his leadership skills.
Students at Riviera Cambridge were given pocket money for snacks and sundries, but Julius realized that most students were given more than they needed. He understood all too well how hard it was to earn money and was studying economics. He came up with the idea of helping fund financially disabled children through savings. As a senior, his dream was to create a non-profit microfinance institution that would give youth access to funds without interests and also link direct foreign investors to the youth who need sponsors.
In June of 2016, he called for a meeting of potential participants in his enterprise. "Each of us had a business Idea," Julius says, "and 98% of the fellows were limited by lack of capital." They agreed to jointly raise capital and develop a business plan. Their enterprise, 250RVIP Ltd. (https://rvipltd.com/) was successfully launched a few months after the meeting and registered with the Rwanda Development Board, Julius its CEO and founder with twenty shareholders. (250 is the international calling code for Rwanda, and RVIP stands for Rwanda Vision Investment Partners.)
Just before graduating from Riviera Cambridge, Julius took his final national examinations and scored 100%, the highest mark countrywide. "This triumph permitted me to meet the president of the Republic of Rwanda who awarded a full scholarship to pursue my university studies in Turkey," he says. In response to the Hutu uprising against the Tutsi and subsequent genocide in 1994, Turkey had become a major haven during the Rwandan diaspora.
He arrived in Antalya Bilim University on the southern coast of Turkey during the failed coup d'état attempt of 2016, but that didn't stop him from plunging into activities. During his nearly three-year stay, Julius became a chairman for RPF (Rwandan Patriotic Front) Task force in Turkey, a leader for the Rwandan Community in Turkey, and Ambassador of Their footprints organization in Turkey.
"The Rwandan Diaspora community in Turkey resides in different parts of the country" he says, yet he helped with its integration with the support of the Embassy and his committee through communal work (called Umuganda). They helped the needy in Rwanda, fundraising to pay health insurance for disabled families. Julius was also part of the team that conducted the Rwandan presidential election and vote-counting of his countrymen casting votes from Turkey.
In September of 2018, Julius will finish his major in international relations and political science through Erasmus at the University of Erfurt in Erfurt, Germany. He looks ahead to focusing on a leadership role in the Rwandan community diaspora, chaired by the Embassy of Rwanda in Turkey in partnership with Rwanda's Ministry of Foreign Affairs.
His finance venture 250RVIP has continued despite his travels. "The company continuously accumulates funds through joint savings on a fixed account in I&M Bank," Julius says. They currently are investing in agricultural products, land business, and bonds on a limited basis. "Our Mission is to expand across Africa through encouraging joint saving, and investments in Africa by Africans from an early age."
"I will never forget the history of my past," Julius says, "but I won't be the captive of my past, and neither do I wish my community to be. Rwanda is a country that defined her problems and found solutions for itself, instead of waiting someone else to do it. This is the magic power that inspires me personally."