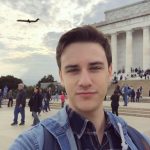 I believe conflict resolution is possible only when diplomacy is involved and all parties involved are equally represented and truly heard.
As a high school senior, Joshua Emero did well in school and enjoyed weight-lifting and long-boarding. He figured his life's roadmap clearly specified an engineering degree in college, Reserve Officers' Training Corps (ROTC), a military career, and retiring to teach history in high school. His father had served in the US Navy for twenty-two years and was based in Italy where Joshua was born, then relocated the family to Bahrain for three-and-a-half-years. Both of Joshua's grandfathers served time in the military, as did other family members. Of course he was headed for the military.
Two months before his graduation, however, he was diagnosed with Type 1 Diabetes. "Diabetes is one of the military's absolute disqualifications," Joshua says, "and with that my perfect plan, with which I was genuinely excited and happy to tackle the world, had crumbled."
To his surprise, he discovered a truer sense of what his life should be about. He entered Pennsylvania State University as an undeclared major. "I started thinking of things in terms of what I wanted to do, rather than what I should do," Joshua says. He discovered two majors of interest, sociology and Information Sciences and Technology, along with "a newfound passion for dialogue facilitation" through the World in Conversation (WinC) Center for Public Diplomacy, "where I have found fulfillment and excitement that I have never uncovered in anything else I've ever done," Joshua says.
WinC is considered the largest dialogue Center in the US, training and equipping students with skills in guiding domestic and international dialogues on social issues. Joshua wants to see American students connect to students around the world with an international mindset.
"I facilitate conversations between students and faculty at my local university and people from Columbia, Russia, Iraq, Afghanistan, Cambodia, and the Gaza Strip," Joshua says. He actively holds space for all perspectives in the room as a neutral participant, though the conversations are often contentious. These discussions expose participants to perspectives that they likely would have missed otherwise. "I never imagined that I would work with such a capable and diverse staff with people from all over the world," he says, "not to mention, I never would have guessed that I would have found my best friend in someone who is from Saudi Arabia." He's received honorable citations as a Global Dialogue Facilitator and as Veteran Facilitator.
"As a result of the ironic freedom that my diabetes exposed me to and the subsequent work and experiences," Joshua says, "my ultimate goal has become to eventually work in areas of diplomacy and international relations that require facilitated conflict resolution."
He took the opportunity to serve an internship at the Embassy of the Islamic Republic of Afghanistan in Tokyo, doing public relations, followed by another internship back home at a school district in the Penn State area, doing IT work. For ten months in 2018, Joshua worked with a team to develop a prototype Chatbot for Walt Disney Animation Studio's Data Visualization Team.
Perhaps Joshua's most exciting opportunity came after applying to participate in a course, "Connecting Cultures" at the University of the Desert in Muscat, Oman. A professor at Penn State runs two yearly Outward Bound courses in "Connecting Cultures" in Oman, jointly funded by the Sultan and UNESCO/ UNAOC. Hundreds of applicants from across the world apply, and in January, 2019, Joshua was selected to join seventeen other young people, representing thirteen countries, trekking through the Sharqiyah Sands Desert in Oman for five days and four nights. "Throughout this program, we constantly worked together while discussing and debating complex issues in order to identify what united our cultures, what values we shared, and what mediums separated us." Joshua says they were nearly all leaders, "engaging in some of the most inspirational and active work in their home countries." Yet, without friction, they assumed tasks most suited to them, including roles in debate teams, cleaning crews, guides for the day, partners for setting up tents, and others.
"Because of this experience, I feel that I am now comfortable in assuming any role that is required regardless of how small," Joshua says. "This is because a necessary task, no matter how simple or insignificant, is still necessary and conducive to the group." Josh returned to his senior year at Penn State where he shared his experiences from the Connecting Cultures course in a public lecture.
He's currently considering joining the Peace Corps and pursuing is an International Masters in Security and Diplomacy at Tel Aviv University in Israel. "Through tackling issues facing Israel and its region form both security and diplomatic perspectives, I would be able to utilize all that this country and institution have to offer with its very exclusive position and experience," Joshua says.
His career goal is to work in areas of international relations that require conflict resolution. "However, whatever I do, I plan to strive to foster partnership within the international community as a cultural diplomat," he says. "My ultimate dream is to become a United States diplomat or ambassador."