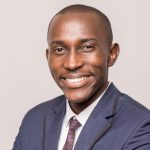 I'm lucky to have transcended cultural boundaries I did not choose and help others do the same
"I am a third culture child," says Jonathan Mugisa Basara. "My parents are not from the same ethnic group." Born in the Itara Province of the Democratic Republic of Congo (DRC), a land of vast savannahs and lush rainforests, rich in minerals and oil, he considers himself as primarily belonging to the Hema tribe. Historically, Belgian colonialists favored the Hema people to the disadvantage of their rivals, the more agrarian Lendu tribe, in a dynamic similar to that of the Hutu-Tutsi conflict in Rwanda. Though both ethnic groups speak a common dialect, intermarry, and share the same customs, their mutual hatred and stigmatization has all too often erupted into brutal violence plaguing the Great Lakes region of Africa. Tribal hostilities have caused hundreds of thousands of displaced people and "more deaths in the last two decades than in World War II," Jonathan says.
On a holiday visiting an uncle, a teenaged Jonathan and his cousins were having fun playing games. Jonathan took the lead in trying something new, but his failure provoked laughter. "You got it from your mum's side," a cousin teased, referring to Jonathan's mixed ethnicity. He laughed along with the others, "but something in me felt less of a man from that day onwards." He became sensitive to subtle slurs and pointed glances. Fearing rejection, he grew introverted.
Violence had broken out near Goma, a hundred miles to the south, causing tens of thousands of people to flee their homes. Jonathan finished high school, but left the DRC in 2014 and moved to Burundi to enter Université Lumière (Light University) of Bujumbura, majoring in management and computer science.
During his first year, he observed the same simmering unrest, people "carrying the same burdens of ethnic divides and conflicts," he says. He felt conversations polarizing around him and wondered if he should merely focus on his education, or join forces with those working for positive change? He realized everything he'd experienced as an outsider had served to prepare him to become a "bridge builder." At that point he found his place in the world.
After his freshman year, he began volunteering with Generating Opportunities for Burundi. On campus, he joined Toastmasters International. Wanting to help youth affected by the conflicts, Jonathan used the university platform to pull diverse groups together and co-found "Be a Winner Academy" to mentor high school students, beginning with weekly mentoring sessions at the "Centre Culturel Islamique Markaz," a Muslim school. Nina typified the teenage girls there who feared leadership roles in a male world. She was passionately creative, so when Jonathan and his team insisted a girl lead a talent show project dubbed "Femme Musulmane" (Muslim Woman), Nina took charge and co-wrote a play spotlighting women's transformative roles. The event attracted 1,500 people.
Jonathan's team mentored 120 students at that school and expanded to eight other schools in Bujumbura. Many mentees went on to lead great changes in their universities, including Nina who founded a multi-national award-winning performing arts crew in Rwanda, "making her one of the most reliable young leaders I am proud to walk with," Jonathan says.
Next, he volunteered as the Deputy Country Coordinator for the Africa Youth Leadership Forum and at the end of the school year became Campus Coordinator of Students for Liberty. In March of 2017, Jonathan also volunteered for the UN Sustainable Development Solutions Network, Volunteering as coordinator and focal point for Burundi.
Between terms, he assisted street kids with an ongoing feeding program and back-to-school campaign. As his junior year began, his bridge-building expanded to other countries, starting with Kampala, Uganda, where he consulted with the Mennonite Central Committee and spoke to youth groups. Two months later, he traveled to Kigali, Rwanda on business and to consult with All Trust Consult Ltd. A year later he attended President Obama's Young African Leaders Initiative Training in Nairobi, Kenya for a month and won an award there. He also returned to Kampala, speaking on leadership to teenagers and church youth leaders.
While still at the university, he was especially proud to consult on the Light Awards in conjunction with the Spears Connect Group. He became its chairperson, running entrepreneurship workshops to "significantly equip youth to create and/or scale sustainable solutions by putting them in entrepreneurship pathways," eventually reaching more than 20,000 students. "What's great with this project is that students are stakeholders, alongside the U.S. Embassy in Burundi, media companies, corporate organizations, and education institutions all across the country." A year later Jonathan became the CEO of the Spears Connect Group and lead coach. "I get to work with an amazing team, diverse in gender and backgrounds, and serve equally diverse clients who rely on us to leverage this diversity resulting in a high level of excellence."
Jonathan also took on leadership roles in OYA Opportunities and Glocal Pvt. Ltd., attended the Ashoka and Robert Bosch Stiftung Changemaker Xchange Summit in Rwanda to help build a cross-sectional network of selected leaders to address issues like the environment, consulted with the British Embassy in Burundi on Chevening Scholarship promotion, and coached youth on social entrepreneurship, hosted by Plan International's Smart Up Factory program.
Jonathan is committed to making the world a better place "by pulling people together via my work with entrepreneurs and youth all over the Great Lakes region and beyond."