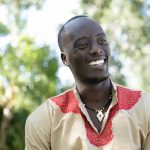 The highest form of leadership I strive to embody is servant leadership.
As a small child born in the Ifo refugee camp in Dadaab, a semi-arid region of Kenya, Isaac James didn't fully grasp the realities of his dire situation. He loved to play outside and enjoyed his madida—porridge in beverage form. He didn't know much about the Second Sudanese Civil War or the family's homes that were burned, the members who were murdered, the possessions destroyed.
"My mother left the refugee camp to find work so she could provide food for our family," Isaac says. "My father was not around." His aunt raised him, and he came to understand that he was born into a family who'd lost everything, and that fear filled their hearts. People from various nationalities in the camp assured him that they shared common miseries. "We didn't have a home, security, or peace," he says. "I lived not knowing of the future ahead of me and what horrors this world was capable of. We were all clinging to our last form of hope."
In 2001, Isaac's family was given a new chance at life. He was five when they were relocated to Memphis, Tennessee, USA. Their hopes rose in this transition, however, soon after their arrival, terrorists flew jet airplanes into the World Trade Towers and the Pentagon. "My heritage being one that is commonly associated with Muslim faith," Isaac says, "I grew up being treated as a threat to Americans." He felt he was cast into "the bottom of the social pyramid," but that he had rights, and that, at least, made him feel safe. A desire grew in him to reverse the dominant apprehensions around refugees and immigrants, and that "it is imperative to eradicate the stigmas to encourage cohesiveness that will allow opportunities to arise."
Some who have experienced relocation see it as an opportunity to forget the pain and horrors of their past, but Isaac chooses to remember. "My public service career goals are driven by my roots," he says. The UN Refugee Agency estimates over 68 million people are forcibly displaced worldwide and over 25 million become refugees. "I see a need to collaborate with passionate individuals on resolving global challenges that result in displacement, violence, poverty, and slavery," he says. "I want my life to serve as an example of the positive difference that refugees can make in this world."
After graduating from high school, Isaac worked as a busboy and then as a student assistant in Athletic Department at Jackson State Community College east of Memphis. At the end of his first year at Jackson, Isaac became an English teaching assistant in a Refugee Empowerment Program. He also joined the Multicultural Student Association, the men's basketball team, and was elected Student Government President. When an off-campus hate group targeted LGBTQ+ students, Isaac sought constituents' feedback, met with administrators, and pursued ways to lawfully control a recurring situation.
Also in that year, 2016, Isaac pursued US citizenship, hoping to take away the stigma of being a refugee and "to finally claim a home."
The following summer, he volunteered as a driving instructor for refugees and migrants at the Refugee Empowerment Program in Memphis, and, after another term, became a Public Policy and International Affairs Junior Summer Institute Fellow at the University of Michigan before entering Rollins College, Winter Park, Florida, as a major in Public Policy, Political Economy, and Social Entrepreneurship.
There he participated in the Orlando chapter of the United Nations Association and ECO Rollins advocating for environmental stewardship. He served as a student assistant in the Accounting and Finance Department at Rollins and also as impact chairman for Join Us in Making Progress, coordinating community service opportunities for students.
In the summer of 2018, Isaac was named a Benjamin A. Gilman International Scholar and a United Nations Academic Impact and MCN Millennium Fellow at Rollins. He also became a servant leadership mentor for refugee youth through Ebenezer Global. "Servant leaders are comfortable leading in front, but often practice a leading-from-behind mentality," Isaac says. He quotes a Robert K. Greenleaf motto: "good leaders must first become good servants."
Isaac joined the Interfaith Alliance at Al Akhawayne University in Ifrane, Morocco (AUI) for a semester abroad. To better serve refugees from Sub-Saharan Africa displaced by the Sudanese civil wars as his family was, "I chose to study in Morocco to build relationships and bridges between Arab people and South Sudanese culture," he says. "I created Friends of Migrants and Refugees because of my experiences of discrimination and exploitation as a refugee in the US." Recruiting volunteers for a program centered on people perceived as intruders who drained Moroccan resources was a huge task, he admits. He began with panel discussions, resulting in volunteers for the English and Dariji language programs for migrant minors, which were joyfully received. "I can gratefully say that the program has been absorbed by the AUI community and will be continued by its students."
He also served in the Bidi Bidi refugee camp, in an entrepreneurial partnership with women in Koboko, Uganda, furthering intercultural communication and community outreach. "There is now a burdensome, violent ethnic conflict between the Nuer and the Dinka tribes that has displaced many families." Isaac recruited members of both tribes to join discussion sessions. "For those who came, the experience was life-altering," he says.
Before entering graduate school, Isaac wants to join the U.S. Peace Corps to serve in any developing region. "Understanding how public policies affect people will enhance my ability to advocate and implement appropriate policies in the future," he says. "Furthermore, my goal of pursuing a Masters of Public Policy and a Juris Doctorate in International Law is to expand justice, peace, and opportunity around the world."
Isaac hopes to enter Foreign Service to work in the UN, ideally as a diplomat.