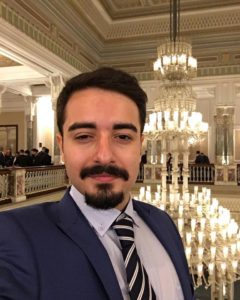 Ilker Gul – Turkey
Finding solutions as an academician and a diplomat
"A country with rich history, diverse cultures, amazing food, and beautiful landscapes," is how Ilker Gul says people used to describe modern Turkey. At the crossroads of ancient trading routes between continents, Turkey is "like a small version of Europe and Asia," he says. "Just look at how many different traditional dances we have in Turkey, and you will understand what I mean." In the spring of 2014, Ilker served as a volunteer coordinator for a week at an international dance festival in Bodrum, Turkey, enjoying the colorful and often ornate costumes as troops performed various dances.
In Izmir, which is Ilker's home city on the west coast, visitors marvel at its famous museum and Greek and Roman ruins. Yet in the region's modern cosmopolitan atmosphere, progressive thought gives it a reputation of being "the California of Turkey," Ilker says with a smile. His smile fades, however, when he thinks of his homeland today.
In 2010, the Arab Spring's protests that led to armed revolts throughout North Africa and the Middle East caused a fear of turmoil that spread through Turkey. With the increasing carnage and devastation of the Syrian Civil War, the fear has turned into political polarization. "The conflicts in and around my country have been at the highest level since the Second World War," Ilker says. "The region that once was peaceful and tranquil is currently under the tight grasp of blood and death." Turkish citizens are all too aware that battlegrounds in Syria, Iraq, Ukraine, and Yemen surround them.
Ilker believes that pessimism radicalizes people. "I am afraid that the Arab Spring has turned into the Arab Winter. Millions of people have left their homes and hometowns, and it doesn't matter wherever they go, the hunger and misery follow them," Ilker says. "We hear about a bombing or a shooting in my country far too often. People are worried about their future and concerned individuals even question whether bringing a child into this world is a good idea."
In 2012, Ilker began working toward a BA degree in English Translation and Interpreting from Ege University in Izmir, supplementing it with many online courses from prestigious American universities and institutions to give him "the preliminary knowledge and experience to get people to come together in the future." Apart from Ege University's Translation Community and European Students' Forum (AEGEE), he additionally volunteered with the Ege University International Relations Community and also cofounded the Center of Strategic Research Students' Platform with other alumni from Ministry of Foreign Affairs, becoming its general coordinator. Ilker has presented numerous papers at student conferences like the Turkish Translation Studies Students' Symposium. He also began part-time work as a free-lance translator online to help with expenses.
His growing interest in deterring the threat of violent conflict in his country prompted Ilker to pursue a second BA degree in 2014, majoring in international relations. He enrolled for an online degree from Anadolu University in Eskisehir, while still enrolled at Ege.
In the spring of 2015, he served as an intern with the Republic of Turkey's Ministry of Foreign Affairs. He not only translated, but he also learned about the coordination and inner workings of diplomacy, leading him later to establish an alumni group of former interns with the department, coordinating numerous  conferences, symposiums, and panels. He continued his understanding of such processes by serving as a translator at a second internship the following month with the parliamentary Grand National Assembly of Turkey.
Ilker graduated from Ege with high honors in 2016, simultaneously receiving a Best Paper Award for his presentation on Brexit from the 14th Ege University International Relations Student Conference. The prize included a new suit that Ilker wore proudly at HSI occasions. Still working toward his undergraduate degree at Anadolu, he was able to enroll concurrently in a master's program in international relations at the same University.
The following December, Ilker participated in the ESOGU Model United Nations 2016 Winter, held at Eskisehir Osmangazi University—with which Anadolu is affiliated. His simulation represented Germany at the United Nations High Commission for Refugees (UNHCR), focusing on Germany's role in convincing other members of the EU to shoulder more responsibility while blocking opposition toward Middle Eastern and North African refugees. Ilker employed the "official and non-official processes of negotiation and lobbying" acquired during his internships. The resolution he drafted earned him the Best Delegate Award.
Just before attending HSI, Ilker presented a paper at the Graduate Student Conference, titled "The European Union at a Crossroads," sponsored by the Ashburn Institute, held at the University of Oxford, England. Then after HSI, he was off to Alpbach, Austria on a scholarship for European Forum Alpbach on a myriad of current issues led by distinguished international scholars, politicians, and businessmen. He also received a scholarship for the professional program on strategies of influence held in Alpbach.
In pursuing his eventual goal of a PhD, Ilker is developing a project titled "Turkish Defense Industry: Analysis of Technological-Industrial Infrastructure and Future Strategies," which is funded by the Scientific Research Projects Commission of the Rectorate of the Anadolu University.
Ilker's goal is to contribute to finding solutions "for the problems in the most problematic regions in the world: Middle East and Central Asia." As an academician, he could influence hundreds of students and also continue his voluntary works with NGOs. As a diplomat with the Ministry of Foreign Affairs he could join an essential cadre of political leaders in Turkey who are unyielding followers of democracy and human rights and who respect differences. Frustrated with polarizing influences, Ilker says, "It doesn't matter if you are a conservative, social democrat, nationalist, or belong to a minority group. If the ship wrecks, all of us will drown. So, better to respect each other before we hit the rocks."