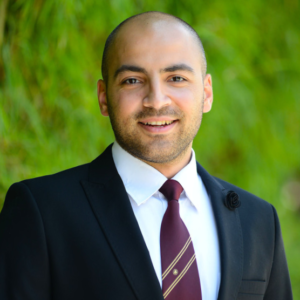 Iliya Kurtev – Bulgaria
Development through the goals and mandate of the UN
Sometimes it is best to do what you aren't supposed to do, says Iliya Kurtev.
A student at the Complutense University of Madrid, majoring in international relations, he'd joined the Ecoaldea UCM, an environmental student organization, and also was active in the Complutense Model United Nations (UCMMUN). Iliya anticipated another summer as a lifeguard and working on his novel series.
He was born in Bulgaria, but when he was thirteen, his parents decided conditions there were intolerable. Bulgaria is considered the least developed country in the European Union with a rapidly shrinking population. "Politically, the structures of power are still branded by half a century of communism," Iliya says, "and remnants of these darker times still remain operating in the shadows." Faced with that reality, many Bulgarians sought better opportunities abroad and "my family and I are part of that story," Iliya says.
Now based in Spain, Iliya adapted to his new international life and learned the lessons it had to offer. That is what led him years later, at the end of his Bachelor studies, to sit down and write a letter, though he knew he shouldn't, to the Director General of UNESCO, Irina Bokova, a former ambassador from Bulgaria. Restless, craving adventure, and thinking about the future, Iliya was hoping for a position at the UNESCO field office in Nairobi, Kenya. The bad news was that he didn't get that job in Africa, the good news being that he began a correspondence that ultimately changed his life. Though the Office of the Director General (ODG) received many applications from students with advanced degrees the world over, Iliya was offered a position at the ODG in Paris, France, and "everything significant I have done or achieved since is traceable back to that moment," he says. His life took a new shift.
In February, Iliya began his five-month internship, drafting briefings and correspondence, researching and compiling information, attending events, and meeting with officials from multiple countries. As an aspiring writer, he also engaged with the speechwriting team of the Director General and worked hard on his drafts; the feedback he received pronounced them "excellent," and soon after, the speech department entrusted him with "more exciting and responsible tasks." He was asked to assist in the preparations of the DG for the World Humanitarian Summit in Istanbul, addressing the needs of Syrian refugees.
He also helped with other significant events, like the National Commission's Meeting during the Executive Board sessions and the celebration of the Bulgarian National Holiday at the Bulgarian Embassy in Paris. In keeping with his personal policy of pushing the bounds of what you aren't supposed to do, he gave a rose to the DG herself and got away with sneaking into high level conferences and events, thereby meeting remarkable individuals like Raul Castro, H.E. Shimon Peres, and a man who would prove especially significant to Iliya: Dr. Solomon Passy, former Foreign Minister of Bulgaria, UNSecurity Council Chairman, and President of the Atlantic Club of Bulgaria.
While in France, Iliya also found time to attend a youth event at the European Parliament in Strasbourg, discussing security, migration, radicalization, and international cooperation, the collected results to be presented for consideration at the European Parliament session. He also took part in the International Model United Nations that was held in Paris that spring (PIMUN). Iliya represented Russia there, and he received recognition for his input on the topic of North Korean nuclear proliferation.
At the end of June, the exciting internship came to an end, but it was just the beginning of his new life. His university, Complutense of Madrid, bestowed its honors on him, and then he was off to Bulgaria, a return to the homeland he hadn't seen for years. Encouraged by Dr. Passy, Iliya had applied and was accepted to a NATO summer school at Smolyan, Bulgaria, organized by Dr. Passy's Atlantic Club and the Bulgarian Euro-Atlantic Youth Club, to focus on international security in Eastern Europe and the Middle East."We dealt with the topics of hybrid warfare, terrorism, NATO­Russia relations, the refugee crisis, the growing cyber defense risks, and gender equality," Iliya explained. He impressed Dr. Passy with his knowledge and in another, perhaps even more important, way. On a rigorous expedition through the nearby Rhodope Mountains, Iliya showed his mettle. "We have a saying here in Bulgaria," writes Dr. Passy, "to reveal a man's true character, one should take him to the mountain." There, Iliya demonstrated his enthusiasm, leadership, and, above all, exceptional perseverance, and Dr. Passy wouldn't forget it.
From Bulgaria, Iliya's next stop was the Green Academy, held on the island of Vis in Croatia. High profile attendees included politicians, professionals, journalists, activists, and professors, there to explore how climate change and environmental degradation threaten peace, development, and security. At the end of the summer, Iliya headed to the UK for the Europaeum's summer school on Europe and China at the Oxford China Centre. Here again, Iliya wasn't quite supposed to apply but he did anyway, becoming the only undergraduate student accepted at the event to explore the most pressing geopolitical and demographic challenges facing both regions.
After a brief but happy reunion with his parents in Spain, Iliya headed for Geneva to the Graduate Institute. He'd been selected as a "leading European alumni" to participate in the European Migration Day debate and other activities concerned with migration, refugees, and asylum rights. As part of it, Iliya took part in a model debate to propose ideas for presentation at the European Parliament by Dr. Jose Manuel Barroso, former President of the EU Commission.
By November of that amazing year of 2016, Iliya was ready to begin his work with Dr. Passy through the Atlantic Club of Bulgaria. "The goal of our projects and events is to promote the Euro-Atlantic principles and values, create platforms for dialogue and debate among members of the governmental and non-governmental sectors, as well as with youth, media, the private sector, and academia," Iliya says.
After this experience, in the spring of 2017, he returned to Oxford to work as assistant to the Secretary General of the Europaeum, where he participated in the organization of international events, attended lectures and conferences at the University, and worked on refining his research and writing skills.
He is now attending Sciences Po in Paris, working on his Master's degree in International Security. At the beginning of October 2017, Iliya presented his candidature and was elected President of his Maison at Cité Universitaire, proving his leadership skills, and committing to further improving and developing them.
"My highest aspiration is to one day occupy a decision-making position in the framework of the Organization of the United Nations, ideally as the Ambassador of the Republic of Bulgaria to the UN." He hopes to contribute to the development not only of Bulgaria, but to regional and global progress, through the goals and mandate of the UN.
"Try and do, even if you are not supposed to," Iliya says. "Great things can happen."