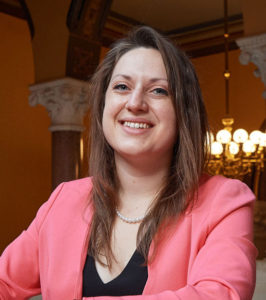 ELIZABETH CHARASH
Listening and learning from our allies and our perceived enemies
An eight-year-old girl stood outside the Capitol Building in Washington, DC. The child felt more like she was standing before a mountain instead of a government building. What impressed her most was the solid power and possibility of change it embodied. Young Elizabeth Charash would never forget this sense of awe.
Eight years later, on December 14th, 2012, Elizabeth was a junior at Newtown High School, less than a mile away from the mass shooting at Sandy Hook Elementary that killed twenty children and six educators—anotherday she'd never forget. It was the sense of powerlessness and sorrow Elizabeth experienced with her community that prompted her to join Junior Newtown Action Alliance, lobbying in Washington for gun reform and helping to organize the first student-run gun-violence prevention conference in the country.
"Sandy Hook pushed me to understand something horrendous," she says. While still in high school, Elizabeth began activities that would equip her for future activism, conducting awareness campaigns as a public relations intern for a right-to-water non-profit, attending court proceedings as a student volunteer in the Danbury Supreme Court House, supporting children with disabilities, and doing social media research for presentations as a marketing intern.
The summer after graduation, she became a Congressional intern for Elizabeth Esty in the US House of Representatives, researching the needs of constituents and increasing access to public services, and housing. Elizabeth then entered the University of Connecticut, where she majored in history and human rights in the fall of 2014. She participated in Peace Jam, Moot Court, and Mock Trial, and also worked as an editor and staff writer for The Daily Campus. Serving as a social media intern for Narrative 4, Elizabeth worked to increase "radical empathy," an idea that sent her activism in a new direction as she helped launch media campaigns involving story-sharing.
She became thefounder and president of UConn Against Gun Violence to offer a space where students and community members could access all perspectives on the complex issue of gun violence, collaborating with other gun violence prevention organizations, UConn groups, and clubs to promote awareness. Just before her new group's first school involvement fair, Elizabeth was in class when she received a "harried" text from her group's vice-president regarding UConn Pistol and Rifle, a gun rights group on campus.They wanted to speak with Elizabeth about the "nature" of her organization.
She met with their president, who initially seemed defensive. "I told him that I was there to listen," she says, and he described his multiple tours in the Marine Corps. She shared her experience with the Newtown shooting and the stories of her friends that experienced different facets of gun violence. They discovered something important. "We both wanted to protect our families and friends and ways of life, but saw different ways to do so." They are now friends, and their organizations work together on events that address gun violence and spread awareness for gun culture. "Violence persists because we do not seek to understand each other," Elizabeth says. By story-sharing and active listening, she and her group have brought reason and goodwill into the fraught issues around gun violence.
Her new understanding went deeper still. "As I began to talk more with advocates from Hartford, New Orleans, and Chicago, I realized that the issue wasn't just Sandy Hook. Gun violence was much more complex than mass shootings. Why weren't we talking about those killed by intimate partners? People killed in gang-affiliated shootings? Suicide victims? Why was Sandy Hook worthy of national grief and these individuals weren't?"
Seeking answers, Elizabeth participated in a program from the University of Cape Town that worked in areas of high violence outside the city-limits of Cape Town, South Africa. She immersed herself in the community, working with local advocates to better understand why the gunfire persisted in a neighborhood that was close-knit like hers. She realized that those affected were not seen as casualties of the problems that overwhelmed their lives or as victims inhibited by racial structures that deemed them less deserving of the same human dignity as white victims of gun violence.
The violence was not isolated to the streets. Elizabeth was also exposed to the widespread intimate-partner violence that harmed families in the community where she worked. Leading a class on substance abuse, Elizabeth was saddened by the men who admitted without remorse that they'd hit their partners. She encouraged the men, and women, who comprised the class to share their stories with one another and take the time to listen to each other, considering the importance of all human rights.
Leadership requires "countless acts of compassion," she says. "Leaders must balance their desire to share with their need to listen and engage. If there is no recognition of the humanity of others and no awareness of the lessons we can learn from our allies and our perceived enemies, then we can never address gun violence or any of our world's problems."
Returning to UConn, she became a co-investigator on a research project through the Sociology Department that examined urban and suburban gun violence, analyzing, researching, and writing articles about the inequality she witnessed. For her work in finding solutions for the challenges communities face, Elizabeth became a Newman Civic Fellow, honored by the Newman Foundation. She was a member of the Honors Special Program in Law, Legacy Leadership Initiative, and was a Campus Stakeholder on the Suicide Prevention Committee.
She served two more political internships, one for Senator Chris Murphy, communicating with constituents to better direct their concerns, collaborating on foreign policy projects to help inform staff, and staying briefed on policy issues, especially homeland security and agriculture. She also worked as a policy fellow for the Brady Campaign & Center to Prevent Gun Violence, helping to develop their policy and political campaign platforms.
Elizabeth will next explore the identity-based tensions between Catholics and Protestants affected by the long-seated conflict that resulted in The Troubles in Belfast, Northern Ireland at Queens University Belfast, pursuing an MA in conflict transformation and social justice.
In the future, she plans to legally represent victims of gun violence by taking on "cases similar to the Brady Campaign to Prevent Gun Violence and Everytown for Gun Safety that effect change at the macro level while considering the stories of those impacted at the micro level." Elizabeth is starting to see "more and more people become advocates themselves and informing their activism by looking at more experiences than mass shootings." This is incredibly good news, and, she says it "continues to be my driving force for change."
She stays committed to working through the system. "Those without access to representatives feel disempowered," she says, but "activism equals power." One of her jobs as an intern for Senator Murphy was to take constituents on tours of the Capitol. She must have recalled her childhood impression of its power to affect change—adding a sense of how that power can make a better country for all of its people.
Publications by Elizabeth Charash:
"Unjust Epidemic: Inequality in Gun Violence," Teen Vogue, June, 2017
"End Everyday Gun Violence," US News and World Report, December 2017
"Intersectionality and Social Movements: Understanding Differences between Urban and Suburban Gun Violence Prevention Movements," Cosmos, Jan, 2018
"What Does Gun Violence Resistance Look Like?" Eastern Sociological Society Journal, Feb, 2018