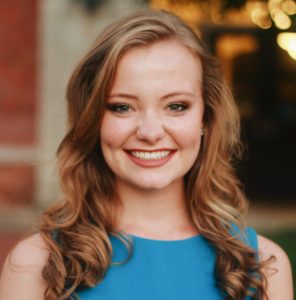 ELISE MOORE
Raising communications standards
Elise Moore has attended Mississippi State University, and has considered many different career paths throughout her studies. She struggled with what to declare as a major since she was in high school. She interviewed with a few different universities and had an encounter at one university with "the head of the program, a European man, who assumed that because I am a Southern white girl with blond hair who had been on a homecoming court that my looks were all I had to offer." He hadn't bothered reading Elise's essay, hadn't considered her formidable community service record, or checked her academic credentials. He simply dismissed her.
"I am so much more than what you think you know about me," she thought. She wanted to tell him she'd served in the inner cities of Los Angeles, Denver, St. Louis, Memphis, New Orleans and Jackson, Mississippi, in the poorest part of Jamaica, and on a medical mission in Haiti. "My new friends in all those places didn't care where I was from or what I looked like. They cared about whether I could understand them," she says.
Facing uncertainty, Elise had what she called an "existential crisis." Should she try to stick with her double major in political science and pre-med, even though they no longer felt right? She was fortunate in knowing one thing for sure: she wanted to live a life of service.
When she was thirteen, she'd served a mission in Memphis, Tennessee. Youth there were trapped in poverty and had turned to gangs, yet she marveled at their spirit. "They still had laughter and imagination," she says. They needed help, and Elise knew she wanted to be the kind of person who would provide it.
Her experience in her freshman year of high school gave her a more specific direction. After knee surgery, she understood how vital the right medical care is. "My physical therapist and doctors became like family," she says. Being part of a medical team appealed to Elise.
From the time she was a sophomore in high school, she'd registered her numerous forms of community service with HOBY (Hugh O'Brian Youth Leadership) after attending the HOBY Leadership Conference at Milsaps College. By logging all her service hours, HOBY could verify them officially.
Elise was sixteen when she went to Jamaica during the week of Thanksgiving. She worked on building a concrete house, assisted in a school, and served in a home for the disabled and elderly where the people were in desperate need of love, attention, and understanding. She saw how universal this desperation is, regardless of geographic location, socio-economic differences, and race. Returning to the States, she experienced a cultural collision. The poverty of Jamaica against the American overindulgence over the holiday and the lavish spending during the Black Friday Sales rattled her foundations.
Elise began volunteering for a children's home, the Big Event (a community service day), for special needs adults, the Starkville children's carnival, Big Brothers and Big Sisters, Project Brickfire, The T.K. Martin Center for Disability, Feed the Hunger, End It (addressing global slavery), and various charitable runs—activities she would continue through her college years. Upon graduating, she'd earned the Principal's Leadership Award and an Outstanding Service Award from the Interact Club.
Before settling on a pre-med major, Elise became a medical intern the summer before entering college, to see what the profession was like. She shadowed a physical therapist, an orthopedic surgeon, and a doctor specializing in neurology and oncology full time for over a month. "I was captivated," she says, "by how doctors could make the patient the top priority."
In August, two scholarships came through, the Presidential Scholar, Mississippi State University's highest award, and the Senator John C. Stennis Scholar in Political Science award, given for public service and leadership. Elise signed on for a double major that included pre-requisite classes for medical school and political science classes. Being Elise, she also plunged into service activities for freshmen. By November, her thousand-plus hours of volunteer work, verified by HOBY, officially earned her The President of the United States Gold Award for Community Service.
At the end of her freshman year, Elise traveled to Haiti on a medical mission team. The science of medicine now seemed too abstract to Elise, as did politics as a science. "Some conflicts come from a lack of basic humanitarian aid, and a frustration that one cannot obtain those things needed for safety and wholeness for one's family," she says, still wanting to find ways to help relieve societal pressures. Her double major felt like the wrong goal, however. Communication and the service aspects of public policy were what truly interested her.
Elise was named Sophomore Homecoming Maid in October of 2016. "I loved the idea of learning how communication affects people, so I decided to do a complete change and switch to Communication." She looks at her medical and political classes and experiences as contributing to her "different avenues to help people."
In January of 2017, Elise became Chair of Recruitment for Presidential and Provost Scholars and counts her trip as a Presidential Scholar to NYC, including a tour the United Nations, as one of her most memorable experiences. She returned to become an ongoing public relations intern with Invitations Magazine. The following summer, she also worked in the Office of Public Affairs at MSU as a production assistant for a brand image television commercial. Aware that the PR field can foster distortions, Elise hopes to invest in people and transparency. "Mass media needs to raise its standards of truth just as much as the public needs to raise its standards of what we are willing to accept," she says. Pursuing a minor in marketing in addition to her degree in public relations, she became a founding member of MSU's Undergraduate Women in Business chapter.
As to the future, she says, "I hope to work locally to create a better Mississippi while also working on international relief in some way."