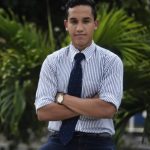 Adversity taught me to be humble and to work hard; the water bends the steel, not because of its strength, but because of its constancy
In 2014, Venezuela erupted into chaos, and following months of protests in the streets, and his mother held a hard discussion about what he should do. Food, water, and power shortages, corruption, and violence drove as many as three million people to leave the country. Hyperinflation rendered currency so useless that exchange rates evolved based on staples. "Fifteen eggs equal two US dollars," César says. Armed and armored government trucks nicknamed rhinos and whales rolled through demonstrations, mowing down protesters, or police imprisoned them. Hardened criminals were given guard uniforms. Worst of all, the police had assassinated César's brother and left him decaying in the forensics lab for four days to render him unidentifiable. Still in profound grief, the family was powerless to save César's grandmother when she suffered a stroke. He carried her down six flights of stairs and then to a hospital, but the public health system had deteriorated for lack of medicine, power, water, and paid employees. She died after three days.
Though a second year journalism student at the Central University of Venezuela (UCV), César felt that isolating himself in his studies was cowardly. He wanted to join the fight to liberate his country, but his mother couldn't bear to lose him the way they'd lost his brother. Journalism hadn't been César's first field of interest. He'd applied twice to medical school but hadn't been accepted. UCV allowed students to transfer majors, and in his frustration, César applied yet again. As part of the process, a psychologist interviewed him. He told her he was fine being a journalist, but "seeing people getting killed or injured, I couldn't live with myself if I didn't assist them. I would just put the camera aside and offer my hand to help."
With hundreds of students killed or imprisoned, the university went on strike for over six months, a dark time for César. He believed, however, that his fate was in God's hands. The call of acceptance finally came. "Tears streamed down my cheeks," he says, "and my friends jumped and screamed because I had made it."
César received training and certification right away from the Venezuelan Red Cross, which preceded special training in imaging and reading electrocardiograms. Throughout his undergraduate years, he participated in Model UN activities, receiving honorable mentions from events at Carabobo University and the University de Los Andes. César says this prepared him to speak to various committees and agencies to persuade them to at least institute measures that prevent illness in a country with a broken public health care system.
Volunteering with two organizations (Medical Volunteer Proyecto Ubik 2018 and Salud sin Limites) to assist doctors working among people with little or no access to healthcare gave César his true sense of purpose. In one impoverished community hundreds of miles from any hospital capable of sophisticated surgeries, he assisted a team of doctors who diagnosed a seven-year-old girl with a congenital heart disease. At that moment, César knew he wanted to specialize in cardiothoracic surgery to be able to help such patients, even though to do "jungle medicine," he says, "a doctor must be willing to sleep in a hammock for a week and get parasitic infections just by living the way these people live."
Another team of ten volunteer doctors and twenty undergraduate volunteers set out with 400kg of medicine to service remote communities in the Venezuelan interior. After providing medical service for three days in two communities, they arrived by boat at 8:00 PM during a heavy rain in tiny Awarauka. Exhausted, they set up camp in a little church with no walls and no electricity and prepared to sleep in hammocks, however, they learned that 250 people were counting on receiving attention the next day. This meant they had to get all their inventory of medicines sorted to be able to service that many people. "Time was more important than gasoline," César says, which cost over $50USD per gallon, paid with gold from the mining fields.
César took charge, convinced everyone to stay up late, and organized teams to start sorting through thirty boxes of drugs—cardiovascular, gastrointestinal, painkillers, antibiotics. They used electric generators that ran on gas, but after two hours, the fuel ran out, and so did the lights. Again, César coordinated the team, and they continued working using flashlights. Up at 5:00 AM the next day, they saw every patient and were then able to keep their scheduled ten communities. "This experience changed me," César says, "because I have never been more happy watching pediatricians, family doctors, and medical students working together. Seeing a doctor categorizing painkillers in the dark with a storm outside…using a little flashlight on his forehead was one of the most motivating things I`ve seen in my journey to becoming a doctor myself. When you have a motivated team with a firm goal, there is no exhaustion, just motivation."
César wants to assure people that conflict and adversity will make them stronger. "People don't go to the doctor when they are invincible, they come to see you when they are afraid, hurt, in pain, vulnerable. That privilege of meeting someone in his worst hour and giving them everything you can, even if it's just your knowledge, your brain or your hand to hold on to, that is definitely what I was born for. That is the way I want to live my life until my last day."