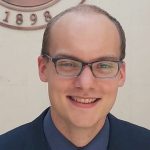 I am a student of power structures, political rhetoric, and global society with a passion for peace and justice.
Caleb Huffman and his four siblings grew up in a two-bedroom mobile home in Onalaska, a rural, blue-collar town in Washington State. His single mom overcame various obstacles of poverty to support the family, but "poverty impacted every area of my life," he says. When his family ran into legal and tax trouble, the family mobile home was taken, in ways he believes to be unlawful. "I watched dumbfounded as the law broke down," Caleb says, "and there was nothing we could do about it—except try to change things."
At age sixteen, he entered Centralia College, and the next summer was selected for the Washington State Legislative Youth Advisory Council. He became its public relations director and served for two years, researching and presenting the non-partisan political views of youth to the legislature. His outstanding service contributed to the council's selection for the Seattle City Club "Youth Civic Engagement" award.
At age eighteen, he was offered a full scholarship to the University of Washington. Dedicated to fighting poverty's systemic injustices, Caleb chose a double-major in political science and communication, specializing in American politics and political rhetoric. He plunged into campus life as an official representative of UW, serving for the next three years, logging in over three hundred hours of public speaking through tours and information sessions. Coworkers honored him with an "Always Gives 110%" award.
He was chosen to study abroad as a Benjamin A. Gilman International Program Scholar through the US State Department and UW's Interdisciplinary Honors Program in Rome and Amsterdam. "I left the USA for the first time in my life, studying global cities where I had the opportunity to talk with refugees and attend international conferences on human migration and gentrification."
Returning with an expanded worldview, Caleb became a Husky Presidential Ambassador, studying cross-cultural leadership at Tsinghua University in Beijing, a bridge program between international and US students.
During the next term, Caleb became a student fellow at the Initiative for US-China Dialogue on Global Issues, through which he would attend two week-long conferences addressing US-China relations, the first at Georgetown University in Washington, DC and the second in Beijing.
That fall during the 2016 Presidential election campaign, the increasingly bitter urban-rural divide in America troubled him: "I observed my rural friends' deep misunderstandings of urban America (crime-ridden, Christian-hating, etc.) and my Seattle friends' misunderstanding of rural America (racist, uneducated, etc.)." To promote unity after the election, he organized events like the successful Veritas Forum, drawing over 650 participants.
Former U.S. Senator Slade Gorton accepted Caleb as a fellow at the International Policy Center for a year, mentoring him in the Gorton Center Global Leaders Program. Caleb met with policy and business leaders along with elected state officials and organized a policy event on trade and the rural/urban divide.
His academic years also included Phi Beta Kappa and Pi Sigma Alpha (National Political Science Honor Society) where he served as president for a year. Participating in departmental honors programs and as an undergraduate fellow with the Center for American Politics and Public Policy, Caleb spent a year on three successful theses.
He became a delegate at the Forum for American/Chinese Exchange at Stanford University and then at Peking University in Beijing. Since his first trip to China, he says, "I began learning about global divides among humans and the ensuing potential for global conflict. This very issue drove me to pursue international cooperation. I seek to create peace, healing the divides within humanity both locally and globally." So it came as a thrill when—after graduating magna cum laude—he received a fully funded global fellowship at Yenching Academy of Peking University to pursue his master's degree in Chinese Law and Society.
Caleb felt honored to serve as co-chair of Yenching Academy's fully funded student-run Yenching Global Symposium (YGS), gathering 200 delegates from around the world, leading "cultural-exchange on a global scale, and giving a catalyst to the next generation of leaders." Caleb also leads international high school students on trips to rural China with the social enterprise Me to We.
"After studying in two drastically different countries, I am beginning to see that my family's local problems with the law, indeed, all domestic laws, are the starting point for examining international law," he says. The law is about improving institutions and shaping incentives within society, which, for Caleb, means addressing the injustices of structural poverty. Tragically, his mother died a month after being diagnosed with stage four cervical cancer, which is preventable and treatable in its early stages, demonstrating a failure of accessibility in America's healthcare system. "Poverty robs people of access to healthcare and basic preventative measures. What could we accomplish in this world," he asks,"with more cooperation? Perhaps fewer scenes of children gathering around a hospital bed to say their last words to their young and dying mother." The system that failed his family fails too many others, and Caleb vows to change it.
He plans to earn an American J.D. "with the dual aim of improving American institutions and incentivizing international norms toward peace, ideally through public service, working in U.S. foreign policy, or at an international government organization."