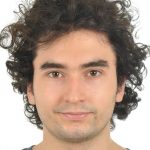 As a future lawyer and activist for the rights of stateless people, I am fully motivated to be part of a positive change, firstly in my community.
On a beautiful autumn day, Aydin Ulu might admit he'd rather be fishing—a favorite pastime.   When the Black Sea turns cold in the fall, its fish migrate toward warmer waters in the Aegean. Like many emigrants, they face a risky bottleneck on their journey—in this case a gauntlet of an estimated 10,000 anglers along the Bosporus, a nineteen-mile strait that divides Europe and Asia and, in places, looks more like a wide blue river than part of the sea.
Many other activities compete for Aydin's attention, however. He attends law school at Galatasaray University, which sits directly on the Bosporus on Istanbul's European side. He could cast his line directly from its waterfront promenade. Since his university is about two miles away and across the Old Galata Bridge (a popular fishing spot) from the Golden Horn of Istanbul, distractions abound. Part of the original city of antiquity, it features the famous Topkapi Palace Museum, the Hagia Sofia, the Sultan Ahmed Mosque (Blue Mosque), and much more to lure this lover of art and literature—another of Aydin's interests in such an historical and culture-drenched city. Given its cultural diversity and geographical position, the city also gains metaphorical significance for Aydin as "a lovely bridge, bringing the western and eastern cultures together," In fact, he says, "I wish to become more like Istanbul, a bridge connecting people from different backgrounds."
Several years ago, culture and fishing took a back seat, however. Today the emigrants that most concern Aydin are not fish passing through the Bosporus, but people seeking refuge. It started when someone he admired had to flee Turkey. "I live in a country where the law is considered a political tool, where populism is the main determinant in politics," Aydin says. "People living in this beautiful country are threatened by the unpredictability and arbitrariness of the government on a daily basis."
The coup attempt of 2016 led to purges and the arrest of thousands of people who faced allegations of involvement. "More than a hundred journalists are imprisoned as Turkey has become the world's largest prison for the free media," he says. As a forced immigrant who was innocent, Aydin's acquaintance caused a major shift in Aydin's life. "That was the moment I became more sensitive about the refugees and their rights. There are more than one million refugees in Istanbul." They live mainly in the Capa district, roughly fifteen miles west of Aydin's university. Part of the old town region of Istanbul, Capa offers housing that is less expensive. "There have been many incidents and conflicts between the host community and Syrian refugees in Turkey since 2014, and the host community hostility toward these newcomers is rising."
Aydin began studying refugee law, working with several expert lawyers. He first volunteered in 2016 for Operation Blessings, an international NGO addressing disaster and humanitarian relief. In Istanbul, he continued his voluntary work with different NGOs for disadvantaged communities. Then in 2018, he discovered Small Projects Istanbul (SPI) a formerly Syria-based NGO now assisting in education for Syrian refugee children. Struggling with the language barrier, many told stories of their post-war agonies and hardships on their voyages from their homeland. Some suffered from post-traumatic stress syndrome and were either very shy or distracted.
Despite that, the kids were eager to learn, but there weren't enough volunteers, so Aydin enlisted his friends. Then through a WhatsApp group, he reached more people, eventually gathering over ninety volunteers from different universities across the city, a vast team he now coordinates. "As a result, we formed a beautiful volunteer family as we shared our experiences after the events and got connected with the refugee kids," he says.
Aydin and his teams focus on helping the children adapt to the Turkish education system where the children often feel excluded. He feels it's especially important for the children and their families to experience friendship with the volunteers. "I have seen these beautiful kids' eagerness and enthusiasm to participate in our activities," he says. "I got super happy every time a new volunteer joined us, every time a new refugee child came to the building for her or his homework. I felt that inexplicable joy as I believe we started touching many lives."
Aydin launched a volunteer education workshop at his university aimed at "breaking national or religious prejudices by upholding the greatest communication tool of the history of mankind: dialogue." He realized there was hope at the community level through local institutions. He became a participant of many local associations.
Expanding his thinking, he served as head of the Turkish delegates in 2018 to the Ukraine-Russia Conflict Management Simulation through the foreign ministry of Czech Republic and the Fund for American Studies at the American Institute on Politics and Economy. Summer classes included conflict management, political economy, and political philosophy. He also attended the World Youth Forum in Sharm el-Sheikh, Egypt concerning humanitarian assistance, volunteerism, rebuilding post-conflict societies, and narrowing the gender gap in the labor market.
Aydin believes that "the current ultra-centralized government has allowed hostilities to increase." Social cohesion requires motivated leaders on a local level to address refugee relationships with host communities. Aydin aims to build and support local associations, offering educational and vocational training in his community with the hope of extending such programs across the country through the many people who are eager to be part of a change in their communities.
"I chose to study law, more specifically international law, having the motives for being part of a global peace," Aydin says, and rising populism is the primary obstacle, the refugees its victims. Their fundamental rights must be fully recognized by the state-centered international system. "Upholding the universal values and international law is very essential, and that is my main motive for studying law."