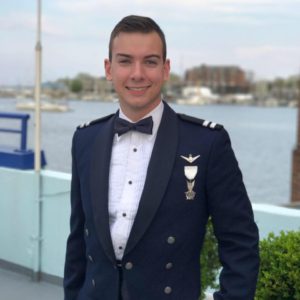 BRIAN PAGNANO
Going above and beyond the call of duty
When Brian Pagnano was three, he began playing the piano, and today, as a recent college graduate, he is "currently re-learning a Schubert Impromptu in G Flat Major, which," he says, "is among my favorite pieces." Yet, Brian is not a music major. At age nine, he began horseback-riding, so that by the time he was in high school, he'd ridden all over the US and entered the International Equestrian Competition in Canada twice. When he recently learned that his new career would require him to relocate rather often, he parted with his three horses.
Traveling had always been a part of Brian's life. His father, a surgeon whose medical expertise drew him to international conferences, took his son on trips to Japan, India, Italy, Peru, and Venezuela. Brian says that traveling "opened my mind at a young age to the fact that we live in a global society and the necessity of learning about other cultures and backgrounds." Actually, this was excellent preparation for his career path, that and becoming a private pilot while still in high school.
When Brian entered Carleton College in 2014, he joined the Model UN team right away and soon traveled to Boston for the Harvard Model UN meet where he realized that "we all can globally play for the same team and succeed as one, although we are from many places." He participated through winter during his sophomore year and still keeps in touch with teammates and competitors. However, a sense of his true calling came into focus, and he left Carleton.
Brian posts a photo of himself as a boy, wearing a NASA space suit. His grandfather had served in the US Air Force for twenty-two years, and his stories inspired Brian, who had always loved planes and flying. "I come from a long line of military officers who fought in the Revolution and Civil wars," he says. "I wanted to continue our heritage and serve my country at the same time." He applied to transfer over to the University of Minnesota and join their AFROTC program, the Air Force Reserve Officer Training Corps.
During the summer before the fall semester at the University of Minnesota, Brian served as a financial analyst intern at Northwestern Mutual. In September, he joined a fraternity right away and also thrived under the AFROTC regimen. It didn't take long to earn its Academic Excellence Ribbon, a feat he'd accomplish every semester until graduation, despite his full schedule, plus working for Varsity Tutors, where he specialized in ACT preparation and foreign language education. He also served as his fraternity's chairman of recruitment and then as chairman of public relations, responsible for a flagging annual charity fundraiser for the Special Olympics, an event Brian finds especially worthy and inspiring.
Brian plunged headlong into the challenge and came up with a brilliant idea nobody believed: "Woofles—an event that combined therapy dogs and puppies with waffles"—because, why not? He contacted various therapy animal groups who volunteer on campus, spread the word along with a friend to other fraternities and sororities, and persuaded Sam's Club to donate all the food for the event. "It was a smash hit," he says. "Hundreds of people attended, and we raised enough money to send a Special Olympics athlete all the way through the Olympics that year."
In September of 2016, Brian earned the Lt. Col Engstrom Scholarship for Academic Excellence for two years. That fall, he shouldered the job of public relations for his AFROTC detachment and created an extensive newsletter about what the cadets were doing, to be sent to alumni stationed all over the world. He also ran the Facebook and Flickr accounts, posting items so that alumni and others could respond.
That December, a snowstorm during the night dropped the temperatures below freezing. Brian noticed a Facebook post from a fellow student he knew well—"along the lines of 'I'm sorry everyone, I love you, goodbye'." Brian understood it as a suicide note. "I grabbed a friend and we got in my car. He called the police as I drove," heading toward the Washington Ave Bridge, "which plunges over seventy feet down into the frozen Mississippi river. Unfortunately, it is a popular suicide spot on our campus, and we had a feeling she might be there." They arrived at the bridge, spotted her standing over the railing, and ran towards her. The police arrived moments later and talked her back off the edge. She was hospitalized and received help. "I know she is still alive and hopefully doing well," Brian says. The Air Force recognized his actions with the Silver Valor Medal for Exceptional Heroism for volunteering above and beyond the call of duty.
The AFROTC has been an intense experience for this young man. He's been tasered, leaned out the back ramp of a C-130 turboprop transport aircraft while in flight, and bonded with his fellow future officers-in-training. By invitation, Brian became a delegate to the Naval Academy Foreign Affairs Conference, which draws civilian and military students worldwide to discuss international affairs. He trained with international officer candidates, acquiring a perspective that favors effective cultural relations.
"I've come to learn that our nation and our world desperately need grounded, humble leaders who understand the value of international friendship and cooperation," he says. "In today's modern world, the spheres of conflict rapidly evolve with little predictability. We are living in what seems to be the start of a new Cold War. The EU is fractured along nationalist lines, America has taken a more isolationist role, and Russia is stepping in to exploit the weakness. It is imperative that our future leaders understand cooperation and dialogue between countries." He adds, "We need our international partners to help us to counter growing cyber threats from countries like Russia and North Korea."
Asked what he would do if his commanding officer ordered him to do something he considered wrong. "Military officers derive our power from the Constitution," he says without hesitation. "We are sworn to no one person, but to a set of ideals, those being the Constitution." Officers are encouraged to think critically, to know the difference in an order that is illegal and one that is, say, reckless. "If I were given an illegal order, I would not follow it. If given an order that is dangerous and wrong, I would voice my opinion to the commanding officer, but I would carry it out to the best of my abilities. As we say, mission first, people always."
Brian will become a Cyberspace Warfare officer, "a relatively novel concept that even the US Military doesn't fully understand." Cyber officers may complete "humanitarian missions to restore communications networks for communities and nations hit by natural disasters, such as in Haiti and Puerto Rico, working in close coordination with the host country, and requiring international cooperation." An eventual career in international relations, ideally for the State Department, is Brian's long-range goal, or in the technology industry, addressing cyber vulnerability in American infrastructure. His spare time will no doubt include playing classical music on the piano.