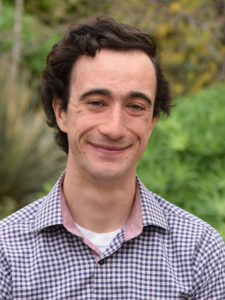 BRENDAN SCHULTZ
Bridging hostile backgrounds
A five-year-old boy held his father's hand, awed by the thousands of people carrying anti-war signs at the National Mall in Washington, DC, protesting the US invasion of Iraq. He'd only recently waved goodbye to his mother, newly deployed to Kuwait in preparation for the invasion. Though only a small child, Brendan Schultz understood that his mom, a US Navy psychiatrist, would be gone for a long time, and she would be in danger. As he stood on the famous Mall that day, a sense of his life's purpose grew inside him: working toward a world without organized violence.
"I spent much of my childhood worrying about the safety of one of my parents in a war zone and having my life uprooted every few years." Joining with activist groups always provided a social life. He worked with environmental groups, affordable housing initiatives, and civil rights organizations. Habitat for Humanity of Eastern Connecticut held his interest throughout 470 hours of volunteer service. In 2014, Brendan served as a legislative intern over the summer for the National Association for the Advancement of Colored People, producing a fifty-page report after researching campaign finance reform at the state and federal level. He also learned how federal public interest lobbying works. And then Brendan discovered the YES Abroad Program.
Offered through the US State Department, YES was implemented after 9/11 to preserve positive relations between the US and Islamic countries. Brendan would spend his senior year as a cultural ambassador to Macedonia, attending Nova International School. His host family was Macedonian, but pervasive ethnic tension with Albanians presented itself that first week. "I remember watching an Albanian man and a Macedonian man fight over a piece of shade near the bus. I realized then that it was not the piece of shade that they were fighting over."
Brendan quickly learned the diplomacy of not taking sides. He couldn't understand the roots of ethnic conflict in the region, "but no person truly understands the conflict." He represented Macedonia as an international delegate at the Model European Parliament and describes that year as "transformational."
Still abroad, Brendan became a Humanitarian Volunteer for Project Hope, teaching English in the West Bank for two months in Nablus, Palestine. He met people attacked by Jewish settlers, and marveled at the power of ordinary people to endure and achieve extraordinary change.
He'd already found his ideal college to look forward to in the fall. A member of The Claremont Colleges near Los Angeles, Pitzer College stresses interdisciplinary studies, cultural immersion, and involvement. Brendan qualified for a Pitzer Board of Trustee Scholarship and created a "self-designed major in politics, philosophy, and sociology."
That first month of college in 2016, he joined the Model United Nations Team and still participates in "one of the top Model United Nations teams in the United States." He also became a First-Year Student Senate Representative and Dorm Council President, reforming policies toward low-income student resources, sexual assault reporting, and disciplinary procedures.
The presidential elections were underway, but that November, Brendan was the only American to apply to represent the US as a Youth Delegate to the 2016 World Forum for Democracy, held by the Council of Europe in Strasbourg, France. "I was in awe of the accomplishments of the other delegates," he says. Many represented their countries at the United Nations or founded an NGO. On the last day of the Forum, the USA election results came in. Stunned, delegates turned to the lone American for an explanation. Amazingly, Brendan gave a speech in front of thousands of people in the Council of Europe's "Hemicircle" and received a standing ovation. He was electrified and got little sleep that night. An epiphany hit while his plane taxied down the runway at the Charles de Gaulle Airport. Other youth delegates with far fewer opportunities than Brendan had available were standing up for justice. Brendan knew he could do the same. But what did that mean?
"Honestly," he confesses, "I had no idea that I would start a multi-national NGO until I actually did it." Bridging Backgrounds was originally supposed to be an inter-ethnic youth conference. Good ideas tend to take on a life of their own, however, and Brendan received a $10,000 grant from Davis Projects for Peace.
Bridging Backgrounds expanded into a full youth development program that became United by Love and fosters tolerance, strengthens mutual understanding, expands knowledge of human rights, and suppresses hate speech among youth in the Balkans and United States through media outreach programs. Brendan also added Bright Start, which "empowers young people with the skills and resources necessary to catalyze positive change in their communities."
In May, 2017, a major Bridging Backgrounds program began in Macedonia. Twenty-six participants of nine different ethnic backgrounds met in Skopje for a seven-day workshop that included sessions with ambassadors, academics, and NGOs and implemented human rights activities suggested by the Council of Europe. "The participants demonstrate that no matter how challenging the problems Macedonia faces are, there are young people who are capable of solving them," Brendan says.
In the program's second phase, participants designed and implemented their own community activism projects. One group traveled around Macedonia for one week delivering human rights education and holding community action projects in five different cities. Another participant held the first inter-ethnic ping-pong tournament in Skopje, a revolutionary departure from previous segregated clubs. Over the next year, participants will continue to develop and implement their own human rights education projects in their communities in Macedonia.
Brendan's college, Pitzer, offered a study abroad semester, so he signed on for Africa, including Botswana, Zimbabwe, and South Africa. For his independent study, he conducted research on the inter-ethnic social dynamics of students in a public secondary school for children of nomadic communities, such as the "Bushmen."
While in Africa, Brendan received a small grant from a US State Department program for alumni and hopes to lead the United by Love team in Southeastern Europe more effectively. He found that the HSI program created something "exceptional and magical" and inspires him to further activism.