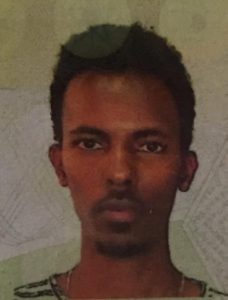 Amen Temesgen Lanjore – Ethiopia
Inspiring unity through cinema
The first thing Amen Temesgen Lanjore will tell you about himself is, "I love my country." He adds, "We have an identity that took literally millennia to be formed." Even ancient cultures are predated by the earliest humans and hominids in the Ethiopian Great Rift Valley and the Awash Valley, a World Heritage Site and home to the famous "Lucy." Other World Heritage Sites include the medieval rock-hewn churches of Lalibela, the walled city of Harar Jugal—said to be the fourth-holiest city of Islam—and Simien Mountains National Park with its hundred stone pillars carved in the fourth century. Its forested mountains have eroded into fantastic forms that teem with wildlife. Rich as the country is in heritage and beauty, Ethiopians suffer intense poverty, especially with the western desert regions withering from climate change and drought. As of this writing, nearly eight million people are receiving emergency food while many more can't get aide and are facing starvation.
"We have focused so much on eradicating poverty," Amen says, "and consequently there is a considerable change." For example, the government wants to build the Grand Ethiopian Renaissance Dam on the Blue Nile River, a vast hydroelectric project to be known as the "water tower of Africa." Yet it can't feed its people. "We failed in nurturing and maintaining the core foundations deep inside every single citizen," Amen says, by which he means the resources that enable people to live in peace and with love and unity with others. "But now after some 'twenty years of progress,' we have found ourselves in the midst of insecurity and division. All sorts of division. Racial division, class division, even gender division."
Amen is painfully aware of the dire needs of his country and its wonderful potential, but a quintessential dilemma forms his story: does he choose prosperity and simply address his own career, or does he pursue his true interests while addressing the needs of his people?
At the Don Bosco High School where he was student body president, he was training himself from "scarce resources" to become a film director, yet his family had other expectations. His father focused on excellence and knowledge, and Amen is grateful. "I was always the boy in the class 'who knows everything,' and that was because of my dad." Highly curious, Amen pestered him, but "Dad would elaborate on even the most absurd questions." Upon graduation, Amen scored well on the national examinations, which enabled him to attend a university of his choice, Addis Ababa Science and Technology University. "I specifically chose architecture because it is, in many ways, similar to film making."
He attended morning prayers and church, where he served as their "box guitarist," yet he felt that something was missing. "We didn't have a platform that brings students of similar ambition together to work collectively on ourselves, the community, and the nation as a whole." He founded a club called Junto, patterned after Benjamin Franklin's Junto Club for mutual improvement. "But there were pitfalls. Millions of them!" he says. After a year and a half learning experience with Junto, Amen became the student union's Academic Affairs Representative. He kept up his interest in film-making and gave a seminar titled, "Architecture and Cinema," that explored similarities between the two. He also entered a film-making competition and was shortlisted for the finals at NBH International Youth Creativity Award.
For six months, he was an intern with the Yohannes Abbay Consultant Architects and Engineers, and then his church pastor found a placement for Amen at a distinguished architectural firm, the Geretta Consultancy—deemed an incredible opportunity that could secure Amen's future. The lavish lifestyle of some of his neighbors seemed within reach, and his family was proud, but the fear of being stuck in a rat race gnawed away at him.
He couldn't simply forget his passion for cinema, but he felt that "the biggest obstacle was the mindset that extreme poverty creates that says, "You can't do it! It's impossible. Don't dream big! Just give in and fight for survival just like everyone else." His uncle encouraged him to believe in himself, and after two and a half months, he slipped out of the Geretta office without taking his pay—to the great annoyance of his pastor and mother. Amen is grateful for her strict demands and for instilling "a lasting decency and modesty," which has helped shape his dream.
It begins with getting advanced training in film-making in a prominent institution. "I am developing a plan to create a comprehensive film production label to make short films, documentaries, and feature films," Amen says. He hopes to saturate social media in Ethiopia with free material that will incrementally build a trusted brand that focuses on issues like extreme poverty, urban youth, and drugs, thereby encouraging a nationwide conversation addressing these issues.
A recent event stunned Amen and solidified his decision to pursue film-making with his full attention. One night, he and his siblings heard shouts and cries and went running toward the slum area called koshe, one kilometer away from his home. The whole neighborhood was in chaos. Koshe was the name of a reeking mountain of garbage over 300 feet high. People live nearby to fight for their share of the daily delivery of relatively fresher "garbage food." A massive avalanche of garbage slid down over the slum, claiming the lives of some 200 people. It became global news, and "The whole city of Addis, in fact the whole world were saddened by this incident," Amen says.
The message of unity and reconciliation must begin at an individual level, he feels, to reach peace at a community level.  "I want to participate in nationwide and international efforts to work on a creating a better society in my nation, and I would like to play my part in introducing these values to individuals through cinema."