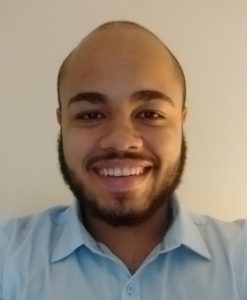 ALEXANDRE FERNANDES DE LIMA
"Having the Industry in Your Hands"
Capão Redondo is a "favela" in the south of São Paulo, Brazil which the UN considered one of the most dangerous neighborhoods in the world during the '90s when Alexandre De Lima was born into its midst. Reports of robberies, gang activities, and fatal police brutality spread constantly throughout the neighborhoods. His family understood too well how poor educational opportunities and inadequate health care impact a community. Alex says, "Young people like me are highly likely to have only one fate."
Yet even at an early age, Alex enjoyed the world of mechanical devices. He liked to open up small appliances to see how they worked, so his parents made an effort to find better schooling for their smart little boy. Passionately curious and obsessed with technology, he was soon disassembling computers and cell phones when not playing soccer or enjoying Brazilian hip hop.
At age twelve, he crossed the city alone to compete in basketball tournaments, amazed at the contrast between the favelas and other places. A life-changing opportunity arrived in 2011, an Ismart scholarship for high school. "When I was studying at my friend's house," Alex says, his room offered an ideal place to study: "a nice desk, no noise, and no one interrupting, but at my house, I had to study while sharing my room with my two siblings, with the frequent sound of the police siren, and routinely stopping to help my family with different tasks." His new friends "had a completely different mindset" that included dreams and motivations. "In Capão Redondo, my friends only had uncertainties and unqualified education at public schools." Alex often felt as if he were living in two different countries. At school, he had plans and goals, "but as soon as I took the bus home, all that seemed like fantasies. I was unable to believe in my own potential."
Understanding this made him want to help other disadvantaged teens. Several friends within Ismart created a social project in 2013 called Discovering the Young Dream which helps teenagers identify and fight for their dreams. Alex became its Principal Lead, and the initiative was taken to public schools in his area, gaining the support of educators and psychologists. Involved in this organization for several years, Alex received a Protagonist Award from Ismart.
When a college scholarship to Insper arrived in 2015, he immediately chose mechatronics to study computer, electrical, and mechanical engineering. He admires Insper for its vision of the real tools beyond mathematics and physics. "There, I am learning through entrepreneurship and design how to use technology as a means, not as an end." Neutrality doesn't solve problems, Alex says. "Leadership is about not taking a backseat and being the protagonist of the things around you."
In October, he became one of five students from Brazil to earn a scholarship from the US Embassy for an exchange program known as SUSI, the Study of the US Institutes for Student Leaders, organized by the US State Department. The following January, he joined nineteen fellow SUSI students from Argentina, Brazil, Chile, and Uruguay in Amherst, Massachusetts to help build a global platform to discuss their country's future and their role in the world. The group also visited New York, Washington, Boston, and Tucson, attended classes at Harvard, Columbia, and MIT, did volunteer work, and spent a few days at the home of an American family, culminating in a visit to the White House to give a presentation about their experience. Alex returned to this program again a year later in 2017. "The opportunity was a turning point in my life and career," Alex says.
While attending Insper, he served briefly as a mentor, an instructor in finance, and a teaching assistant. He participated in a Fellow Leadership Program for six months and served two internships with Avante.com.vc where Alex learned about empowering micro-entrepreneurs across South America by providing "an advanced suite of FinTech services."
It was during his second term at Insper in 2017 that Alex took a class called Technology Entrepreneurship, which aims to improve problem-solving skills through a design process. His task: solve a problem from a specific company and then create a startup based on a solution that should apply to other companies as well. Undaunted, Alex was the only student in his group with solid working experience in startup methodology. He selected Unilever, a transnational consumer goods company that further tasked them with including "predictive maintenance." Unilever was about to buy software for their problem, but Alex believed they weren't assessing the real situation.
He and his team visited the factory to analyze its inner workings in depth and discovered that stored information wasn't being utilized because of a lack of systematic analysis. Alex and his team created a program to enable the use of data to decide whether to fix a machine or not. Unilever would therefore spend less money, because the industrial process would not stop suddenly if a machine broke down. Not only did Alex's team "deliver one of the best final projects according to the professors and Unilever," their software prototype enabled their client "to 'have the industry in their hands,' as we used to say."
Alex directed his expertise toward solving a health care problem, especially in the favelas. Health professionals worldwide demand that in responding to a distress call, an ambulance arrival time is critical and should be under ten minutes. In São Paulo's congested and poorer areas, the average time is over nineteen minutes. Concerning heart attacks, Alex says, each minute without assistance decreases the chances of surviving by 10%. So he co-founded Garatéa, which means lifeguard in the Tupi-guarani language.
Garatéa is a volunteer-network aimed at increasing victim's survival rate by providing the nearest first responder and working closely with the Brazilian Ambulance Service and local firefighters. A mobile app trains and alerts volunteers to help if someone close-by needs assistance, not only minimizing the wait but also streamlining public costs and services. Participation in "the Social Good Brasil Lab in Santa Catarina" drew local pilots and mentoring.
The Ford Fund Lab: Innovation and Mobility selected Garatéa as one of three winning projects, awarding them $8,000 in funding. The World Bank Group and Wharton Business School selected Garatéa as one of the top thirty initiatives globally for implementing sustainable development goals. International cooperation enabled Alex and his team to partner with Good Sam, "the world's most advanced emergency alerting and dispatching platform, endorsed by Resuscitation Council in the UK and London Ambulance Service (NHS)."
Alex still plays soccer every day, but he also accepts the responsibility of leadership within his generation, enabling social entrepreneurs "to hold the industry in their hands" while leaving "a legacy that the next generations will be proud of."