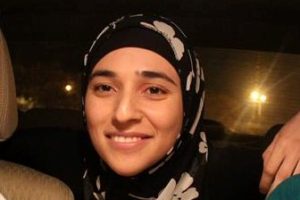 Promoting international efforts to conserve environments in conflict zones
A city in the northern central Palestinian territory of the West Bank has endured for nearly two thousand years. Originally named Neapolis and shortened to become Nablus, it has remained decisively Muslim since 1187. Ancient buildings of the Old City neighbor the modern urban areas, including the Palestinian stock exchange and one of the largest Palestinian colleges, the An-Najah National University, where Sara Suwan is pursuing a bachelor's degree through the Faculty of Sciences, focusing on biology and biotechnology.
One of Sara's classes in her freshman year analyzed social impact on the environment at a time when the Israel Nature and Parks Authority (INPA) had launched a campaign that kept farmers in the nearby Wadi Qana (Valley of the Canal) from planting citrus and olive groves on their land, uprooting 11,000 saplings and trees, often late at night, as some farmers have protested. Despite the famous UN ruling that proscribed Israeli settlements in the West Bank, eleven such colonies now surround Wadi Qana, pushing original inhabitants out, diverting their water sources, hampering farming, and expelling waste that pollutes vital waterways.
Wadi Qana is a beautiful region watered by natural springs, but Israel designated it as an Israeli Nature Reserve, threatening Palestinian farmers with fines and arrest if they work their land, yet doing nothing to prevent sewage contamination from the illegal settlements in this particular Reserve.
"In 2011, I had my first ecological field trip to Wadi Qana," Sara says. "As a Palestinian, I can't bear seeing my land being devastated, resources being sacrificed, and the ugly scenes" of what should be beautiful and nurturing. She had to let others see the chaos and help them appreciate "the gifts of our land," yet there were no active environmental clubs. "I promised myself," Sara says, "to start seeking solutions to save the land amid the conflict, and to be the voice of this fragile conflict zone."
She educated herself about environmental issues in the region and networked with interested people, telling them, "We are not victims by choice; we have to be part of the solution and move forward!" In April, 2012, she co-founded the Ecology Friends Association (EFA) with other interested students, and was elected president. "Publicizing the EFA on a campus of 9,000 students required weeks of planning," she says. "We posted flyers, placed advertisements about EFA in the school newspaper, and typed numerous e-mails. As new faces began to appear, I encouraged them to stay active by giving them roles in various campaigns, and the EFA came to life."
Sara organized a lecture series and capacity-building workshops with government officials from the Ministry of Environment within the government of the Palestinian Authority and with civil society leaders known for environmental activism in Palestine. During a spring semester, the EFA organized clean-up campaigns all over Nablus city and an Earth Hour event throughout Palestine, an initiative calling attention to global warming. Now EFA volunteers are "organizing campaigns that echo all over Palestine," she says, such as a "Clean Palestine," a campus-based recycling project in partnership with Coca-Cola.
After more research, Sara learned of the grave impacts of climate change, affecting now or later 340 million people in the Middle East through increased average temperatures, erratic precipitation, and sea level rise—in a region already suffering from recurrent drought and water scarcity. She connected with other Mideast youth groups, and in September of 2012, became the co-founding national coordinator of Arab Youth Climate Movement (AYCM), addressing the climate crisis in the MENA Region (Middle East/North Africa) and beyond. AYCM believes unchecked climate change will threaten economic growth and poverty reduction, restrict human potential, and disempower people and communities. "Making livelihoods more resilient requires the sustainable management of natural resources," Sara says. "Social equity is inseparable from ecological sustainability. One of the great challenges of the 21st Century is to bring about global equity without further overstepping the planet's ecological limits, nor overusing the earth's finite resources, depriving future generations."
Two months after starting AYCM, Sara traveled to Doha, Qatar, for UN training at a Climate Change Conference.  A year later, she went to Warsaw, Poland to report on YOUNGO, the official youth constituency at the United Nations Framework Convention on Climate Change. She worked as an intern with the environmental justice program for two months at the Heinrich Boell Foundation of Palestine and Jordan, the Green Foundation in Germany, and then as a civil society leader on Ban-Ki Moon's Climate Leader's Summit, UN-Non-Government Liaison Service (UN-NGLS). After an Israeli attack, she began a five-month commitment to the Pacific Asia Resource Center Inter-People's Cooperation as a project officer implementing humanitarian efforts in Gaza.
From March until June 2015, she put in thirty hours a week teaching at the Community Development and Continuing Education Institute and as a project team leader for International Citizen Service NGO, addressing human rights. Her constant message is that young people can contribute to achieving international cooperation by volunteering for dedicated NGOs, through the media, and through student organizations, raising regional awareness of consumption patterns, consumer wastefulness, pollution prevention and abatement, and sustainable development. Most recently, she worked with the Palestinian Women Development Organization and believes that women's contributions are essential to ending the disastrous situation in Palestine and promoting economic and environmental sustainability and peace-building.
In the fall of 2016, Sara is pursuing a master's degree in organic agriculture in Italy, but her long-term ambition is shaping conflict resolutions to find specific foundations to conserve the earth. "We need new thoughts and ideas to save land and resources in conflict zones," she says.