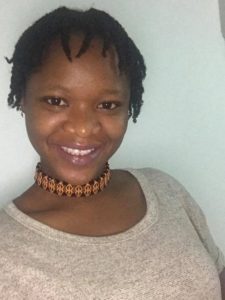 Yah Parwon
Using the law to channel conflict into positive change
In 1990, Yah Parwon was born into a world of civil war in Liberia that saw extreme violence over fourteen years. During a ghastly time of child soldiers and blood diamonds, Yah fled with her parents, seeking refuge in Sierra Leone. When it appeared that rebels had established a new regime, the Parvon family returned to Liberia, but unrest simmered and erupted into bloodshed again in 1996. Again Yah fled with her family, this time to Ivory Coast. Yah says she was amazingly fortunate that her parents made sure she felt cared for and protected.
Thinking their country had settled down, the family returned again to Liberia, and Yah attended a private school. Despite the radical displacements in her childhood, Yah feels that she essentially grew up within the populous community around Eternal Love Winning Africa (ELWA), a Christian mission founded in 1965 with outreach into health care, radio, education, and other services. Her parents opened their home to all and shared food with those who were hungry. They paid the school fees of many children of relatives and family friends. Her mother is a social worker, always involved with initiatives to make the community a better place.
In 2003, war broke out again, and this time Yah understood what was going on. The family traveled into Ghana where she lived with another family that could afford to send her to an international school for eighth grade. "I ate well and had time for recreation," Yah says. "It was more like a vacation than a refugee experience. I've always thanked God for this because I was lucky enough not to suffer as much as other young refugee girls do."
By the war's end, 250,000 people had been killed and a million people displaced. After their return to Liberia, Yah's mother encouraged her to volunteer, which she did at Don Bosco Homes of Liberia. "I had to profile street children and children in conflict with the law," Yah says, though she was still a child herself. "I felt for the first time the realities of other children my age. I had never gone a day without food, but there were many children that had." Eager for an understanding of the world's problems in order to make the world a better place, Yah continued volunteering with other humanitarian organizations. "Volunteerism changed my worldview for the better," she says.
She followed her mother's example and pursued a degree in social work at the Mother Patern College of Health Sciences, one of five colleges at Stella Maris Polytechnic in Monrovia. The program introduced her to a systematic way of viewing social ills and how to help create change as a social worker, yet it also cultivated a profound interest in the law. After graduating cum laude, she decided that law would best equip her as an advocate for change.
As her direction in life grew clearer, Yah piled on the commitments. She taught Social Work Ethics and Diversity, and she entered Louis Arthur Grimes School of Law at the University of Liberia in Monrovia. There she served as a class representative in the students' legislative assembly. The law students' association embarked on an Ebola information campaign during the intense health crisis. "We visited Ebola hotspots and raised awareness on the prevention of Ebola to households within those communities," Yah says. She understood the risk but felt compelled to help stanch the spread of the deadly virus. After visiting endangered communities, Yah couldn't touch her daughter until she'd showered with chlorinated water.
Yah wears many hats, but one endeavor she is most proud of is the girls club now called the Rising Youth Mentorship Initiative, which she co-founded within the ELWA community. From the first meeting, girls were overwhelmingly concerned with teenage pregnancy. Since Yah learned at age nineteen that she was pregnant, she felt disappointed with herself but eventually helped others through her story. She serves as supervisor to the organization as well as mentoring young girls who might wrongly believe, as one mentee expressed, that safe sex practices have too many bad side effects. Yah links young women to information and resources they don't typically have access to. "That gives me a special satisfaction," she says. She created Power Weavers for the club, and won funding from HSI for an entrepreneurial soap-making project.
Conflict has played an interesting role in Yah's life. On the one hand, it stalled growth and development, damaging health care, education, economic development, and living conditions, all of which still continue to oppress Liberia. On a personal level, the rigors of war and escaping it caused her parents' marriage to collapse. Yet, surprisingly, "the years of conflict taught them that they could make a better team divorced," Yah says. The family became stronger, and the lives of individual members took on a more positive direction. She believes that conflict has initiated and even demanded positive changes that otherwise wouldn't have happened. She sees conflict as inevitable, but with the right leadership and an acceptance of diversity, it can be channeled into a positive catalyst.
She hopes to continue mentoring young people, but "I am going be one of Liberia's best female lawyers," Yah declares, especially in defense of the rights of young women.