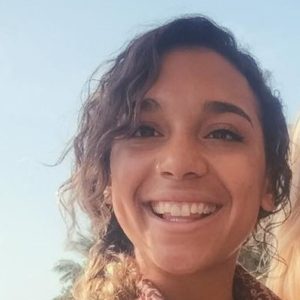 A passionate, community-oriented leader for peace
"I'd never heard of a 'Changemaker' campus," says Janaye Perry about entering the University of San Diego (USD) as a sociology major. "That's kind of what drew me to the campus." She was excited to learn that she could add a double minor in International Business and Leadership, which includes a Non-Profit Leadership and Management Certificate. Though still undecided on her career goal, she was certain that this was the right direction.
She enjoys yoga, dancing, music, hiking, and surfing, and at USD, Janaye combined her love for athletics with her natural mentoring instincts, both participating in and supporting fellow students in recreational sports. In her sophomore year, she helped coach her high school freshman volleyball team, while also mentoring freshmen girls through their transition from high school. At the nearby YMCA, Janaye also puts in twenty hours a week as a volunteer soccer coach.
To earn extra money, she is a part-time food server at La Gran Terraza, a campus four-star restaurant, and extends her nurturing instincts to volunteer for Women's Overnight Recovery Shelter and Food Bank. There, Janaye does food prep and serves it to those in transition, following up with cleanup, readying the center for the next day. She's a twice-a-week volunteer for Cool Club, a program in which USD students spend time with students with intellectual disabilities at San Diego Mesa Community College in the Transition Resources for Adult Community Education (TRACE) program.
She joined Gamma Phi Beta sorority, which has greatly expanded her awareness of the many resources and networking opportunities USD offers its students. Deepening her participation in the sorority, Janaye became a Leadership Advisory Board Member, Philanthropy Chair Assistant, and facilitator of the Greek Sexual Assault Task Force.
One of her leadership classes tasked her with an action research project, offering the freedom to structure it in any way she chose with whatever content she chose as long as it incorporated her passions, interest, and had a purpose. After a couple of weeks of planning, Janaye chose to focus on "A Week of Random Acts of Kindness and Love." She sent out an appropriate task to people around her, such as posting a kind or loving message each morning for a week to roommates, co-workers, or a family member. Janaye reached twenty-five participants every day and then observed the positive ripple effect of inspiration and positivity. The project made her realize something precious and essential about herself: "I would rather enrich others lives with inspiration and empowerment more than anything else," Janaye says.
Her role as an International Student Host complements this direction in her life. She says, "My dream is to be able to work with international students on various conflicts. I want to ultimately work towards peace and unity across cultures through hands-on work." She sees her career goal as working in international non-profits to best utilize her skills of fostering positive and productive group dynamics. "I plan on using my inclusive, ethical, and process-oriented skills to manage those from various cultural backgrounds to work effectively towards promoting a more peaceful world."
In the fall of 2016, Janaye will take college courses aboard a cruise ship with students from around the USA and sixty international students on a Semester at Sea (SAS) voyage, visiting twelve countries in Europe, Africa, Central, and South America. "I yearn to live my life as a global citizen and give back through community-led philanthropy," she says.