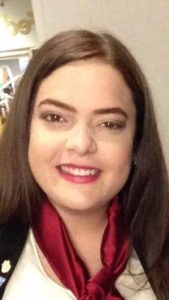 Building a network of young change-makers
Born in a beautiful valley south of a coastal range of mountains in northern Colombia, Isabella Fuscaldo Jalkh sees a different country than what those who focus on the Medellin drug cartel see. "Pablo Escobar himself left Colombia with an incredibly hard to change reputation of a jungle full of rebels, cocaine, and extravagant cartel capos," Isabella acknowledges. Escobar "was seen as a hero by his community and the devil by the rest of the country for his horrific crimes." He acquired a seat in Congress by popular vote, and the cartels took over the "armed forces, police forces, and corrupted the government," she says.
Still vying for power since the war of independence, warring factions stole herds and crops. The Revolutionary Armed Forces of Colombia (FARC) and other guerilla and paramilitary groups have kept Isabella's homeland in a state of perpetual conflict. With high death tolls, hundreds of thousands of people forced from their land and homeless, their children turned into the dreaded sicarios—assassins paid in cocaine, weapons, or drug money—the country was utterly impoverished and nearly classed as a failed state, Isabella says. "Yet, Colombia has come a long way."
The land and climate can cultivate year-round harvests of virtually any crop, and the population is made up of "hardworking people with heads full of dreams and hands full of strength and energy," she says. "Colombia is full of potential." Isabella has made it her goal to understand her community, her people, and their problems, and help them. "I have refused to give in and settle for a damaged society, to just be grateful for living another day without being robbed, kidnapped, abused, or killed." She credits the privilege of her education, which has "influenced many of my decisions, opened doors, and given me permission to dream."
In 2012, she entered the Universidad del Rosario (UR) in Bogotá, majoring in International Relations with a minor in Theology and Religions. Though she would love to work on an international level, "I am convinced that peace begins at home," she says. In 2013, she became a student council representative of the UR International Relations Faculty, serving for two years. When she began participating in the Model United Nations (MUN), new opportunities opened up.
In May of 2014, Isabella participated in the UR Diplomats Goes to School Program, teaching students in public high schools in poor areas in Bogotá to participate in MUNs. The experience not only instructs them on the work of the UN and how it operates, it also delivers workshops on public speaking, negotiation methodology, and conflict resolution skills. The experience impressed her and would inspire a future project.
That same year, she also joined AIESEC, the world's largest youth-run organization, which offers youth leadership experiences, international internships, and global learning. She spent the summer in St. Petersburg, Russia through AIESEC SPUEF as an English teacher and then returned to UR as a volunteer coordinator of exchange participants for a year.
The following March, Isabella was off with her team, UR Diplomats, her university's delegation to Seoul, South Korea, for the five-day Harvard World MUN 2015. During the competition, Isabella and her partner led a 250-person committee, conducting negotiations and consensus-building on the issue of violence against women. Achieving mutual respect between representatives of Islamic, African, European, Latin American, and Asian cultures proved both challenging and rewarding. "Cultural understanding and cooperation, or lack thereof, is something that has determined the history of the world," she says.
Upon her return, she became press secretary for a year to the UR Diplomats, also serving on the board of directors. Additionally, she became a part of the delegation at the national level, the Harvard National Model United Nations (HNMUN), and is still a member. Her capacities and awards include:
President of the Visibility Team, UR Diplomats, 2015
UR Head Delegate to 2015, Colombia MUN (COLMUN); named Best Delegate.
UN Sustainable Development Goals launching event.
Under Director General MUNUR 2016
Training Coordinator, UR Diplomats 2016
Administration Officer at MUN4UN Youth Assembly
Before Isabella can represent her country globally as a diplomat, she hopes to help overcome Colombia's burdens of internal conflict. Counterinsurgency units have reassembled into criminal organizations that continue in drug trafficking, homicides, and more. She believes that by teaching former rebels literacy, they can move on to formal or technical education, repairing the damage, and making reconciliation possible, and has begun by establishing SpeakUp, SpeaKamp."I want to help empower people without resources to achieve their goals and dreams," she says.
SpeakUp, SpeaKamp
Designed with fellow students from HSI, which awarded Isabella a seed funding grant, her program will be based in a deprived area of Bogotá. The program aims to empower youth at risk of gang violence and organized crime through workshops on leadership, entrepreneurship, conflict resolution, public speaking, and negotiation, beginning with a workshop where volunteers work with students.
SpeaKamp, a partner program, will supplement the financial needs of SpeakUp. Modeled after the UR Diplomats Goes to School Program, a leadership Summer Camp will be offered to private high school students interested in MUN competitions and who pay to learn from experienced debaters, prominent leaders, and young entrepreneurs. Eventually, the SpeakUp students will meet the SpeaKamp students for joint activities, aiming to build a network of young change-makers.