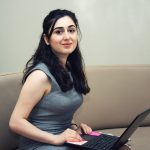 To speak a language is to take on a world culture.
The rich oil fields around Baku, Azerbaijan, where Gunay Huseynalizada now lives, have turned the city into the biggest metropolis in the Caucasus. Famous for its nightlife, Baku curves around its coastline along the Caspian Sea, glittering with the reflection of the city's bright lights. Visitors are typically stunned by the trio of flame-shaped skyscrapers clad completely in LED screens that change colors after dark. "Azerbaijan is known as the Land of Fire," Gunay explains, due to the perpetual burning of natural gas seeping out of the ground near Baku and elsewhere in Azerbaijan. Even certain streams of water can be easily ignited.
Gunay might find herself at a folk music concert in the stunning Heydar Aliyev Cultural Center, a glassed white architectural wonder that soars and curves, free of angles. "I love mugham," she says of the folk musical compositions added to the UNESCO Intangible Cultural Heritage. Her country honors its centuries of linking East and West along the Silk Road, restoring sites like the Palace of the Shirvanshahs in Baku and the Khan Palace in her hometown of Sheki, both of which were added to the UNESCO World Heritage list.
What she loves most is her people, their hospitality and cuisines, their warmth and empathy, "the way every student stands up to show their respect when a teacher/professor enters the classroom. We respect elders," and, she points out, "Azerbaijan was the first country in the Islamic world to give women the right to vote. Many women in Azerbaijan hold high positions both in public and private sectors."
But then there is the issue of Nagorno-Karabakh. "I come from a country with a conflict spanning over three decades," Gunay says. "Soldiers and civilians in the border regions live with the fear that the ceasefire can be violated at any second and people may lose their lives." The UN Security Council and General Assembly, the Parliamentary Assembly of the Council of Europe, and their resolutions all agreed that the Nagorno-Karabakh and occupied surroundings are an integral part of the Republic of Azerbaijan under international law. In April 2016, the same war of 1990s was brewing once more, and Azerbaijani territories fell under the attack. "I still remember the moment when I read the news of a twenty-one-year old aspiring sculptor who sacrificed himself in battle for our safety and peace, when he could have pursued his dreams and made more astonishing sculptures," Gunay says. Despite great loss, however, a harsher conflict was prevented.
"As much as Azerbaijan strives to progress, its recent past still haunts my country." The Soviet era implanted fear of authority, while Russia's elitist policy blocked education, allowing religious authority to rule over the people. "Today, sadly we are still able to find some remnants of all this."
Due to the tremendous difference in development between the rural and urban areas in Azerbaijan, youth unfortunately face a lack of opportunity in villages and small towns.
Despite growing up amidst meager civic resources, "I was lucky enough to be engaged in one of the youth centers in my town that cooperated with American Peace Corps," she says. "That was where I was introduced to volunteerism, culture diversity, and youth activism, which became the base of all my future community work and achievements."
In 2011, Gunay began participating in "Debate in Civil Society" which she attended for four years, and in 2013, she joined AIESEC Azerbaijan, a non-profit NGO run by young people and providing volunteering, leadership opportunities, and cross-cultural internships. In April 2014, she traveled to Tbilisi, Georgia for Youth in Action Training. In September, she became chairperson of theAcademy of Public Administration Student Scientific Society to assist students on how to conduct research work, and organize conferences, roundtables, and seminars. The next month, Gunay visited St. Petersburg, Russia to be part of the Interparliamentary Assembly of CIS Youth Forum.
In the summer of 2015, Gunay enjoyed "one of the most valuable experiences in my life," she says, referring to her Korean Government Scholarship, from NIIED—an organization aimed at connecting human resources in the age of globalization. During her year in South Korea, she learned to assimilate the drastically different cultures of Koreans and students from fifty-five countries. "I widened my world view and decided to overcome the stereotypes I'd held," she says. She tried a different approach, one of acceptance and respect, and "I can't explain how smooth everything went after that." She related to a Kurdish girl from Iraq who cried every night, thinking about her family's fear of Isis attacks, always on alert, never knowing what would happen. "All those experiences made me understand the essence of globalization and importance of cooperation," she says. She left earning a Best Participant Award from the Asia Culture Center and Gwangju International Center.
From there, she attended University of Edinburgh Business School on a scholarship, winning the Award for Excellence in Professional Development upon graduation, following up doing research for BDO UK LLP, an accounting firm, and then research on line as a UN volunteer, working on Islamic Finance and Impact Investing as well as an Ecosystem Mapping Study.
Gunay is now engaged in a Corporate Social Responsibility project that aims to improve sustainability reporting practices and supports the achievement of sustainable development goals. "This way I feel I am a part of something that has an impact on making the world a better place to live."