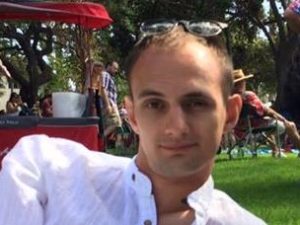 A constant advocacy of peace and tolerance
"It was easy to feel hatred," says Djordje Vesic of his youth in Serbia. He'd worked at a gas station cleaning windows, did some mountain climbing, lots of boxing, and entered the University of Belgrade's Faculty of Law (UBFL). In his spare time, he listened to rants on Youtube.com. The country was still raw from four years of war in the 90's. "There is no easier way to control a nation," he says, "than to instill fear of others." During the war years, "the media of the warring states were focused on creating a chasm between Croats, Serbs, and Bosniaks in the Balkans. And that chasm still exists, especially on the internet. People bickered over old disputes that reach even several centuries back. Such a sickening atmosphere on the internet influenced me as well." Djordje (pronounced George) read extensively about the crimes committed against his people, and he joined the haters, though his Christian upbringing had taught him not to hate.
In December of 2012, he joined the debating team at UBFL and participated in the Belgrade Open, an international debate tournament that included a delegation from Mostar, a predominantly Croat town in Bosnia and Herzegovina. His colleagues asked him if he would like to team up with a Croat girl and participate with her in the tournament. Djordje couldn't answer at first.
"Most young Croats have never met their Serbian peers," he says, "and vice versa. All we knew of each other was that we were at war three times in the last century, and that we have made each other suffer." Many use the foulest language in referring to these others, their unknown neighbors. This would be the first time Djordje had ever met a Croat. After considerable pondering, he agreed to team up with her and was stunned to find she was just a normal human being. "The event opened up my world," he says. "It is awfully burdening to harbor hate and spite in your soul and to constantly blame others for the problems your nation is facing." In November of 2013, he visited her in Mostar and met many more "Croatian peers," discovering that "indeed, there are people just like me even in that nation."
Djordje now fervently believes that international cooperation is essential to the reconciliation process in the Balkans. "It helped me crush every prejudice I had and cast away the fear it caused." UBFL's newly founded United Nations Club afforded him the chance to build bridges through international cooperation. He came up with the club's first project, a program featuring speakers on "Syria and Ukraine: Causes and Consequences." He coordinated the activities, a process he enjoyed greatly despite the work. "The very ability to create synergy is what I value the most in a leader, to be able to organize people properly and direct their combined effort to achieve great things," he says. In June, 2014, he was pleased that 450 people attended an organized, interesting lecture, filling the amphitheater.
The following year, Djordje placed third in an oratory competition in the improvisation category at UBFL, and at another MUN, this one held in Dubrovnik, Croatia, he was chosen Best Delegate for his representation of the Russian Federation in the Security Council. Through the Serbian Cultural Association, he organized another lecture program, and then in the summer, returned to Dubrovnik, visiting several Bosnian cities on the way. He a "had a wonderful experience," reaffirming that "instead of hating and waging war on each other, we should strive to help each other and to reignite the friendship we once had as Yugoslavs."
In the fall, he participated in a third MUN held in Bratislava, Slovak Republic, winning an Honorable Mention as the delegate representing Sweden. "Through communication, young people from all over the Balkans could meet their peers, discuss regional issues, make connections, and build tolerance. What better forum for communication than regional oratory competitions?" The MUNs and debate tournaments also reveal to opponents what they have in common—the foundation of a healthy relationship, Djordje says, especially when language isn't an obstacle. "People from Croatia, Bosnia, Montenegro, and Serbia can understand each other perfectly well."
To further promote a tolerant way of thinking, Djordje coordinated an online summer school on European integration for the Civil Initiative for Media and Educational Transfers (CIMET), organizing its projects. The European Union (EU) has managed to reconcile many differences between traditional adversaries, and CIMET aims to raise awareness about the importance of the integration process, civil rights, and the creation of a civil society through connecting young people across Europe via conferences, online lectures, and workshops. "It is my earnest desire to keep working on projects pursuant to the goals of CIMET, as I believe that only through constant advocacy of peace and tolerance will there ever be a true change. A talented person should work in synergy with other leaders in order to secure a better future. That is how I envision my role."