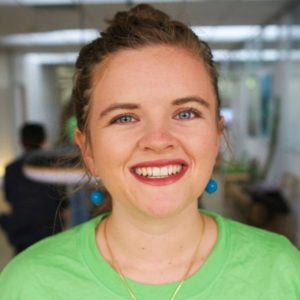 World citizen, connecting social movements and economic communities
Born in Ireland, Chloe Dempsey moved at a young age with her parents to Australia, and, while she was still in primary school, the family "lived around" in Ghana for three years, where Chloe learned to make young friends quickly. "There is some beauty," she says, "in the ability of children to look beyond superficial differences and judgments to just interact and be genuinely curious about each other." She believes this experience helped channel her own curiosity, leading her to pursue multiculturalism as a focus for her life.
Back in Perth, Australia for her secondary education, Chloe excelled and began campaigning on a number of issues concerning young Australians. She volunteered in 2010 as a facilitator for UN Youth Australia, a position she is in Perth. She sees a more global education as essential since "young people's minds are being shaped by the politically dominated commentary of media outlets." Whenever opportunities arose to travel, Chloe usually took them, and she was soon off to Brazil as an exchange student, learning Portuguese during the six month stay.
Enrolled at the University of Western Australia (UWA) in 2011, Chloe planned to earn a Bachelor of Law degree along with a Bachelor of Arts with a major in Political Science and International Relations, including a generous smattering of foreign languages. She hoped to continue studying Portuguese, but UWA didn't offer it, "so in a brief moment of misinformed strategy, I chose Chinese," Chloe says, to avoid any confusion with other Latinate languages. Studying Chinese did not keep her free of confusion, but she did find a new direction. In 2012, the Foundation for Young Australians sponsored Chloe as she volunteered for six months lecturing in English at Yibin University in western central China and "fell in love with this country of contradictions." Upon her return to UWA, she added another curricular focus—Asian Studies.
Chloe discovered the Australia China Youth Association (ACYA), which became "the perfect outlet for a passionate young advocate for bilateral cooperation between our two countries," Chloe says of their challenging but effective projects. Over the next three years, she studied Mandarin and Spanish. Still working toward her degrees, Chloe volunteered as a tutor and assisted at the UWA Alumni Annual Fund. Her law studies progressed, and she won the Contract Law Prize and Torts Law II Prize.
Chloe's dedication to social justice drew her to the Australian Indigenous Mentor Experience (AIME) and its workshops, addressing the rights of Australia's First Peoples. "The 'stolen generation,' when indigenous children were kidnapped from their biological parents, is a dark stain on Australia's history," she says. "White" families had attempted to breed the "aboriginality" out of indigenous people, deeply damaging their basic identity and traumatizing young Aboriginal people who experience its effects on crime rates, health issues, and cultural degradation.
While continuing at UWA, Chloe also served as Western Australia state manager for the Engaging China Project (ECP) for nearly two years, also becoming the secretary at ACYA UWA. She enjoys these organizations because of their concern with trade, business, and cultural ties to promote international cooperation.
Another ongoing activity involved convening a crisis response network for Amnesty International Australia. "Despite studying law for five years," Chloe says, "I still feel that I am not aware of the depth of opportunity and experience the profession can offer, and so I have set my immediate goals on immersing myself in environments where I can gain a better understanding of where law can take me in the future, and how I can use it as a tool to make a positive impact on the world." Beginning in the summer of 2014, Chloe worked as a paralegal at the Mental Health Law Centre and elsewhere and participated in Plan International's Day of the Girl as a parliamentary delegate.
She deplores Australia's refugee policies as being "some of the most inhumane in the developed world." Through the Association for Services to Torture and Trauma Survivors, she seeks to provide legal and educational assistance to recent immigrants. In 2015, Chloe attended a public action at Yongah Hill Detention Centre, outside of Perth city, one of the isolated prison-like detention centers where asylum-seekers arriving in Australia are processed almost in secret. Reports surfaced of self-harm, sexual assault, brutality, and mental trauma. That evening, "about two hundred of us sat on a hill that overlooked the detention center and lit candles," Chloe says. Word spread inside that people had come to offer some small sense of support for those vulnerable people, so desperately seeking a different life.
While working as an intern for educational research at UWA, Chloe also stepped up as ACYA vice-president in February, 2015 and supported education in rural China through a charity gala she coordinated. Well attended, the event raised awareness along with significant funds. Later when Chloe returned to China, she was able to see the effectiveness of ACYA's contribution firsthand, methods that "don't perpetuate old-fashioned ideas of charity but use innovative tools to allow individuals to create change themselves."
As National Youth Ambassador for a year, Chloe worked with a colleague to help launch 'Oxjam' in WA, incorporating fundraising and advocacy for Oxfam campaigns with local music communities. She enjoyed meeting musicians who are passionate about the changes that Oxfam campaigns can make around the world—a concept that opened up many other possibilities.
As a Westpac Bicentennial Foundation Asia Exchange and New Colombo Plan Scholar, Chloe is now living in Beijing for two years studying law at the Tsinghua University. She'll also be working for an NGO, the Joint US-China Collaboration on Clean Energy, hoping to gain experience in the importance of international cooperation in tackling environmental issues.
Recently Chloe has worked with Bloom Lab, which encourages young people to develop their own businesses, and the Foundation for Young Australians, which runs a national social entrepreneurship program. "I see my power as being able to connect social movements and economic communities," Chloe says—with the added benefit of legal clout—to create social justice and international commerce for the benefit of all humanity.
Other experiences:
Australia:
Promotional officer for Latitude Global Volunteering of Australia
Administrative Assistant, Confucius Institute UWA
Intern, Deloitte
Thirst4WaterVolunteer
Mannkal Scholar to the World Conference on Market Liberalization
New Colombo Plan China Scholar
Future Leaders Scholar
Delegate to the Australia China Emerging Leaders Summit – Sydney
China:
Delegate to the Australia China Emerging Leaders Summit – Shanghai
Taiwan Nature Treasure Map Program Intern, National Taiwan University
Australian Chamber of Commerce Beijing