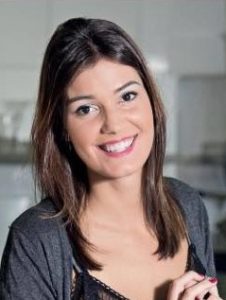 Change through empathy, networking, ideas, and human resources
"Wherever I've worked, I've looked for purpose; I've chased humanity," writes Beatriz Mansberger, adding, "And I want more. I want to learn, search, and discover more." Beatriz is one young person who finds the vast socioeconomic contrasts of her home city of Sao Paolo, Brazil, depressing and unacceptable. Among the nearly twenty million inhabitants of greater Sao Paolo dwells the third highest concentration of billionaires in the world. The wealthy classes skim over hundred-mile traffic jams and above the slums—where the murder rate is seventeen times higher than that of New York City—in the world's third largest fleet of urban helicopters. Two and a half million people live in favelas (shantytowns) and corticos (tenements), some of which rank among the poorest in the world. Conflict and corruption are rampant, so it's up to ordinary people to try to make a difference.
"I went to a school that really encouraged students to look at people as human beings, full of potential and skills to develop. Poverty is not only about income, it's also about not having real possibilities to develop yourself as a human being," Beatriz says.  She credits her Waldorf schooling and Scouting for channeling her into volunteer work, explaining, "Because I'm so lucky with my opportunities, I wanted more and more people to be empowered and explore their potential."
While still in high school, Beatriz led a group of volunteers in an NGO called Alquimia (Alchemy), offering weekly gardening, music, storytelling, arts, and crafts workshops. She also took part in student forums, simulating the UN conventions, discussions that instilled in her a greater world view. A basketball player and a musician—playing cello and piano—Beatriz wanted more. She wanted to help people. "I wanted a path that could offer me more impact in my country."
She entered the University of Sao Paulo in 2011, seeking a BA in public policy management, with emphasis in social and political sciences, economics, and law. "My country deserves more prepared leaders to create effective and consistent public policies," she says, adding that the vast scope of bureaucratic problems, the inequality, and situations where basic rights are denied soon left her with a huge feeling of powerlessness.
In January of 2013, Beatriz became a project management intern for the ReCivitas Institute for the Revitalization of Citizenship where for six months, she developed a basic income project for forty families, provided cultural experiences through music and painting, and maintained a weekly toy and book exchange for children and teenagers. By summer she'd earned a Santander Merit scholarship for academic excellence, which enabled a semester at Oporto University in Portugal. Another merit scholarship came her way from the Sao Paulo University in February, 2014.
The following August, Beatriz worked as an intern for Semina Educativa, a company providing sex education, and that same month, she founded her "Small Authors, Big Stories" project through an NGO in Paraisopolis, the second largest slum in Sao Paulo. She offered children eight to eleven years old playful writing workshops with current world themes and then asked teenagers at a Waldorf school to illustrate the children's texts—to great success. A sponsor printed three hundred copies of the final result in a book that proved highly motivational.
The same NGO, operating in Paraisópolis, asked Beatriz to design a project for low-income teenagers, so she launched her Chef Apprentice project, creating a basic professional culinary program. Beatriz not only financed it through her online crowd-funding campaign, she also recruited over twenty professional chefs to teach the theory, practice, and art of cooking while integrating the lessons with chemistry, physics, biology, and geography. After three months, restaurants owners judged the final competition. "Ten of my sixteen teenagers are employed and have new opportunities to their life beyond the community and the reality they live in," Beatriz says proudly.
Beatriz also served as a school operations analyst for SomosEducação, the biggest basic education company in Brazil, where she designed high performance management evaluation to reward employee productivity. She also started a volunteer program with professors, authors, and other people inside the company and set up a pilot school for illiterate adults. Working with these two groups, she also helped to implement a model school of the group in Sao Paulo, establishing Edgemakers and HeyMath!, including helping to design uniforms and the school canteen, recruiting, helping with outreach, and more.
Working as a social project manager, Beatriz designed and implemented Fera, a program that aims to help less privileged young people enter public universities. She found teachers to produce the curriculum and recruited volunteer teachers, connecting them with low income students who lack the opportunity for higher learning. Through another organization, Transformational Seeds, she encouraged over 130 high school students to create local changes through classes and boot camps on social entrepreneurship, design thinking, and human rights.
She describes her major projects as "ideas that I managed to put in practice by making connections and webs, learning to listen, and understanding the stakeholders' reality in order to bring the ideas of the paper to the real world." Beatriz hopes to reestablish Chefe Aprendiz, her culinary school for underprivileged teens, and HSI awarded her seed money for this successful project. She knows Brazil has a long way to go toward establishing a democratic society. "To understand what make us different is very important to be able to build bridges," she says, "also coming up with new possibilities so that more people can live with dignity."