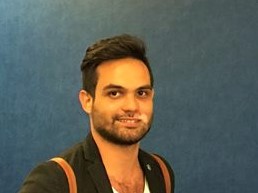 "Bridges of Benevolence among nations"
In his first year of graduate studies at the French University of Armenia (UFAR) in the city of Yerevan, Anatoli Chernyaev has already made a difference in how people see themselves and how much they dare to hope. As an international marketing major, Anatoli perhaps didn't see himself as a crusader back in 2011. He worked as an editor for the website http://www.escxtra.com/, an English online unofficial resource devoted to the Eurovision Song Contest—one of the longest running TV shows in the world—comparable to American Idol. He also enjoyed dancing and volleyball. But then at his university, a professor crossed a line, and the individuals involved remained silent.
"They did not dare to speak up and fight for the change that could have been beneficial for all of us," Anatoli says. This was not acceptable to him, and, with the help of a few other courageous protesters, he launched a campaign for the freedom of expression at the university. "Many of them did not believe in change, but we proved them wrong and achieved change for all of us." Subsequently, the students have had more courage to speak up. "I am grateful to those who stood by me and fought," Anatoli says.
He began to understand fear in a new way. "It has different shapes," he says. Many Armenians face fear daily in the ongoing conflict between Armenia and Azerbaijan. "Soldiers die every single day on the border, and the Armenian nation is in grief. I am almost sure that the same happens on the Azerbaijani side as well," he says. "Being in a country with closed borders from two sides out of four is not a peaceful way to live." Eschewing diplomatic relations with Turkey also undermines Armenia's economy and welfare, contributing to national fears.
Under such stress, another more insidious fear takes shape, the fear of being heard, the fear of expressing what you really think. Silence allows people to avoid dark and painful memories. "We don't want to talk, we are tired of discussing, and we are fed up with constant complaints and problems that seem to be insoluble," he says. Strangely, he adds that "it is hard to persuade someone directly affected by the war or other conflicts to forget the past in order to develop intercultural dialogue." Anatoli tries to persuade people that the past stays in the past, and now it is time for changes, communication, and understanding.
In August of 2012, he volunteered with Public Information and Need of Knowledge NGO (PINK) focusing on the Human Rights Department, an organization that was to become a major part of his life. PINK of Armenia promotes equality, acceptance of diversity, and the elimination of discrimination. Its center in Yerevan—opened with the support of the Norwegian Ministry of Foreign Affairs—offers training, counseling, a library, and other services.
In September of 2012, he began another major endeavor of his college years with the European Youth Parliament (EYP) – Armenia, where he started off as a delegate. A year later in 2013, Anatoli attended the International Youth Camp "Dialogue" in the Kaluga region, Russia, organized by the Council of Europe (CoE) promoting intercultural dialogue and tolerance, crossing ethnic, religious, and cultural lines. CoE's No Hate Speech Movement inspired Anatoli.
Two months later with the support of the "PINK" Armenia NGO and its adoption of the No Hate Speech framework, Anatoli organized the training/workshops he named "I am against Hate Speech, because…." The aim of the first event was to give participants the chance to discuss the main concepts of hatred through case studies, role-playing, and implementing conflict-transformation examples. The media and participants ruled it a great success.
Continuing with EYP, Anatoli soon became vice-president and now serves as the PR Manager of the organization, responsible for public relations among 3600 alumni, making it the biggest youth network in Armenia.
CoE organized the "Youth Peace Camp 2014" at its centre in Strasbourg, France, drawing young people from the conflict-stricken countries, including Armenia, Azerbaijan, Georgia, Israel, Kosovo, the Palestinian Authority, the Russian Federation, and Serbia for dialogue and conflict transformation activities based on human rights education and intercultural learning. As a participant, Anatoli responded to its aim of motivating attendees to act as facilitators and peer leaders for positive change in their home communities. Implementing this powerful concept, Anatoli is currently assembling an educational program using booklets and brochures in Armenia, training teenagers in conflict-transformation, focusing on human rights education with the aid of a highly-motivated and supportive staff.
The recipient of many awards, Anatoli feels confident he can overcome horrendous obstacles. "The only way to build a bridge of benevolence between the nations is to fight against our prejudices and to try to learn from other cultures."