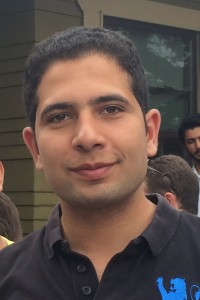 Omar Elgammal
Building democracy in Egypt
Since childhood, Omar Elgammal has believed that dramatic changes would come in Egypt. "I was raised by parents who are highly educated," says. He believes their strong emphasis on morality led him to expect it in his social institutions as well, meaning "an accountable government, rule of law, an independent judiciary, free and fair elections, free and fair media, and respect for human rights." In short, he and many of his peers want democracy.
To help guide his country's evolution into a strong democracy, this young visionary is majoring in economics and political science at the American University in Cairo (AUC) while he is also majoring in law at Ain-Shams University. Egypt's Arab Spring, its January 25th revolution, saw the failure of negotiation among the differing ideological sects dissolve into ongoing violence, bringing the emerging democratic processes to a halt, according to Omar. In addition to religious and territorial conflicts, Omar stresses that the ongoing conflict between "rising democratic forces and traditional authoritarian ones" are major obstacles. Unfortunately, all this undermines the functions of state, which is unable to provide security or enforce law and order. With this instability, the economy suffers, Omar says, along with the standard of living for Egyptian citizens, creating still more unrest.
He volunteers in a student club at AUC called the "Help Club," which is a charity organization that focuses on the impoverished area of Masr el-Kadima in Egypt, a part of Old Cairo that includes many ancient heritage sites, including Coptic Christian churches. In addition to distribution of food packages, enrichment activities for children, and providing a water purification center, the club holds an annual event called "The Reception," which Omar managed last year. As director, he supervised seven committees, including fundraising, marketing plans, and their implementation. He organized training sessions in movie shooting, scenario writing, and troubleshooting, gaining experience and appreciation for communication skills. He believed everyone to be invaluable, expressed his gratitude, and thereby strengthened their motivation and sense of commitment. He also learned the value of setting goals and planning, which then allowed him to be decisive in critical situations.
Put on entirely by students, "The Reception" featured videos, movies, and skits that spread awareness of social issues using comedy, such as the satirical sketch in which the main characters were a dictator and his assistant in an imaginary country. Afterward, videos of the event are released on YouTube.  As many as a thousand people attend this free event every year, though an invitation is necessary. The club tries to issue as many invitations as possible, but they must be careful.
With the government branding dissenters as members of the Muslim Brotherhood, many students have been killed by police forces on other campuses. Democracy and its freedoms are often at odds with security, and even the mainstream news media in Egypt has been protesting recent incidences of government censorship. Omar supports citizen journalism practiced through social media websites or non-profit independent news websites on the internet. However, he says a very small percentage of the Egyptian population has access to such sources.
Omar hopes to work in international organizations such as the World Bank or the UN or their affiliates to gain the experience necessary to work in his country's government at the highest levels of authority in order to bring about positive change through democracy in Egypt. By the end of his participation in HSI, his fellow students and teachers predicted that they'd be able to say in the future that they know the president of Egypt.