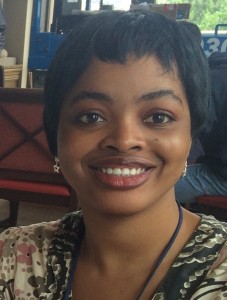 Islamiyat Abdulkadir
From refugee to honoree, a medical student makes her mark
An ousted military dictator leaves a space for democracy unless that space descends into a power vacuum where innocent civilians get trampled in the rush to grab control of government. In 1999, Nigeria became the stage for such a dynamic. Islamiyat Abdulkadir was six years old and didn't understand how political leaders had manipulated religious and ethnic fears into populist hysteria. She didn't see why tribal issues should create inequalities, or why disenfranchised minorities would become violent, or how religion could cause intense conflict as certain Muslim factions tried to establish sharia law. The government forces that should have protected her were alternately brutal or totally ineffective. She didn't understand any of it but would never forget when her parents abandoned their home and possessions in northern Nigeria, escaping riots, raids, and forced evictions.
As internally displaced people (IDPs), they had no clear destination. Vast regions that were once lush and green had become deserts. Other areas were prone to disastrous flooding. Part of the conflict involved the indigenous people versus the "settlers." Islamiyat's family settled in the southwestern part of Nigeria, but they lived in refugee camps. The nation's turbulence discouraged foreign investors and tourists, and the economy deteriorated. Islamiyat recalls the severe hardships, psychological trauma, riots, and violence that left the IDPs at the mercy of charity. Yet it was the international philanthropists and doctors who became her role models. By age ten, she aimed to become a successful physician, activist, and a founder of an NGO. Smart, visionary, determined, and eager to smile, Islamiyat proved to be her own best resource. In the IDP community, she learned English along with Arabic, Swahili, and Yoruba.
Somehow, she entered a private Muslim school, Ad-Din International College, and at age fifteen, won a debating contest. The following year, she won the Oyo state essay contest on the eradication of poverty. Though in her culture girls weren't supposed to become leaders, it was clear that Islamiyat could not be held back, and she left Nigeria to enter the International University of Africa (IUA) in Khartoum, Sudan. The university believed in "gender inequality," however, and accepted her in a nursing program rather than at the doctorate level. They didn't know Islamiyat very well. She won another debating contest and impressed her instructors with her high grades. After her first year, she was allowed to enter the school of medicine. She impressed her professors further when she headed a community outreach team going door-to-door in support of community orientation and vaccination.
Islamiyat joined the Medical Association of Nigerian Students in Sudan (MANSIS) which later affiliated with the African Medical Students Association (AMSA). These organizations groom trainees in the medical and allied health science fields with technical knowledge and skills required to become decision-makers throughout Africa and the world. MANSIS organized a quiz competition among its male-dominated members, and, according to the current (male) AMSA president, the winner showed "confidence, apt knowledge of medicine, and its contemporary potential." Islamiyat had won, bringing limelight to MANSIS, and she became its first female president. This honor "challenged me to be more dedicated to perform impressively as a leader," she says, but the level of leadership was an entirely new experience for her, and she knew she would need team support. She considered it vital to motivate female colleagues into becoming effective team players and "ensure that their abilities were not underestimated." Her position has proven ground-breaking, paving the way for other women. Islamiyat not only performed her office well, she astonished the faculty by earning a GPA so high that, according to her advisor, "it had never before been recorded" at the IUA medical school.
With her multi-lingual capacity, leadership experience, and high grades, Islamiyat is surely poised to become the international medical activist of her dreams as a way to give back to society, to "bring stability and peace to my country and the world."