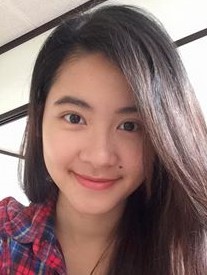 Hai Ly Nguyen
Promoting Vietnam's economic development through tourism
Though Vietnam has enjoyed several decades of peace, the country was far from prosperous when Hai Ly Nguyen was a child. She grew up in a working class family in Hanoi, the capital, keenly aware of the gaps between the haves and the have-nots. Instead of fairytales, Hai Ly's mother read her nightly stories from a faraway land that had also been devastated by war but which had subsequently become a thriving world power—Japan. Hai Ly first absorbed its culture through Japanese comic books and longed to visit such an amazing place.
Her parents taught Hai Ly and her brother to use good manners, be generous, and, especially, that education would be the only way to escape her family's struggle to make ends meet. "We studied hard and became the only children in the neighborhood attending top schools," Hai Ly says. "Despite my background, I never once thought that I was less capable than my friends. I believed that I deserved the best education as well." She became an honor student in a school for the gifted, but her parents could barely keep up with tuition, which isn't free in Vietnam.
Hai Ly worked hard to earn a full scholarship for college. She was selected for the highly competitive and prestigious five-year scholarship from the Japanese Ministry of Education. At Kobe University in Japan, Hai Ly was grateful, but she soon felt isolated and disoriented. She knew she wanted to be of service, and she was amazed by the way Japanese traditional and modern values coexisted. At the same time, she decided there is no such thing as cultural superiority and that the Vietnamese culture is equally fascinating and unique. She saw herself as an ambassador of her country and its culture and discovered she could blend what she cared about in a way that involved community-building projects in Japan. This, in turn, gave her more insights into the Japanese society and valuable experiences unavailable in school.
She began sharing more about Vietnamese culture in various multicultural groups and events. Proud of growing up in Hanoi, Hai Ly gained a new perspective on its blend of Western and Eastern cultures, its endurance through Chinese feudal dynasties, French colonization, and wars over its 4000 year history. The Vietnamese culture was never subsumed, never lost its authenticity, she says. "We Vietnamese are very good at integrating the good parts of foreign cultures, architecture, and cuisines." The latter proved to be a successful focal point to her cultural presentations.
Hai Ly joined a charity group established by Vietnamese students, BETOAJI, traveling two hours each way to Kyoto to organize community events that included cooking classes and a cultural exchange corner. She enjoyed working alongside Japanese students at TEDxYouth, a Kobe-based youth-led conference that takes up the TED format. It nurtures interactions between different communities in Kobe and gives participants a platform to exchange ideas. Over the summer, she was one of 300student ambassadors selected for Japan Tent, a program for international students invited to stay with Japanese families and learn about Japanese culture. Hai Ly also gave a presentation on Vietnamese traditional festivals to 300 students, their host families, and local press and spoke on FM radio.
As a volunteer for the Osaka International Students Network, Hai Ly worked with the Osaka Tourism Promotion Project, helping to upgrade tourist services and attract more visitors. Her perspective as a foreigner provided useful feedback. The AEON Global Cup is a business contest conducted by the largest retailer in Asia and Japan's single-largest shopping mall developer and operator. Hai Ly was a finalist and learned a lot about the business model of AEON, the vast Japanese retail industry, and that she can work confidently in an intense global environment.
Despite her heavy involvement in activities, Hai Ly's academics grew stronger. She impressed her advisor with her keen research and analysis of future gambling casinos in Japan, which she says is considering Singapore's integrated resort model, including theaters, shopping malls, and convention centers. "I used the Input-Output model to predict that this approach would bring about a positive economic impact in Japan as well," she says.
Would this approach boost Vietnamese tourism as well? Hai Li says not now, that tourism in Vietnam should draw on various natural sites and diverse cultural elements that are yet to be promoted. "What Vietnam lacks is advanced infrastructure, comprehensive branding strategies, sustainable development that conserves natural resources, and capable human resources," she says, "but these are also exciting opportunities."
Vietnam is still far behind Japan's rebound from the devastation of war, still harboring serious inequalities in income, education, healthcare, and welfare system, and suffering from an alarming brain drain, Hai Ly says. "However, it is a duty for students who have opportunities to acquire knowledge abroad to come back and contribute to Vietnamese development."
Tourism can be an important element of economic development about which Hai Ly is passionate. "I will definitely work on promoting Vietnam's tourism in the future," she says and has much to offer her country after her studies abroad. She has "evolved from the learner to the teacher, the participant to the organizer, the taker to the giver, and the follower to the leader."