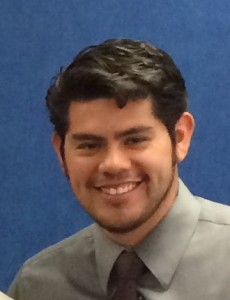 Creating safe neighborhoods locally and globally
Born to Hispanic immigrants living in Southeast San Diego during the 90's, Edward Salazar didn't feel safe as a child. High crime rates and delinquency in this border community made simple aspects of daily life feel unpredictable and dangerous.
His parents decided to educate him through a homeschool program, molding their children to appreciate their values and core of beliefs. "It turned us into a very close-knit family that has built solid, loving, and supportive relationships, which enable us to face challenges together," Edward says.
Though his companions were limited to four friends his parents found trustworthy, they made up in depth what the group lacked in numbers, remaining close to this day. Edward is still astounded that, unlike so many of the youth in his community, he and his four friends escaped the drug culture and gang activities.
After 9/11, Edward's father lost his job as a supervisor, even though he was a veteran. He impressed on Edward that what he lacked, a college education, kept him from getting a job at a similar level. His father found a job with the US Postal Service, and his mother joined the medical profession as a licensed vocational nurse (LVN), but Edward grew determined to qualify for college.
After high school, he greatly enjoyed his semesters in a Ministerial Institute in Guatemala, meeting students from different parts of the world, broadening his relationships, and learning to understand different cultures and values.
Upon returning home, he enrolled in San Diego City College, struggling that first year in a standard classroom. He soon adjusted and wanted to help others who, like himself, aimed to succeed but didn't know how to access student resources. Edward became the Director of Scholarship for the Phi Theta Kappa Honor Society, encouraging students to excel academically and notifying them of scholarship opportunities.
With his AS degree in Sociology, he transferred to San Diego State University, majoring in criminal justice and minoring in public administration. Edward again enjoyed working with international students when he participated in the Global Aztec Alliance, an organization where local students mentor international students. This was the beginning of his dream to work eventually at the international level.
To gain better insight into the US criminal justice system, Edward began an internship with the San Diego Sherriff's department. He found it exciting to participate in the Terrorism Liaison Officer (TLO) meetings and added a course in Sovereign Citizen Extremism, studying individuals who don't recognize laws, taxes, or even currency, many of whom are considered domestic terrorists. Edward assisted a crime analyst, updated patrol beats, and formatted geospatial data to create maps showing human trafficking hotspots in the county. He began to recognize the importance of analyzing crime to gain a better understanding of the factors that encourage or effectively discourage criminal activity. He believes that employing such information will improve the infrastructure and distribution of resources to better protect the general public.
Edward sees his future as a crime analyst employing innovations that increase people's sense of security. He especially wants "to help children feel safe in their neighborhoods as I and my friends would have liked to have felt when we were children." Ultimately, he'd like to work abroad in foreign relations, serving his country with methodologies that will also benefit the global community.