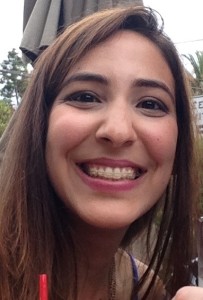 Finding "a new form of peace" in social entrepreneurship
With its ancient Roman ruins, palaces of bygone Mediterranean trade lords, graceful mosques, and flares of European influence, Tunisia could be an earthly wonder, yet its citizens have borne great burdens. "In December of 2010, almost every street in every Tunisian town was filled with crowds, shouting one word: Enough!" says Dora Jebali—enough corruption, tyranny, censorship, and unemployment. "Tunisians were the first Arab people to ask for democracy and fight for it."  However, she adds, now that the dust is settled after the Jasmine Revolution, "It is important to remember that just by removing a president or a ruling body and electing replacements, problems won't quickly be solved." Fortunately, she, along with other young Tunisians, believes that "tomorrow is in today's hands," and Dora is full of ideas about today.
She enrolled in the Tunis Business School (TBS) and soon formed a Press club, providing space for students to express their opinions and printing a magazine that is read in cultural centers. In a time where, as Dora puts it, "discussions have descended into violence, and respect of differing opinions is still a foreign concept," the magazine, participation in the USA-Tunisia Youth Debates and later in a Model UN event have deepened Dora's appreciation of the importance of civilized debate. Discussing controversial topics with young activists taught her that for democracy and peaceful coexistence, freedom of expression is vital.
Dora organized a team in cooperation with the Tunisian American Chamber of Commerce (TACC) Junior that aimed to promote active association between TBS and the business community. Her work plan won a competition, earning her a place on the board. One continuing project raised awareness of meaningful roles in society for about sixty school children, inspiring tomorrow's leaders.
Junior Camp offers "a gate for Tunisian students to see the chapters of their courses applied in real world cases," Dora says. Her team organized guided tours of local companies, providing opportunities to build contacts for future business projects. Dora pushed herself out of her comfort zone to build steady relationships with businesses. "I had to learn how to be convincing, how to effectively negotiate with highly placed managers, and be a responsible ambassador of the Tunisian student community," she says. In return, she gained self-confidence.
Another of Dora's projects is the TBS Entrepreneurship Week, helping students become self-starters and innovators. Her advisor calls it "the most awaited yearly event by TBS students." Attended by TACC, media representatives, government officials, American and Tunisian companies, entrepreneurs of all ages, students, and faculty from the participating schools, the week is a platform for networking and collaboration. Participants could also compete in the TBS Challenge where students develop ideas for social enterprises that solve economic difficulties in underserved regions. Dora and her team continued to mentor the winners in launching their start-up ideas. The intensive week and the competition help deliver a new wave of young Tunisian social innovators committed to working for their country and their continent.
In the summer of 2013, Dora won a scholarship to the Global Business Institute, a four-week entrepreneurship program at the Kelley School of Business at Indiana University. A collaboration between the Coca-Cola Company and the US State Department, the program gathered students from the Middle East, North Africa and Near Asia and included a visit to Coca-Cola HQ in Atlanta. Dora saw that the success of any business depends on the commitment and pride that the employees take in their jobs. Tolerance, cooperation, and a strong sense of initiative are crucial values reinforced in this program, Dora says, "and they are what my country needs. I see how important it is not to wait for someone else to offer an opportunity."
Through a partnership between the Clinton Global Initiative and Swedish entrepreneur Bertil Hult, young entrepreneurs from every continent are challenged to address a critical social problem with a plan for improvement. Winners receive the Hult Prize, one million USD in seed capital, as well as mentorship from the international business community. As a start-up accelerator, it's the world's largest crowd-sourcing platform. In March 2014, Dora's team of five represented TBS in the regional finals to pitch their idea in Sao Paulo, Brazil. Even though they didn't advance, Dora says the experienced pushed her vision to the next level in formulating concrete actions that make a vast difference for a measurable number of people.
As a member of Enactus, an international nonprofit organization dedicated to improving the world through entrepreneurial action, Dora's group met with thirty-three ambitious and hard-working women from a marginalized region in Tunisia, who extracted essential oils and floral waters from plants in the mountains. Various trade partners exploited the women, which threatened the sustainability of the business. Dora's group trained them in project management, accounting, sales, trading, and exposure to resources and opportunities, bypassing partners with unethical conduct. This experience taught Dora that many problems associated with corruption can be solved by encouraging entrepreneurial education that would transform citizens from passive members of society to agents of change, willing to take action and fight for their cause.
Dora hopes to help show the world how innovative and responsible young people of Tunisia can be, pointing to the thousands of organizations they've founded in all fields: scientific, social, economic and cultural. Many have created their own businesses. Dora concludes, "I think this proves that no matter how hard trouble makers and extremists try to disturb our ongoing democratic transition, no matter how bad our economy is affected by their inhuman acts, we are all one for our country because we keep hope, we believe in our potential, and most importantly we never cease to learn how to peacefully coexist despite our differences."
Update on what HSI meant to Dora:
The program and group discussions reminded me of what I stand for and gave me new perspectives to view myself. In this fast-paced world, it gave us the chance to stop for a moment, break stereotypes, and recognize what unites us as humans and what make us stand out as peace builders.
It's amazing how such a diverse group of people was able to learn from each other in only three weeks. I believe our differences brought us together, but we all have goals of making the world a better place. I was absolutely inspired by their intellectual curiosity and collaborative spirit, and this challenged me to surpass myself and bring out my best. I have gained more confidence in my leadership capabilities within these three weeks than ever. I definitely can say that I gained a second family that had a great role in expanding my horizons, and made international friends that will last a lifetime.
Furthermore, the classroom trainings inspired me to learn in depth about the mechanisms of conflict resolution and negotiation, and approaches that have been used to facilitate peaceful change that could be applied to my community. Also the social entrepreneurship program was a highlight of my Hansen experience, because it gave us a space to collaborate with our peers on viable projects and have the valuable assistance and feedback of highly skilled mentors. I will never forget what Mr. Mark R. Peters said about development being the new form of peace, and that social entrepreneurship will help us do just that.
Finally I'd say that Hansen has impacted me in ways that will stick with me for life, and I am committed to pass on all of my new knowledge to my own community. I had the best time of my life in San Diego, and now I'm back with a notebook filled with tons of to-do's, and a mind full of determination to make the world a better and peaceful place.