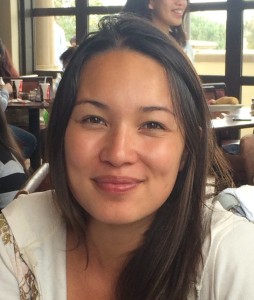 Power introvert, global citizen
At age fifteen, Dana Tumbaga was already a world traveler when she participated in a student ambassador program, CIEE, which sponsored her as an exchange student through a program offered by the government of South Korea. She and her parents had managed to visit extended family in the Philippines, always returning home to California, but Dana had never traveled alone internationally. Amazingly to Dana, her father encouraged her to seize such a valuable opportunity. She stayed in Seoul, a vastly different culture from anything she'd yet experienced. It was transformative, Dana says of the "exposure to such a new culture. Everything about South Korea was discomforting in the way that only great inner change can be."
"I've always been very involved in my community," she says of her years volunteering at a nursing center and elsewhere. As part of a team that set up the South Tahoe Youth Council, she helped create a community garden and various other service projects. She accomplished all this while keeping an A average. One spring day in her senior year of high school, she received a banquet invitation and was called into the principal's office. She found it "mind-boggling" to be one of five students nominated for a prestigious award. Teachers and community members selected Dana, and at the banquet, presented her with the Soroptimist Young Woman of Distinction Award.
She was accepted at UCSD and earned a dual degree in psychology and sociology with an emphasis in international studies. Kaibigang Pilipino is an organization that focuses on mentoring students with a Philippine heritage and celebrating their unique cultural heritage. Kaibigang means friend, and, while at UCSD, Dana met weekly with her ading, a "little sister or brother," to provide resources that help younger students get better acquainted with the campus community.
Over the summer, Dana joined a service organization on a trip to bicoastal sites in rural Nicaragua, where very few children attend school past the primary level. Using plastic bottles as the main base of construction, Dana's group built a technical school for young people to learn job skills with the hope of changing lives. They finished the last wall of the school just as the primary school kids were ending their school day. "I will never forget the image of all these children running across the field and into the building and climbing up the two completely solid walls," Dana says. "This moment made all our blood and sweat worth it. Even more important is the love we poured into that community. This trip was special for me because it was the first time in my life that my heart felt full."
The next year, Dana became an intern at the UCSD Women's Center, assisting in the various programs that advocate for feminism and social justice. During this time, she read Susan Cain's Quiet: The Power of Introverts in a World that Can't Stop Talking. As someone who leads by quietly empowering and inspiring others to realize a certain goal, Dana found the book to be a revelation. She then established the Introverts United Discussion Group at the Center.
As one who achieves Provost Honors every quarter, Dana became vice-president of the Golden Key International Honors Society and secretary/treasurer of the National Society for Collegiate Scholars.
Grateful for the financial support of scholarships, Dana enrolled in Semester at Sea, "the program that gave me the world." In her travels to over twenty countries, she discovered a universal kindness in people who went out of their way to help lost students struggling with language barriers. While volunteering at an orphanage in Morocco, Dana met "one little girl in pigtails named Elena that took a piece of my heart with her."  Volunteers toured the homes and the gardens and played with the kids, and Elena held onto Dana's hand. "As I said goodbye, she took my face in her hands and kissed my cheek." Dana was told that Elena said in Arabic, "You have touched my life with your heart." Those are the moments where love changes us, Dana says, reinforcing her belief that love and the power of human connection will change the world.
Her training in social justice underscores the idea that if one group suffers, we all suffer. "It is our responsibility as global citizens to work together to ensure the health and wellbeing of all individuals in our global community, just as we do in our local communities," she says. She hopes to work on an international scale to promote community development and education.
Update from Dana: I am working with an organization called Eden House which is a residential program that seeks to help survivors of human trafficking in New Orleans and the southern region of the US as a whole. I am also working with Yah Parvon, Courtney Dickson, and Aisha Parveen to implement the PowerWeavers project, which is a nonprofit that we are starting to help young mothers. Our pilot program is a soap-making initiative in Yah's Liberian community. This is the nonprofit that we pitched and won seed funding for during the Social Entrepreneurship part of the Hansen Summer Institute.