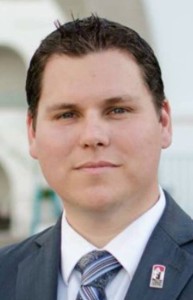 Finding better ways to build global security
A first generation Polish-Mexican-American, Bogdan Matuszynski is proud of his ethnic and cultural heritage, but at age eighteen he learned troubling details about his background and suffered an identity crisis. The child of a refugee, he grew up in a predominantly single-parent household because his father worked overseas as a Merchant Mariner. Inspired by his father's stories from abroad and needing time to find himself, he enrolled at the California Maritime Academy in Vallejo in a summer vocational marine engineering training program. Determined to prove his worth aboard the training ship Golden Bear, he cruised out of San Francisco, stopping in Japan, Vietnam, Hong Kong, Hawaii, and Guam and received an award as a top-ranking trainee for exemplary performance in leadership and quality of work.
While Bogdan absorbed the world around him, he also educated himself about mental health, developing resiliency, and training his mind to be strong. "I have learned to embrace all situations, good and bad, as opportunities for learning," he says, "because one must acknowledge the possibility of failure in order to improve and ultimately succeed." This process marked the beginning of Bogdan's passion to offer others support because mental health issues are "a taboo topic in most social circles."
Lacking funds, Bogdan worked part time and entered a community college. He also signed on in 2010 as a US Border Patrol Agent. In the process of rescuing and apprehending individuals in remote and hazardous locations—often alone—Bogdan saw better ways of doing things. He analyzed surveillance data and resources to aid in future operational planning compliant with expanding national security needs. In 2011, he discovered an individual firing a gun near a local high school and immediately coordinated a helicopter unit, all terrain vehicles, and the nearest police personnel to assist in the apprehension of the shooter. He received a letter commending his actions and later, an award for outstanding performance of duties.
In 2012, Bogdan was a victim of criminal violence and severely injured for months. At his most vulnerable, he experienced firsthand the difficulties traumatized crime victims endure through our current legal system and developed better ways of treating people. "As a great nation, we cannot leave victims of violence and other types of trauma to feel alone, ashamed from stigma, or to think they are not valued," Bogdan says.
When he became a Border Patrol Union Representative and later a Peer Support Member, he provided non-legal voluntary assistance regarding legal defense funds, workers compensation, EEO claims, explanation of rights, emotional relief, and logistical assistance to employees and their families in times of need.
Bogdan transferred to San Diego State University from his community college and again developed better procedures to encourage continuing students. He helped establish and became president of the Transfer Student Outreach Alliance of SDSU, providing much needed mentorship.
At SDSU, Bogdan majored in international security and conflict resolution (ISCOR) with a minor in Arabic studies. One of his professors liked his research paper on Mexican transnational criminal organizations and commercial insurgency so much she helped him seek publication.
Nominated by the director of ISCOR, Bogdan attended the Wheatley International Affairs Conference (WIAC) in Provo, Utah addressing the use of religion to counter violent extremism. He's active in several organizations, including the SDSU Model UN, Toastmasters, and the Red Cross Services to the Armed Forces as a caseworker where he assists members and their families in time of need—again always finding ways to improve service.
Aware of his and his partners' challenges in overcoming personal difficulties as well as the many ideas they developed to improve procedures, Bogdan and his team established an interactive online supplemental program called iSERVE, offering a global network of participants that provide resources unavailable through mainstream education and medical systems. They set SMART goals: Specific, Measurable, Action-oriented, Realistic, and Time-bound. Participants acquire public speaking and critical thinking skills, financial planning and investment tools, volunteer experience and more.
His ultimate goal is a career in the federal government dedicated to achieving national and international security.