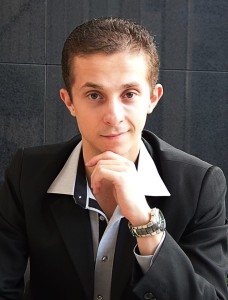 Redesigning the financial industry
Arthur Gopak logged onto an online contest one spring weekend in 2010, ready to play an economic simulation game, but the stakes were high. The contest offered a potentially life-changing scholarship for a master's degree at Nyenrode Business University, the most prestigious of its kind in Netherlands. Since his gymnasium (high school) days in Latvia, Arthur's heart had chosen a career in business over journalism, a field in which he was already highly accomplished.
In his home city of Riga, his Best School Newspaper award included 750 Euros. One of the judges told him that the business ideas he'd used "belong to a future successful, multi-million dollar entrepreneur." Arthur's dream of a business career became a serious career goal then, though his immediate opportunities lay within journalism.
He'd worked for almost five years as a correspondent for News Today, the largest newspaper in Latvia, before and during his initial years at Reseba University in Riga, where he was majoring in business administration. "I tried to make an impact by writing about events that showed how collaboration between communities [Latvians and Russian-speaking minorities] could benefit society and the country as a whole, driving economic development forward," Arthur says.
After a year of also managing rock bands and thirty-seven live concerts (while still a freshman in college) Arthur realized that he wanted to do more than just write about breaking news and celebrities. He'd also come to believe that "journalism as we know it screams for…new ways to fit into a changing technological paradigm."
Over the summer, he worked as a project manager in Oslo, Norway in an internship for the largest insurer in Scandinavia. Returning to Reseba, he became a student council representative and also represented the university in various business competitions and conferences nationally and in Brussels and Istanbul. Arthur's horizons were expanding beyond Latvia.
"Once you come back from traveling," Arthur says, "you are no longer the same person. You are most likely to become a better self, as while you discover new places, you also discover yourself." One of his most transformative experiences grew out of the Erasmus exchange program during his second year of Bachelor studies. An exchange student in Rotterdam, Netherlands for almost nine months, he was living on his own without knowing the language and without connections. Yet he soon landed an online marketing job with Megagadgets in The Hague area where he developed a new market entrance strategy and improved German sales by ten percent. He also won first prize, earning 1,500 Euros in a socio-economic essay competition.
Life in the Netherlands felt right to Arthur. It wasn't that Latvia was without opportunities. Eurostat, the major European statistics bureau, named Latvia as achieving the best GDP growth rate among European countries. But at what cost, Arthur asks. The Latvian and Russian communities couldn't cooperate, and social programs were cut too drastically, capping economic progress. Arthur loved the Netherlands but couldn't see a way to build it into his future. And then an ad on Facebook offered the online business simulation contest through Nyenrode.
"I had a strong desire to win," Arthur says. Split into eleven teams of five, contestants were tasked with running a virtual smartphone manufacturing company. No one on Arthur's team wanted to be CEO, but he had an idea and convinced other teammates to unite around his strategy. After the fourth round out of seven, his team had generated so much virtual revenue that the other teams couldn't catch up. As a result, Arthur earned the Nyenrode Scholarship for Remarkable Students.
He first had to finish his bachelor's degree in Riga, but Arthur piled on the workload, briefly serving as an assistant asset manager at Maximus Capital Markets where he developed investment strategies. He then became the deputy head of the research department, developing new products at Dukascopy Bank, a top online financial brokerage firm. Arthur says, "Leadership means influencing and inspiring ordinary people to do extraordinary things, allowing them to follow their passion while aligning their aspirations with a common goal."
Arthur earned three business certifications from the London Chamber of Commerce at the time of his graduation, magna cum laude from Reseba. That summer, he became part of a select group to attend Aspire Academy in Bucharest, Romania, studying under successful regional entrepreneurs and top professors from Harvard and Wheaton, "another transformational experience."
Nyenrode came next, along with an array of professional leadership capacities, including fundraising, international conferences, competitions, travel to St. Petersburg, Frankfurt, and Rio de Janeiro, and a consulting internship at Price Waterhouse Coopers. He was especially proud of setting up a trading company, Privus Wealth Management (www.privus-wm.com), which was named in the top ten promising FinTech ventures at StartupBootcamp London, earning an investment offer of 1.5 million Euros.
His main venture today is as CEO, co-founder, and editor-in-chief at AlphaGamma, the first online portal devoted to entrepreneurship and finance. His journalism background has combined nicely as he and his team implement Big Data solutions to provide the most relevant articles about business and career opportunities. (www.alphagamma.eu)
"It is vital to vocalize your ideas and to pursue your dreams regardless of what anyone else tells you," Arthur says. "If I did not learn to listen to my heart, I would have probably never chosen an entrepreneurial path."
Arthur is establishing a financial company that offers new investment solutions, but eventually, he sees himself as running his own bank. "I believe that by improving the financial sector, it is possible to improve the real economy, too." Financial markets are a mess currently, he says. "They don't serve the needs of the real economy. They are parasitic. That's why I studied finance and worked at a bank, a hedge fund, an insurance company and a consulting firm to learn how the sector works and how to make an impact by redesigning the industry." He's looking forward to this journey.